Last night I invited my friends over for a My Favorite Things party. It's an awesome excuse to get together and hang out but it's also an awesome time to try out new recipes and share! So I decided to try my hands at a new-to-me combination… boxed cake mix and pie filling! This easy black forest cake needed 3 things… boxed Devil's Food cake mix prepared as directed on the box, a can of cherry pie filling, and some whipped cream to top it.
Not only was this recipe easy, it was delicious too! And I'm pretty sure I'll be trying out a few more combinations of cake and pie filling very, very soon. Spiced cake and apple pie filling anyone?
If you are heading to a get together or need a quick dessert to make that'll have everyone asking how you did it, try this one out! And come back to let me know what everyone thought.
Easy Black Forest Cake
1 box Devil's Food cake mix, prepared as instructed on box
1 can cherry pie filling
1 tub Cool Whip (or homemade whipped cream)
maraschino cherries (optional)
Preheat oven to 350 degrees. Take prepared batter and pour into a greased 9×13 pan. Dump can of pie filling on top of prepared batter.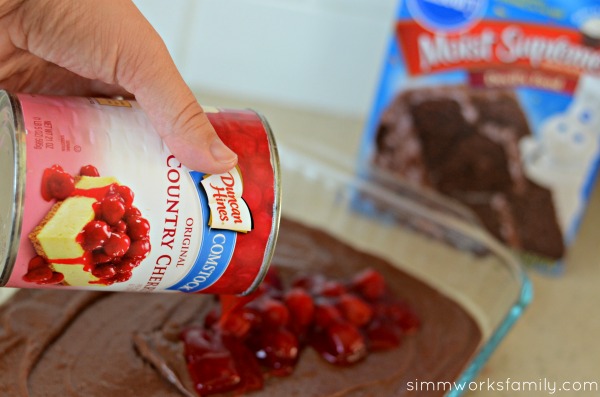 Bake in the oven for 33-38 minutes or until toothpick comes out clean. Mine took about 35 minutes.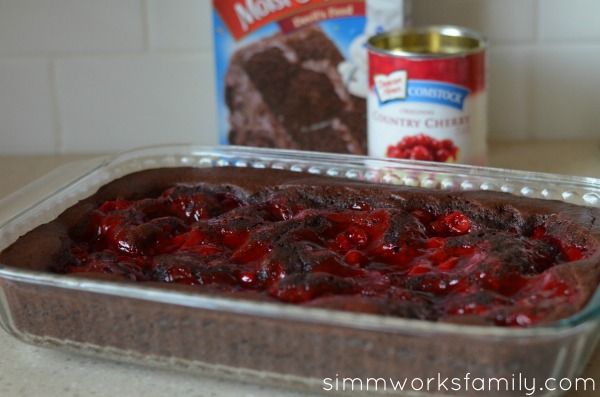 Let cool completely. Before serving, top with whipped cream and enjoy! Add a few maraschino cherries to the top for a completed look or simply leave it as is.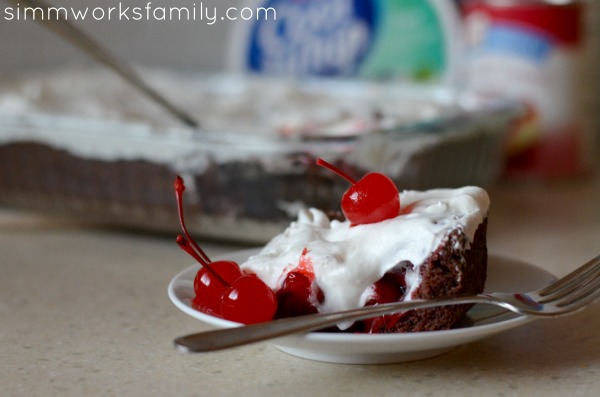 What cake/pie filling combo would you like to try?