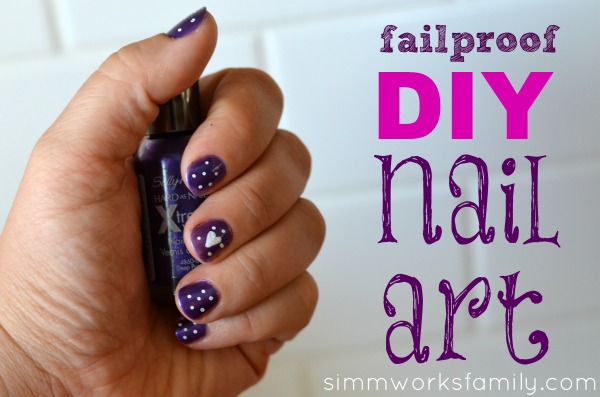 I think I'm in trouble. My daughter is obsessed with all things beauty. And I really need to up my game if I'm gonna be able to impress her with my mad nail painting skills. So I've searched high and low for the easiest, failrpoof DIY nail art so I can start practicing now.
After seeing a few blog posts from my friend Staci of 7 on a Shoestring (a self-proclaimed tomboy), including this graffiti nail art how-to, I knew there was light at the end of the tunnel. If she could make fun and pretty nail art for her girls, I could totally pull it off for my two year old.
So when I was perusing the shelves at CVS waiting for my prescription for Vicodin to be filled (ugh… had my wisdom teeth pulled last week and OMG I'm in pain!) I found the display for Sally Hansen nail art pens and couldn't say no. It just sounded so easy!
I left the store with my daughter's favorite color, purple, in Sally Hansen's Tough As Nails Xtreme Wear polish and a white Sally Hansen nail art pen.
Here's what I came up with:
It was really simple!
Apply two coats of your favorite nail polish
When completely dry, add some polka dots with your nail art pen!
Add any additional artwork (like a heart or flower) to one or two nails for added flair
If I can do it, you can totally do it! It took less than 10 minutes to complete and most of that time was waiting for my nails to dry. And my daugther absolutely loves it. She cannot wait for me to do it to her nails. With her piggy paint, of course.
I'll try and share the different designs we start coming up with as my nail art skills improve. Because knowing my daughter, she won't let me stop at just polka dots.
Since purchasing this combo I've also taken advantage of an awesome clearance on some OPI nail polish at a local beauty store and will be contemplating what to create with those in the near future!
Do you play around with DIY nail art?