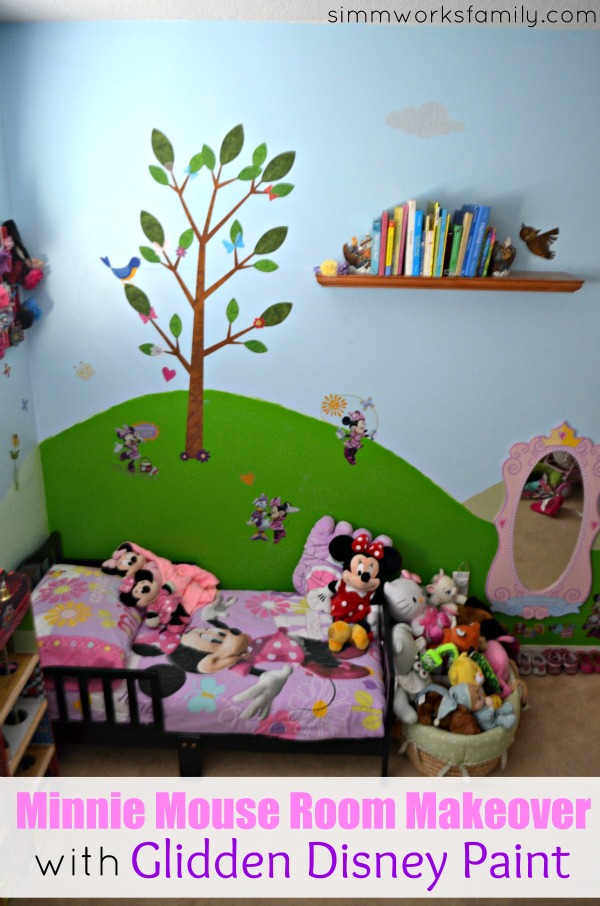 With my daughter and son sharing a room in our small home it's hard to find a balance between the girly, princess world my daughter is living in and the bug-filled, dino crazy world my son loves. I thought I found a great balance when I transformed their room into a woodsy Forrest Friends theme but it wasn't enough for my daughter.
Luckily Glidden had reached out to ask if I could head to Walmart and try out the new Glidden Disney Paint line. I happily accepted as our family loves Disney and was excited to find something that would work with our existing design but be girly enough for my daughter.
Who knew that a little paint, some sparkle, and Minnie decals would change my daughter's side of the room into the perfect Minnie Mouse playhouse.

Speck-Tacular Minnie Mouse Transformation
I headed out to Walmart to see for myself how awesome this new Glidden Disney Paint line was. I already knew I wanted to incorporate the awesome Speck-Tacular confetti top coat into my design but I needed to see the colors that I wanted to paint the existing hill in person.
I chose a bright and bold green shade called "A Walk In The Park" chosen from the new Glidden Disney Paint line and love how it turned out! Plus, it was so quick for the folks at Walmart to mix it up for me while I waited. Not only did the color brighten up the room but it really made the confetti top coat stand out.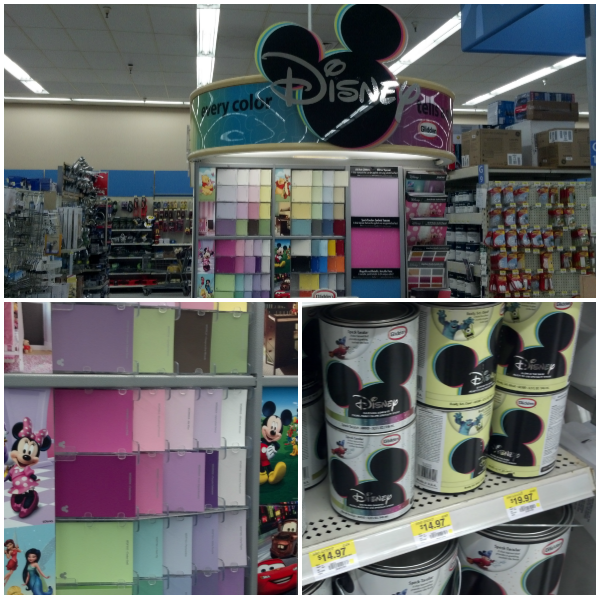 Once the green hill was dried completely (Glidden recommends waiting about a week before using the top coat over fresh paint) it was time to add the sparkle! I was a bit worried when I poured the paint into the tray and found that it was white but was assured that it would dry completely clear (with the confetti showing through).
And after a few other small touches to her wall to make it more Minnie-esque her side of the room was complete!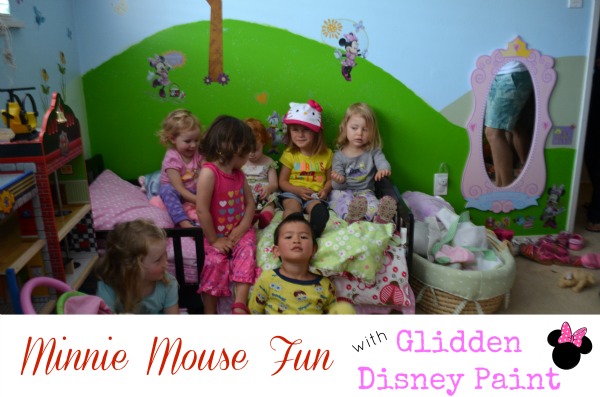 Glidden Disney Paint Party
With the painting complete and the Minnie decals we found at Walmart put up it was time to show off my daughter's new room. And what better way to do so than to have a Glidden Disney Paint Party!
We invited our friends over to check out the new design and were surprised by how excited everyone was to see it.
Since many of the moms have kids transitioning from toddler to preschooler, they were looking for a great way to transform the baby rooms they have into kid-approved rooms. And with Glidden Disney Paint and the great room ideas they have, that's possible!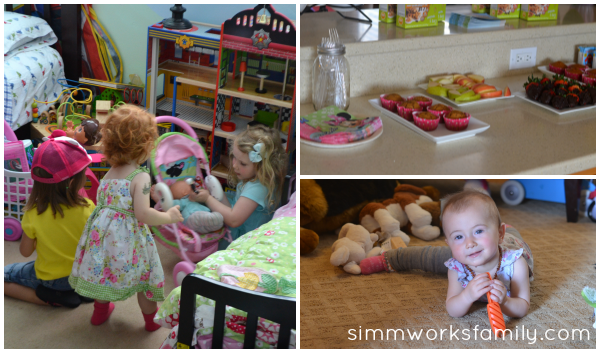 We served up some Marvelous Minnie Muffins, delicious chocolate-covered strawberries, fruit, and a few other breakfast items to enjoy at the party.
There was also plenty to do for the little ones since they not only got to play in the living room and playroom but the kids bedroom as well!
When I was at Walmart I picked up a few extra Glidden Disney Paint brochures to give each of the parents so they could start designing their perfect Disney room for their kids. Many were excited to learn about the new metallic paints, the chalkboard paint (which I also picked up), and the glow in the dark paint.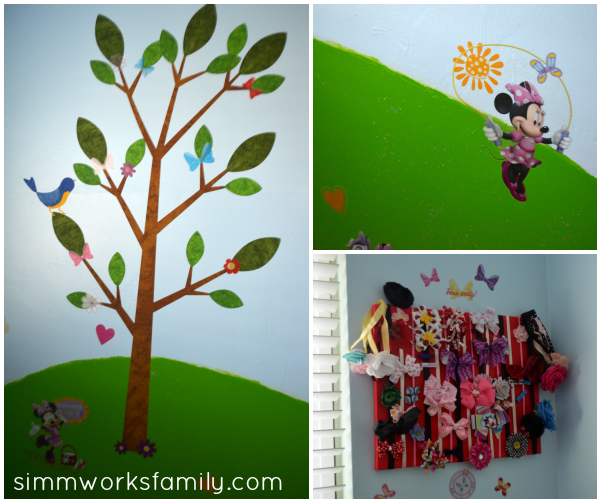 The Details
In addition to the Glidden Disney Paint we purchased, we also picked up some Minnie decals from Walmart that would accompany our current theme. I was also able to find a Minnie Mouse toddler bedding set on Craigslist from a local mama for $5 and used a mirror that was given to us by my sister as an accent.
By utilizing the bows and flowers in the decals we were able to decorate the tree decal that was already on her wall and make it more feminine.
I let my daughter place the various Minnie Mouses in the positions she wanted on the hill and then I decorated around her bow display above her bed.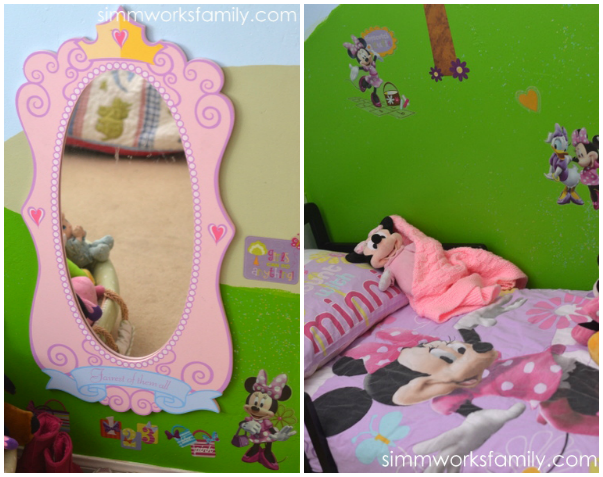 My daughter loves how her side of the room now sparkles and screams Minnie Mouse and is excited to finally start sleeping in here.
Yes… she is still in our room but with the new design we're starting to convince her that she needs to enjoy her Minnie Mouse space.
Luckily we were able to keep her involved in the whole process so she felt as if she were creating and designing the room herself.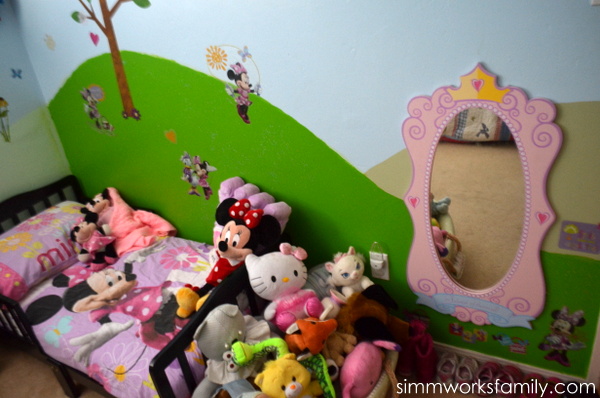 We are so happy with our room transformation thanks to Glidden Disney Paint and cannot wait to think of great ideas to spruce up other areas of the house with more of the new Disney Paint line.
I'm already contemplating what to do with the chalkboard paint I picked up and have plans to once again re-design our playroom to fit more fun for the kids.
How would you transform your child's room with Disney Paint?
Disclaimer: Compensation and products for review were provided by Glidden. The opinions expressed herein are those of the author and are not indicative of the opinions of Glidden.