Last week I received a box of goodies from Pompeian including a nice bottle of their Extra Virgin Olive Oil. Inspired by the robust, delicious flavors of this olive oil and the fact that our garden has been overflowing with green chilis lately, I got a little creative in the kitchen last night. Since I was craving jalapeno poppers I figured I'd marry the flavors in with the chicken I already had in the fridge. And that's where this green chili cream cheese chicken came to life.
I hate to pat myself on the back or toot my own horn but this is seriously one of the best dishes I've made in a long time. And I owe it all to my friend cream cheese. Well, it could also be attributed to the delicious Pompeian Extra Virgin Olive Oil I used to saute the veggies and chicken in.
The one thing  I think everyone will agree on is the fact that this 30 minute wonder (what?? It's quick to make too?) is hands down a winner!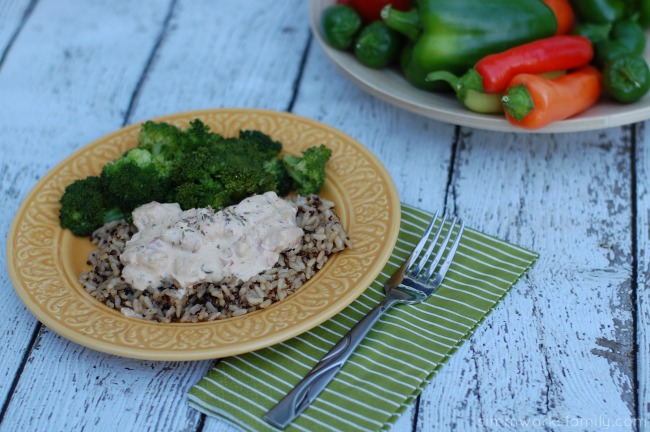 Green Chili Cream Cheese Chicken
2 tablespoons Pompeian Extra Virgin Olive Oil
1 pound chicken tenders, cut into 1 inch pieces
1/2 onion, chopped
1/2 red bell pepper chopped
1/4 cup diced green chilis
2 cloves garlic
1 tablespoon cumin
1 teaspoon garlic powder
1 teaspoon onion powder
1/4 teaspoon chili powder
8 ounces light cream cheese, softened
1/4 cup chicken broth
Saute onions, peppers, and garlic until onions are translucent, about 5 minutes. Add chopped chicken into pan and season with cumin, garlic powder, onion powder, and red chili powder until chicken is browned.
Stir in cream cheese and chicken broth and let simmer for about 10 minutes or until a sauce forms and chicken is cooked through.
Serve chicken over rice and enjoy!
Pompeian Extra Virgin Olive Oil is committed to freshness from harvest to table ensuring that only the finest olives are selected. Pompeian Extra Virgin Olive Oil is extremely low in acidity, which accounts for its robust taste and heady fragrance. The nuances of the flavor can be especially enjoyed in dressings, salads, vinaigrettes or as a table condiment for dipping bread of crudité.

Enjoy the taste of Pompeian Extra Virgin Olive Oil and the satisfaction of knowing that it's the first olive oil to be approved for the USDA quality-monitoring program! USDA quality monitoring program verifies the purity and quality of the olive oil through rigorous USDA product testing and review of production processes.
For more product & USDA quality monitoring information, click here. For some cooking inspiration, visit the Pompeian Recipe Page. To learn more about Pompeian Extra Virgin Olive Oil, click here.
"Like" Pompeian on Facebook for a $1.00 off coupon on any Pompeian Olive Oil & the latest news.
What do you love to cook with olive oil?
Disclaimer: I received a bottle of Pompeian Olive Oil, a measuring cup and a Walmart gift card to facilitate this recipe. All opinions are my own.