This shop featuring the lazy mom's guide to hosting a party has been compensated by Collective Bias, Inc. and its advertiser. All opinions are mine alone. #WipeAwayHolidayMess #CollectiveBias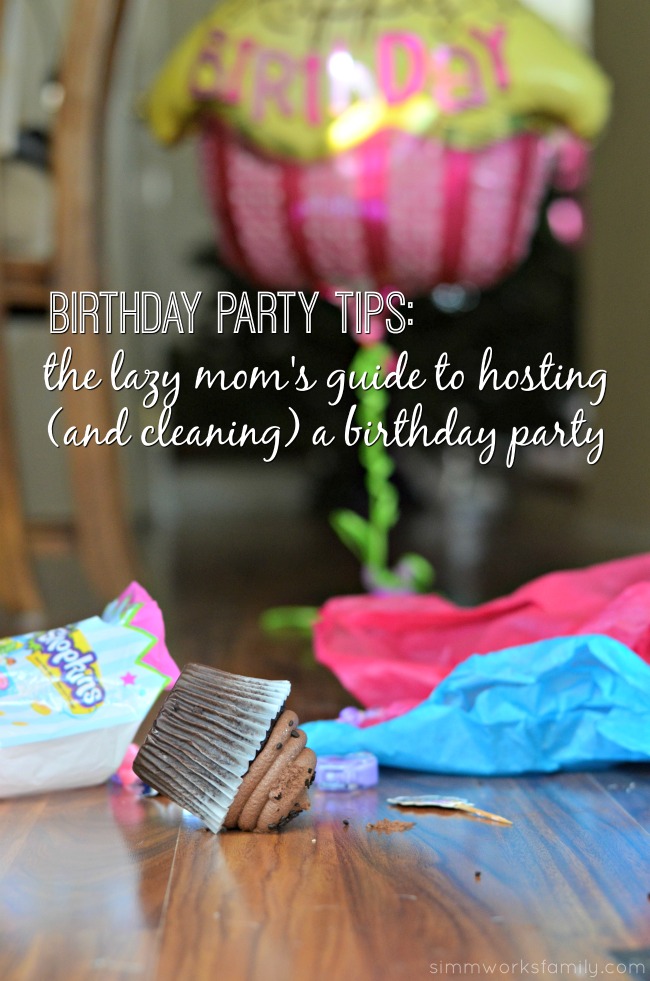 My gorgeous little girl is turning 6 on Wednesday. Yup. 6. I remember when she was first born. She came so fast. Like she was ready to be here after waiting 5 days after her due date. Always on her time. And always like a whirlwind.
She insisted on a Shopkins themed party and I had to deliver. I mean come on, you only turn 6 once, right. In the 6 years of throwing parties for her, I've come to learn a thing or two about throwing together a party. And each year has gotten simpler and simpler with a few easy tricks I've learned.
Throwing a birthday party doesn't have to be complicated. Or expensive for that matter. it just takes some creativity and a little bit of prep. And if cleaning isn't your thing, I have some tips for that too!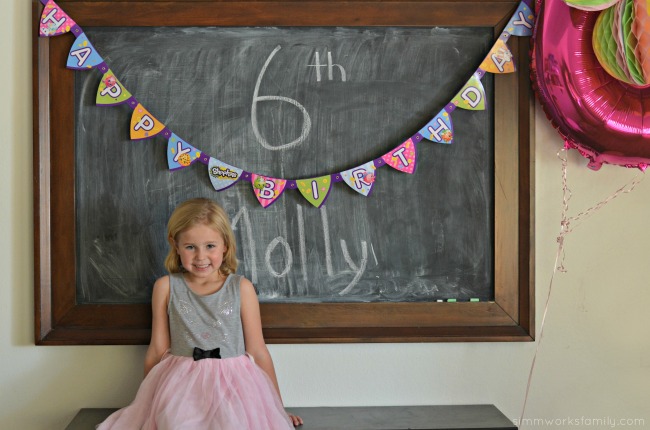 The Lazy Mom's Guide to Hosting A Birthday Party
1. Pick a theme
Now I normally leave themes up to the kids, but then I work on coming up with a basic color scheme to go along with that theme. In an effort to keep costs down, I only select a few character or themed items and coordinate those with solid color decor. I try to stock up on solid color plates and napkins, etc when I see them on sale so I don't have to spend too much right before the party.
2. Do any prep work ahead of time
About a week out I like to do the simple things I may not find the time to do on the day of the party or the day before. I fill goodie bags, make sure I have the pinata ready to go, and do a quick cleaning of the main areas of the house. I also print out any printables I've made or found and assemble anything that needs to be assembled (like when I make my own happy birthday signs).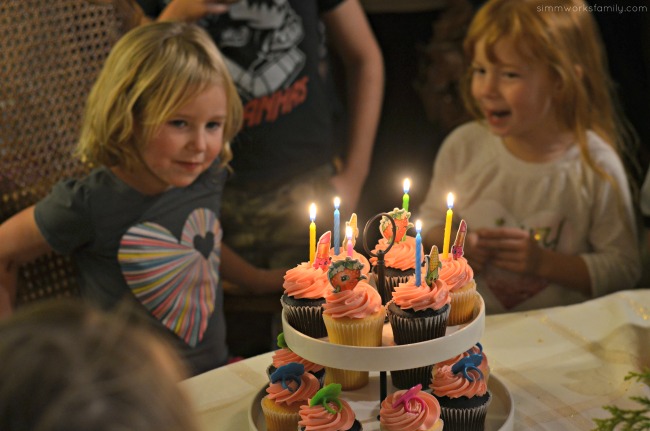 3. Only commit to making 1-2 food items
My biggest time saver and stress reliever is to only make 1-2 of the food items I serve at the kids parties. This year it was hot dogs and pasta with two different sauces (alfredo and marinara). We purchased the pizza, fruit, veggie tray, and cupcakes from the grocery store. And I added a little flair to the store bought cupcakes by purchasing some character rings and cupcake decorations online. Way cheaper than custom cupcakes or cakes!
4. Set up the night before
So that everything is ready to go, I always try to set up everything the night before. I lay out platters, make little notes about where I want things to go, and come up with a day-of game plan so I don't forget anything. That way there's less stress on me the day of. I also make sure my husband is in charge of picking up all of the food on the day of so I'm home to do any last minute tidying and to greet any early guests.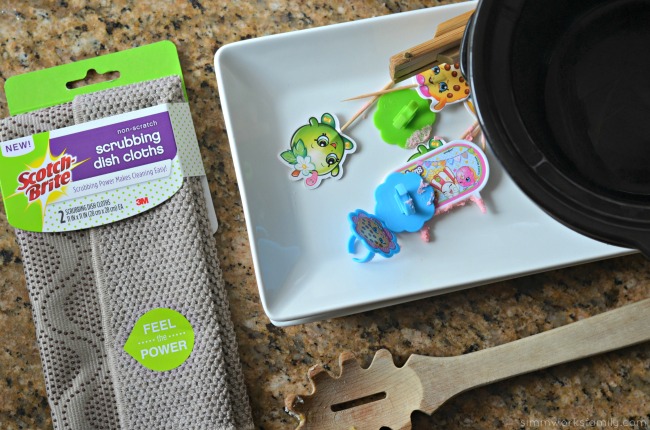 5. Don't clean up during – or right after – the party
My biggest suggestion when hosting a party is to not worry about clean up. Especially when there are guests still at your home. We set out trash cans outside and inside so that guests know where things go (including recycling). And sometimes guests are so inclined to help pick up here and there. Let them! But don't you dare pick up that piece of trash! This is your time to enjoy the fun your child is having with their friends.
When the party has ended, I simply put away any food items that are still left out. And that's all I do. I leave the mess for the morning. Because by then I'm exhausted and why work more when it'll all be there in the morning? The next morning I conquer and divide. I have one kid with a bag to pick up trash and the other with a bag to pick up recyclables.
Then I go around clearing any plates or dishes that may not have been put away. Next up is the dishes. Now you may be worried that because you didn't clean up the night before, you might have some leftovers stuck to the dishes. That's nothing a handy dandy Scotch-Brite® Scrubbing Dish Cloth can't handle. The scrubbing dots on the one side of the dish cloth allow you to take on tough messes in the sink and across a variety of surfaces. Squeaky clean!
Then I unleash the best tools of all! Our dogs. We let them search around and find anything we may have missed. And it works like a charm!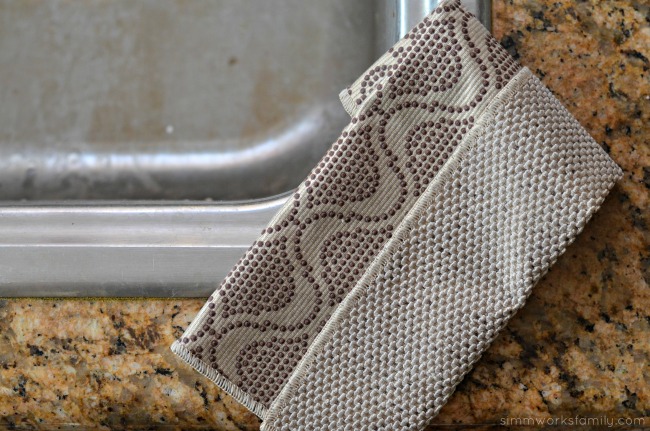 So the next time you're hosting a party remember to keep it simple! Choose a theme, but use solid color accents, do some prep work ahead of time, only make 1-2 items for the party and purchase the rest, and come up with a day of game plan (including NOT cleaning). Looking for some help in the kitchen? Just grab some Scotch-Brite Scrubbing Dish Cloths to help you out!
What are your tips for making party planning easier?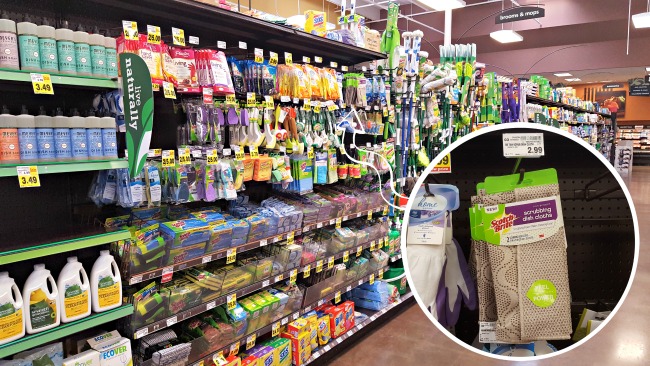 Head over to your local Ralphs to score an In-Store Clip Strip Offer for $1.00 off a 1-pack of Scotch-Brite Scrubbing Dish Cloths starting on 12/4! We found our Scotch-Brite Scrubbing Dish Cloths in the cleaning aisle.