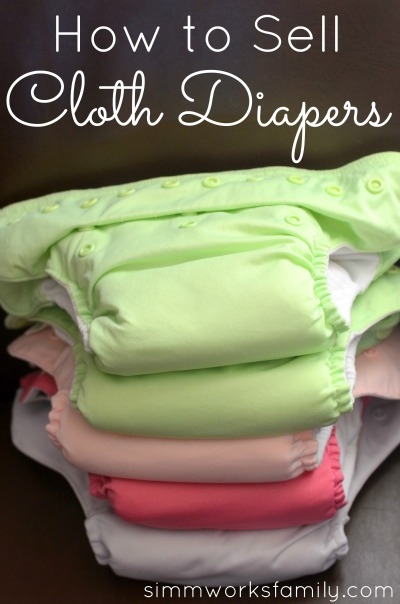 So you've finally decided that you are done with cloth diapering. Your kid(s) are potty trained, you just don't love cloth diapers like you thought you would, or you have some extra diapers that just didn't work for you, ore are too small,  and are looking to make room in your stash.
Now how do you sell the cloth diapers you have to make a little more money back?
Since I started cloth diapering 6 years ago, I knew that one of the awesome reasons I cloth diapered was that I'd recoup some of the money I put into the diapers I purchased. Because I could sell my cloth diapers after I used them.
And now the time has come to destash. So I've compiled a few great ways to sell cloth diapers. Here are some ways to approach selling your diapers!
How to Sell Cloth Diapers
1. Go local –
Have any friends looking to cloth diaper? Try here first. That way you know that the diapers will get great use and you might be able to help out a friend looking into cloth diapering. Plus you can show them how to use all of the diapers, etc.
And if you don't have any friends who need cloth diapers, try Craigslist. Take a few photos, post them online and save a bit on the hassle of shipping out the diapers.
Local resale shops also purchase cloth diapers to resell. And while they aren't the best way to make the most money for your diapers, they are probably the easiest way to sell your diapers quickly.
2. Sell Within Your Community Online –
There are quite a few eco-friendly facebook groups online that allow their community to purchase and sell cloth diapers amongst one another. You simply upload photos of the diapers you have for sale, list the price, and ship to the buyer.
The best way to accept funds is probably paypal since it's quick, easy, and you can print out a shipping label right on their site!
3. Sell On An Online Forum –
There are a few websites dedicated to helping you sell your cloth diapers. You simply list what you have for sale and can set up everything through the site, including payment and shipping.
A few of my favorites are:
Whatever way you choose to sell your diapers just remember to take great photos, be honest about the condition, and do a little research on the value of the diapers you have for sale.
Have you sold diapers before? What worked for you