For quite a while I have been on the hunt for the perfect vegetarian/vegan recipes to help change my family's view of non-meat dishes. My husband seems to think that a meal isn't a meal without meat.  So when I was asked to review Vegan Beans from Around the World by Kelsey Kinser I thought it'd be a great opportunity to try again and change the way my family thinks about mealtime.
I started small with a few appetizers and sides to test their limits. Then I went straight in and prepared some vegan dishes for dinnertime. And you know what? They ate it! And not only did they eat it… they enjoyed it.
While I haven't quite convinced my husband that meat does not need to be in each meal, I have gotten him to open his eyes to new possibilities and new flavors thanks to the amazing recipes in this book.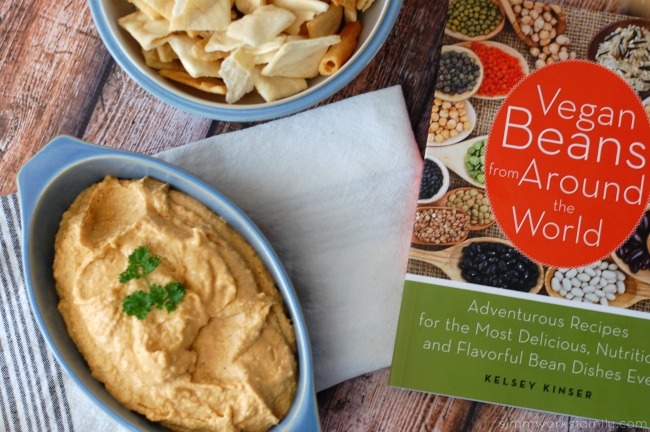 Hommage Hummus aka Hummus Without Tahini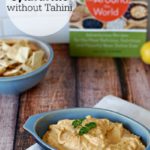 3 cloves garlic
pinch of kosher salt
pinch of black pepper
1 15 ounce can of chickpeas drained (reserve liquid)
2 lemons (juiced)
1 teaspoon paprika
2 tablespoons peanut butter
1/3 cup extra virgin olive oil
1/3 cup roasted salted peanuts (omitted from my version)
In a food processor, mince garlic finely with salt and black pepper.
Add the chickpeas, the saved liquid, the lemon juice, paprika, and peanut butter. Process until smooth. You do not want chunks of chickpeas. After everything is well blended and smooth, while the processor is running, drizzle in the olive oil.
Add the peanuts and process until they are chopped but still chunky. Enjoy!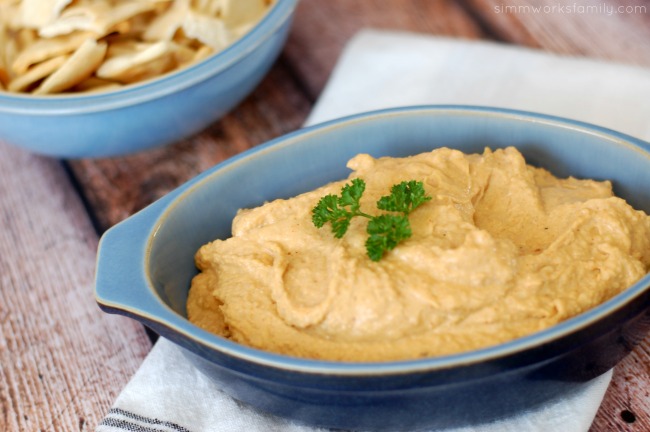 If you're looking for a fabulous, fresh take on vegan dishes or are simply taking your first step into the world of vegan dishes, I highly suggest picking up a copy of Vegan Beans from Around the World by Kelsey Kinser and trying a few of these wonderful recipes.
We will continue to try out the recipes in this book and I'll see how much I can change my husbands mind when it comes to serving dinner… without the meat!
What's your favorite snack to dip in hummus?