This post brought to you by PERK. All opinions are 100% mine.
Once you have kids, the state of the interior of your car pretty much implodes. From toys to crackers (smushed for added texture) to clothes and diapers, our cars become mobile homes filled with everything we need to care for our kids. So how do we keep a clean car with kids? It's simple.
But you have to be willing to follow these steps and make sure you have a system in place to keep the mess at bay. If you're like me… this may fall to the wayside with the craziness of life. But that's ok, simply do a deep clean, start back at step one and get back in it!
The first thing we have to do is deep clean the car. Grab a laundry basket and a trash can. Put all of the toys, clothes, etc in the laundry basket to bring into the home and sort and throw out all of the waste in the trash can. Then run a vacuum over everything and wipe the surfaces down. Now you're ready for maintenance!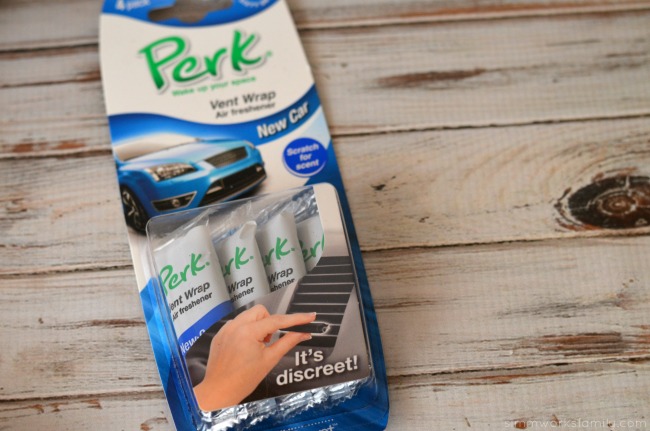 How to Keep a Clean Car with Kids
Put a waste basket in the car to throw any trash or leftover food away. This can be as simple as a paper bag or you can find something cute.
Do a quick sweep nightly to grab any forgotten toys or trash. Making this a habit will help in the long run.
Keep essentials (sweaters, change of clothes, diapers, medical kit, etc) in a reusable bag (I love to use a wet bag from our cloth diapering days) in the trunk. That way they're accessible but not all over the place.
If all else fails, add a Vent Wrap to the a/c vent and mask the scent!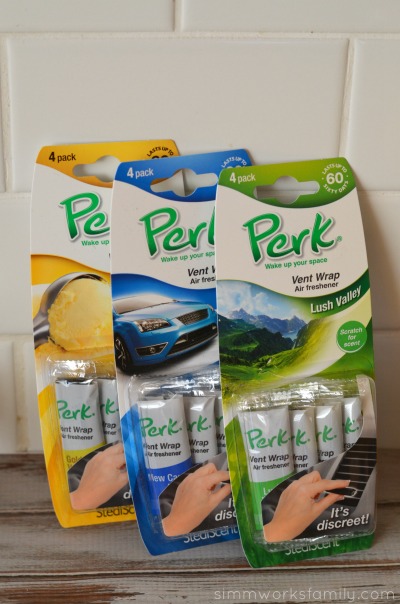 Now that you know how to keep up with the craziness that is the interior of your car with kids, lets talk about this vent air freshener! PERK is a new brand of sleek, innovative auto air fresheners that will Wake Up Your Space!
PERK Vent Wrap is a completely new kind of vent air freshener. It's super discreet and your passengers will wonder why your car smells so great! It's unique, patent-pending design makes it virtually invisible – that's why we call it "Invisibly Fresh".
My favorite scent? New Car of course! How could I resist the smell that first came with the car we've now owned for a few years (that kinda smells more like old food…).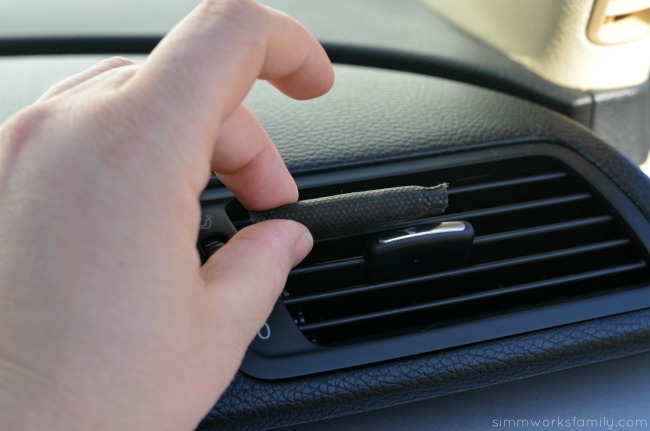 While you may not notice your Vent Wrap air freshener, you will notice the fragrance. Hidden under the soft black protective cover is a revolutionary fragrance technology. No more wondering where the fragrance went after a couple days!
No need to fiddle with adjustable dials. The patent-pending layered StediScent® technology will provide fragrance that is just right!  And I can attest to the fact that this vent wrap lasts for quite a while. When the scent disappears after it's use I simply snap on a new one.
Plus it's easy to install. Simply snap into place on the vent and enjoy the wonderful scent!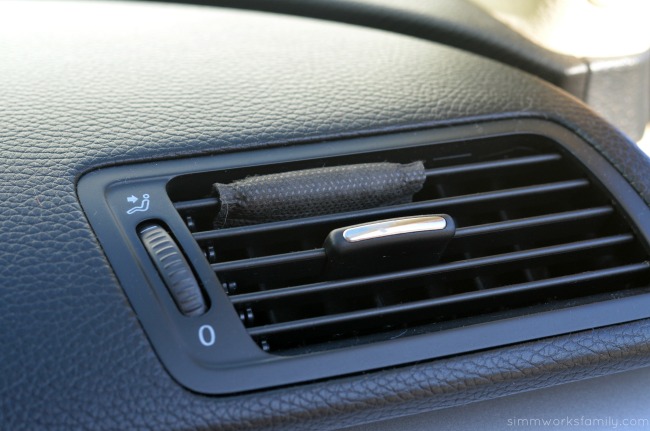 Want to learn more? Then check out this informational video below:
Like PERK on Facebook for more information about the brand.
Interested in trying PERK Vent Wrap for yourself? Simply fill out the rafflecopter form below and enter to win 6 months of free PERK Vent Wrap! This giveaway ends March 4th at 11:59pm and is open to the US only. Void where prohibited.