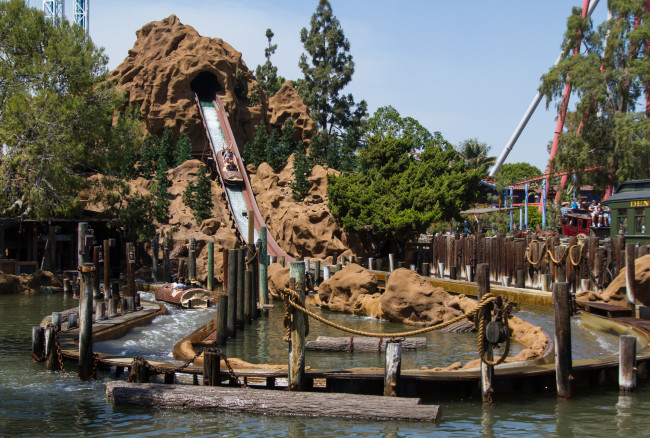 I have such amazing memories of the times my parents took me to amusement parks during the summer. The thrill of the rides, the indulgent good food, and the freedom to choose where we went and what we were doing next. My siblings and I were always up for an adventure and we knew that this was exactly what we would get as soon as we passed through the turnstiles at Knott's Berry Farm.
Now with my own kids, I'm looking for that exact same experience this summer and I'll definitely still find it at Knott's. From the thrilling new rides, like Voyage to the Iron Reef,  to fun shows for the whole family, like Blockbuster Beagle!…on ice at the Charles M. Schulz Theatre, there is something for everyone this summer.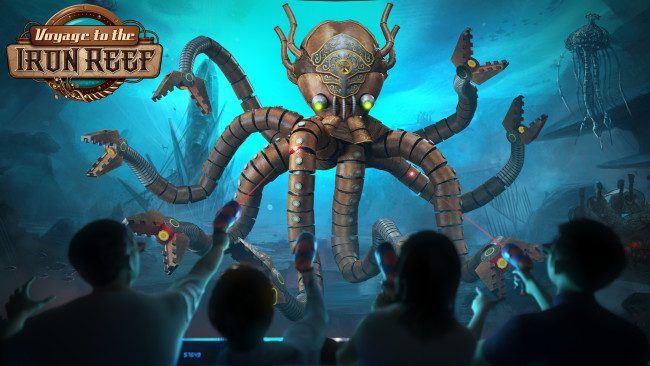 In just a few short weeks I'll be taking the kids up for their first adventure of the summer. We'll be kicking things off right with a trip to Knott's Berry Farm to check out what's new this summer and how we can make the most of our summer with the help of a few of our friends (hint: one of them is a beagle with a black nose and a cool red house).
Here are 13 reasons why you should visit Knott's this summer:
The NEW Voyage to the Iron Reef – The new interactive 4-D attraction called Voyage to the Iron Reef, will take you on an adventure aboard submarine-inspired vehicles through enchanting underwater forests, disorienting ocean current tunnels, mysterious mechanical wreckage, and high definition 3D animation.
Blockbuster Beagle!…on ice (Charles M. Schulz Theatre) – Snoopy and his Peanuts buddies "go Hollywood" bringing Walk of Fame glamour, dazzling movie lot escapades and California excitement to a brand new ice show adventure. June 13 – August 23 No shows on Wednesdays
Vertical Impact & Vertical Impact Geared Up Show – Vertical Impact presents the ultimate blend of extreme stunts with high flying acrobats performing a one of a kind performance perfect for the entire family! June 13 – August 23 No shows on Mondays & Tuesdays
Charlie Brown's Happy Campers (Camp Snoopy Theatre) – Join Charlie Brown, Linus, Lucy and the world's most popular beagle, Snoopy in a show that's sure to make an outdoorsman out of anybody! Daily, June 14 through September 1
Big Band Swingin' Sundays – Jump, Jive & Swing to the sounds of Orange County's best local Big Bands. Sunday evenings, June14 – August 30
Boardwalk Dance Party (Boardwalk Circle Stage) – Dance 'til you drop and wave your hands in the air until you just don't care with DJ Howly, one of Orange County's most requested "mixers & spinners". Monday & Tuesday evenings, June 15 – August 25, plus September 7
Ghost Town Streetmosphere – Ghost Town is alive with townsfolk who will put you smack dab in the middle of the Wild West. As you mosey on through Ghost Town, say "Howdy" to returning favorites, Dusty Trail, who's never without her six-shooter, Miss Ruby, the purtiest Saloon Gal in town, Miss Apple the School Teacher, and the rest of the Calico townsfolk. Daily June 13 – September 7
Krazy Kirk and the Hillbillies (Birdcage Theatre) – Things get krazy when Krazy Kirk and the Hillbillies perform their toe tappin', knee-slappin', side splittin' country comedy show that has Knott's audiences clamoring for more! Fridays through Mondays, June 13 – August 23 except 6/19 and 8/6 & 29.
 Salsa  Bands (Fiesta Plaza Stage) – Nothing says a party at the Fiesta Plaza stage better than the energy created by some of Orange County's most popular salsa bands. Friday, Saturday & Sunday evenings, June 13 through August 23, Plus August 29, 30 and September 5, 6, & 7
The Ghost Town Miners (Spurs Stage) – For a "Yeehaw" of a good time you won't want to miss the Ghost Town Miners sing and play some of the best bluegrass this side of the Rio Grande! Tuesday through Thursday, June 16 – August 20
The Marshal Purdy Show (Birdcage Theatre) – Come on in for some old fashioned, homespun fun that's sure to tickle your fancy and bust your gut. Tuesday & Wednesday, June 17 – August 21
The Big Fat Steve Band (Boardwalk Circle Stage) – Back by popular demand, The Big Fat Steve Band-The Kings of Kool is a fun, exciting dance band with a swingin' beat. Wednesday through Saturday, June 13 – August 29, plus September 5 & 6.
Calico Saloon Cancan Show (Calico Saloon) – What's a Saloon without a show? Don't miss the Calico Saloon Show for some good old' fashioned bar room fun. We heard that the dancin' girls even perform that new fandangled dance from Paree, France, the Cancan! You might even want to cool off with a tall cool bottle of the hard stuff…Sarsaparilla! Daily, June 13 – September 30, Plus September 5 – 7
What are you looking forward to at Knott's?