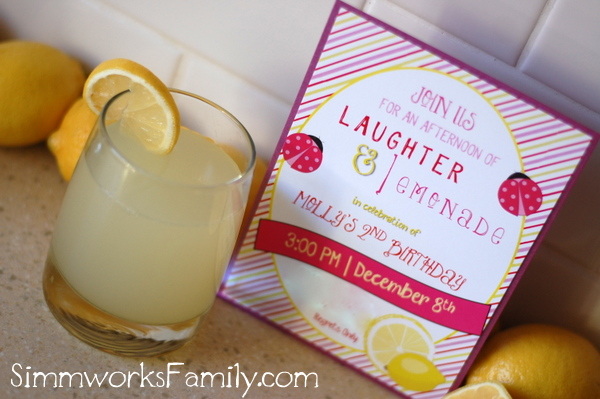 There's something simply magical about a child's birthday party. No matter what age they are, birthday parties are filled with joy and cheer! So when we asked my daughter what she'd like for her second birthday we were thrilled to hear that she wanted to include her love of ladybugs. And with that her ladybug lemonade birthday party was created.
After quite a few months of pinning great ideas, designing her birthday invitations (and asked the wonderful Cherish Paperie to print them), and coming up with a few ideas of my own for the food, decorations, and entertainment the day was finally here. And we were ready to party!

Ladybug Lemonade Birthday Party
For this party I wanted to keep it simple. My criteria for this party was as follows:
pink, red, and yellow decor
natural/flowery designs
simple and easy finger foods
bright, fun and cheery
And with these goals in mind I started to design. I loved the idea of pairing cute ladybugs with lemons and lemonade so I started there. And that's when I found my daughter's adorable dress on ThreadUp. This is a Gymboree dress I scored for like $7! Such a steal.
I took the design of one of the ladybugs and added it to invitation. Then I took the invitation design and used it to create the banner (with the help of my good friend Melissa of My PB&J!). My original plan was to just use the same banner from her 1st birthday and save me the hassle but then the night before her party I still couldn't find it…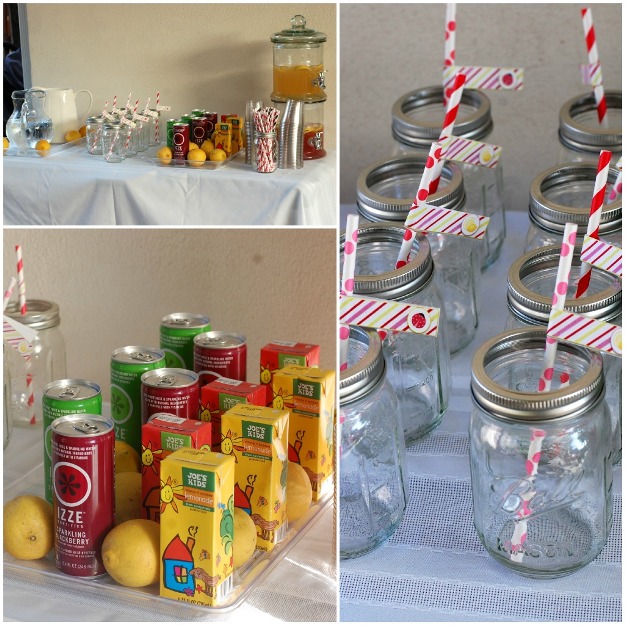 The Lemonade Stand
Drinks were very simple for this party – Lemonade! But of course I couldn't stop there. We headed out to Trader Joe's and got their regular organic lemonade and their organic pink lemonade for my drink dispenser. Then we went to the kids drinks and got some lemonade box drinks for the kiddies who prefer them. And my son couldn't let us leave without snagging a few apple and apple grape drink boxes as well.
Then when we were at Costco grabbing a few things (yummy, fattening artichoke jalapeno dip and pita chips!) we found these delicious sparkling juice drinks that we added to the mix for fun. Mix one of these with the lemonade and enjoy pure awesomeness!
Add some pitchers of water and some lemons for decorations and our drinks table was complete.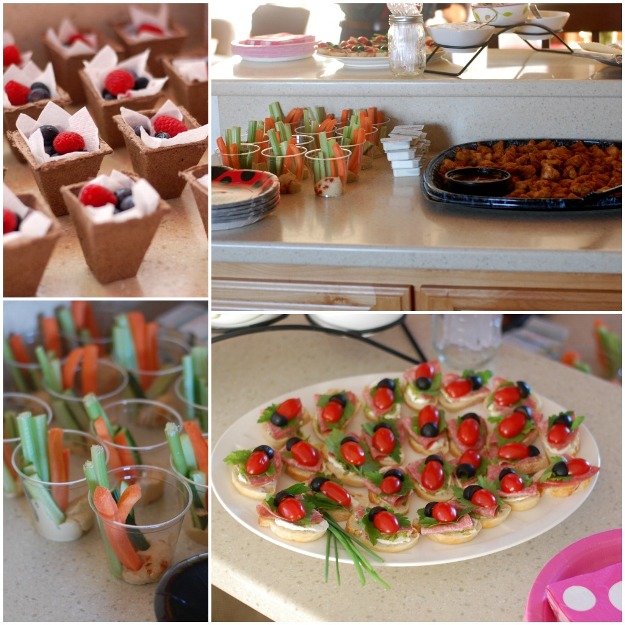 Small Bites
With the food my biggest obstacle was to try not to over-do it. I seem to ignore RSVPs and simply plan to feed the masses at any party I host so this time I wanted to make sure I stuck to the basics. And since the party started at 3pm, I didn't need to prepare or serve a meal.
The one thing I absolutely knew I wanted at the party were some Chick-fil-A nuggets. These things are my kids favorites and we love them as well. Next up were these adorable ladybug bites. Super simple recipe… baguette, cream cheese, pesto, salame, parsley, grape tomato cut in half for the ladybug body, black olive cut into 4ths as the head.
The rest of the food spread was pretty much the same as I always serve, a cheese and meat platter with crackers, veggies with hummus, chips and dip, and salad. Most everything could simply be picked up and eaten with the hands except for the salad.

All About the Sweets
My favorite part of the whole party (except for seeing the excitement on my daughter's face as she realized that it was all for her) was the dessert table. It was loaded with fabulous goodies and yummy treats.
I ordered my cupcakes from My PB&J and my cookies, cake pops and fondant toppers from The Sweets Fairy Bakeshop. I made the ladybug mini cakes for the final touch. Guests were asked to take home cake pops and cookies as favors.
While a lot of time and effort went into this party, I couldn't be happier with the outcome. My family and friends have blessed us so much that throwing these parties makes me feel as if I'm thanking them for all of the wonderful things they've done for us over the years.
It's so amazing to see such love others have for my children and makes me so happy to know that they have so many wonderful people in their lives.