The following content is intended for readers who are 21 or older. I am a member of the Collective Bias® Social Fabric® Community. This #InspireMyDinner shop featuring Roasted Red Pepper Chicken and Linguine with White Wine Sauce has been compensated as part of a social shopper amplification for #CollectiveBias and its advertiser.
Date nights are an important part of my relationship with my husband. They allow us to reconnect, chat about life, and spend time together without the kids. Whether we're heading out for a night on the town or settling in at home for an easy to make meal together, the time we spend during date night helps us rekindle that spark.
Since we've finally decided we need to expand and are starting to look for potential houses to move into we've been on a tighter budget than normal. That means more meals at home… including date night meals. But that doesn't mean I have to make some elaborate dish that takes hours to make.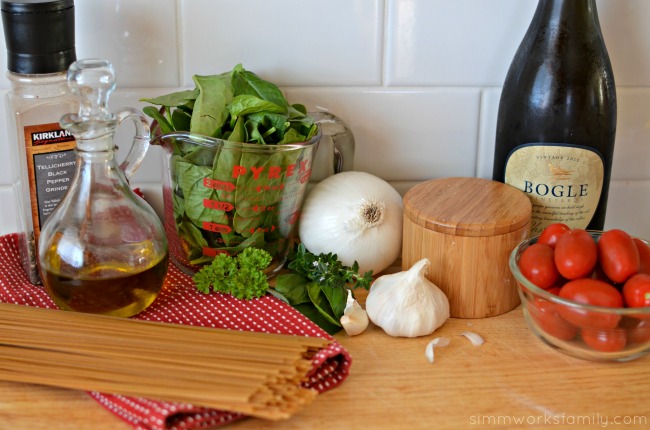 With the help of Tyson Individually Quick Frozen Chicken Breasts cooking for two couldn't be easier! I just needed a few items from my pantry, the garden, and the fridge and it was time to make some dinner.
After finding the Tyson Roasted Red Pepper & Garlic Chicken in the freezer section of my local Sam's Club this past weekend, I started to think of dishes that would pair nicely with it for an easy-to-make date night meal for the hubby and me.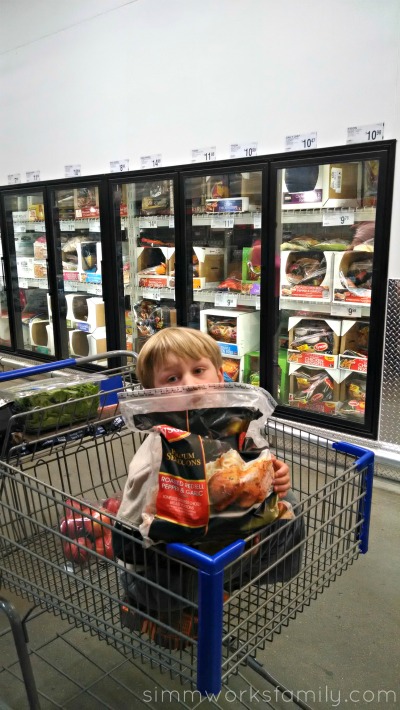 Finding a meal that both my husband and I would love wasn't too hard. We're both pretty big fans of pasta and any recipe that includes wine is a winner in my book! Especially when we can enjoy a glass as we cook. Turn on a little music, fill up my cup, and I am a happy camper in the kitchen!
I was able to get the chicken in the oven to cook as I prepared the linguine and sauce. First up! Chopping veggies. Now when it comes to date night in I like it when both my husband and I are involved in the cooking process.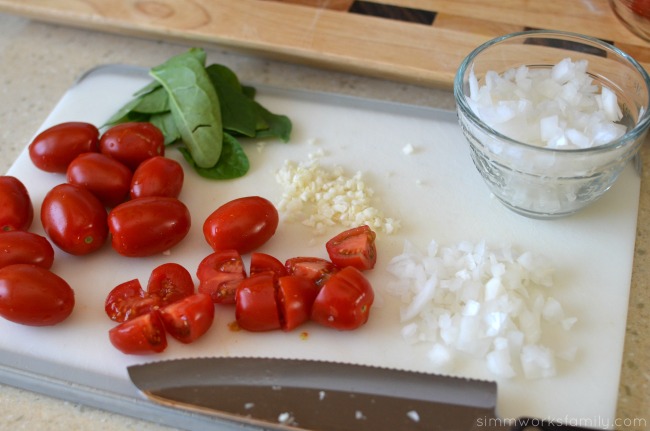 I grabbed the hubby and had him chop up the onions, garlic, and tomatoes while I started on some delicious dessert. To go with our amazing dinner I wanted to make some individual flourless chocolate cakes that we could eat afterwards while watching a movie together.
I find that working together in the kitchen takes a lot of patience and communication so it helps to work well together while cooking or baking together. Luckily my husband and I can survive each other in the kitchen.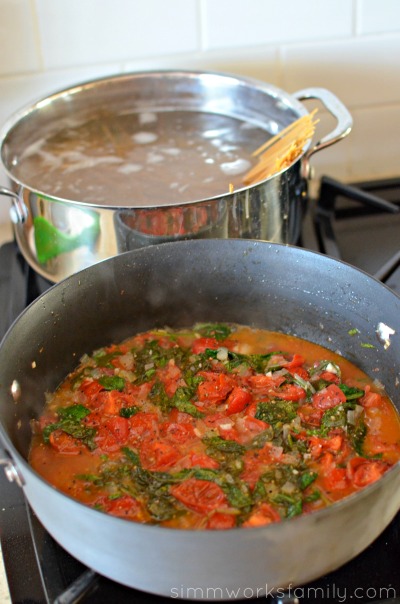 Within an hour we were able to take simple ingredients and make a delicious gourmet meal for two. Not only did we prepare dinner together but we also spent some much needed alone time with one another.
From making the meal, to eating together, to enjoying dessert with our movie, date night was a success and we were able to reconnect again. I'm already thinking about our next date night at the end of the month!
Interested in trying this delicious Tyson Roasted Red Pepper & Garlic Chicken? All Sam's Club locations will have a demo of this product on 5/10/14. So head down and check it out. I'm sure you'll be inspired to create a gourmet meal for two after tasting these delicious flavors. Or you can try this recipe!
Roasted Red Pepper Chicken and Linguine with White Wine Sauce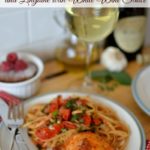 1 package linguine
2 tablespoons olive oil
1/2 onion (chopped)
2 cloves garlic (minced)
1 cup white wine
1 cup grape tomatoes (cut)
2 cups spinach
2 tablespoons fresh basil (chopped)
1 tablespoon fresh thyme (chopped)
1 tablespoon fresh oregano (chopped)
Boil a large pot of water. While water is coming to a boil, heat olive oil in large skillet on medium heat.
Saute onions in oil for about 5 minutes. Add in the garlic and cook for another minute, or until garlic becomes fragrant. Pour in the wine and scrape the bottom and sides of the pan
Reduce heat to medium low and add tomatoes and spinach to the pan. Let cook for 15-20 minutes or until liquid reduces. Add linguine to the pot of water when it starts to boil.
When linguine is cooked add it to the pan with the chopped herbs and let cook for 5 minutes. Add some pasta water to the pan if needed. Serve with chicken and enjoy!
What's your favorite way to celebrate date night?