These 5 tips for making weeknight dinners easier were inspired by our sponsor, Terra's Kitchen. Read ahead to find out how you can save time and money in the kitchen while still getting delicious dinners on the table during the week!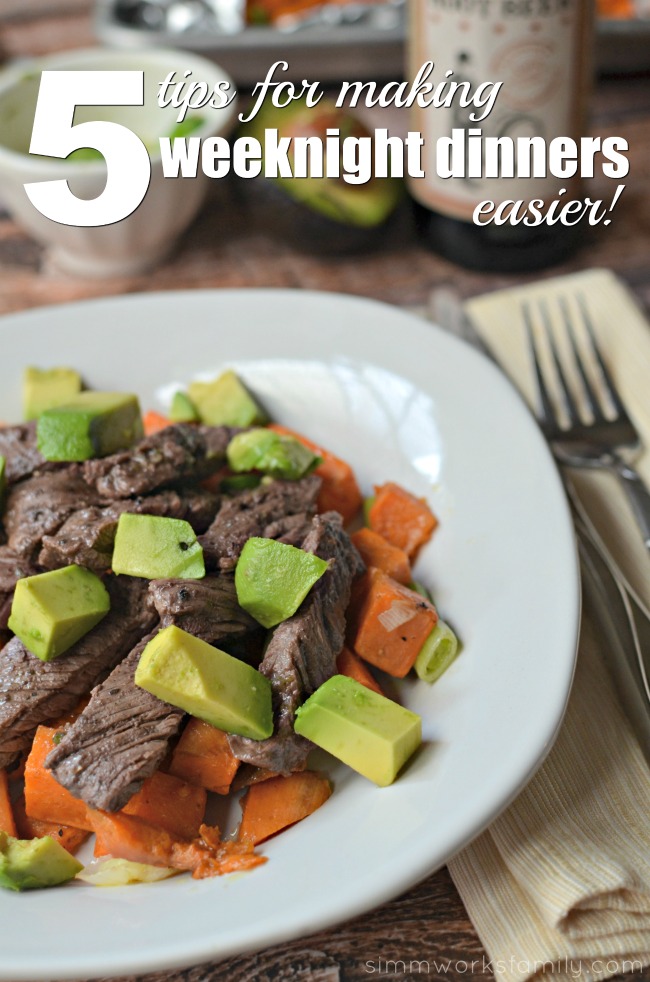 We are now in the throes of school life and as we near the busiest time of the year, I've really started planning ahead. That means keeping up with my calendar, staying on top of our budget, and making sure I have dinner on the table every night. Sometimes that last challenge is harder than you'd think!
In an effort to not only stay on top of our budget (eating out is expensive!) but also make sure I have dinner ready nightly, I've come up with a few ways that I can cut a few corners by planning in advance and using tools like Terra's Kitchen to make my week a LOT easier.
5 Tips for Making Weeknight Dinners Easier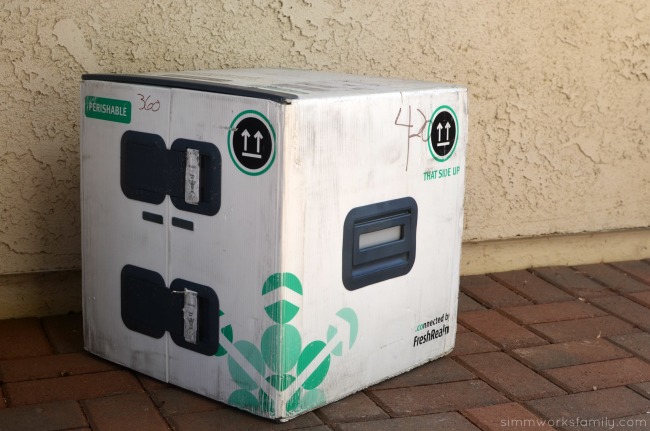 1. Meal Delivery
I've tried out a few frozen or prepared meals out in the past but I just can't get over not being able to cook my own food. Now don't get me wrong, I do love my microwave for things like popcorn and microwavable bacon (the kids can make their own and there's no mess!). But cooking my meals in the microwave from the freezer just isn't as tasty.
So when I heard about Terra's Kitchen and looked at the weekly menu offerings they had, I was excited to try out a few of their meals through their meal delivery program. Not only is it not frozen, it comes in a climate-controlled vessel straight to your front door. When I unloaded the vessel, I simply removed the removable shipping label, placed it back outside, and it was picked up the next day and on it's way to shipping more food to someone else. These vessels can be used up to 100 times! Waay better than the styrofoam packaging I was used to for previous services.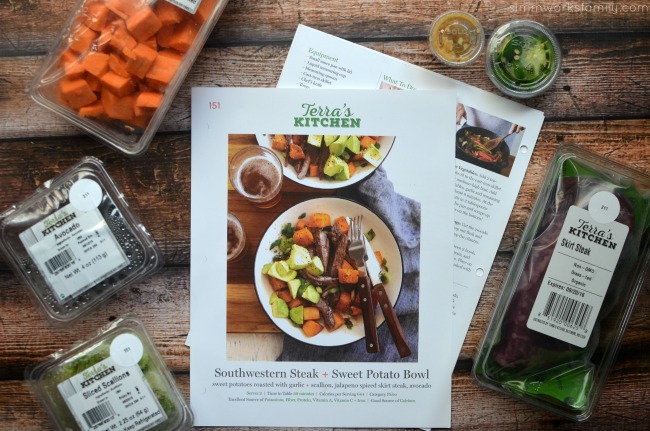 2. Meal Planning
With Terra's Kitchen, I can input the meals I'll be making from them into my weekly meal plan. That means I'm only shopping for breakfast and lunch (and a few items for snacks). I don't have to worry about dinners because I'll be making healthy meals in 30 minutes or less with my Terra's Kitchen orders!
Meal planning really does help for more than just dinner. And it's a great way to stay on track with our budget because we only buy what we've planned to eat. It also allows me to keep an eye out for weekly specials and coupons in the paper. It may sound daunting to take this time on the weekend but it does pay to plan ahead when there are PTG meetings, soccer practice, and homework looming over our heads during the week.
Terra's Kitchen includes the ingredients list and recipes of each of their meal items and it's conveniently printed on a 3 hole punched piece of card stock so you can easily add it to your meal planning binder. If you love a recipe, you'll know exactly what to purchase to recreate the meal again and again in your home!
3. Prepping Ahead
When I meal plan for the week, I also try and get all of my prep work done in advance on Sundays. That way I don't have to think about cutting and chopping during the week. I also pre-package the kids snacks for lunches as well so they're easy to grab.
Well, Terra's Kitchen does the same thing! All of the ingredients I received were pre-portioned and pre-chopped ready to go straight to the fridge. And the containers they were in fit perfectly on top of one another. It was kind of fun playing Tetris in my fridge to get everything to fit perfectly! Plus there was still room for the essentials we always keep in the fridge.
Tip: You can use the containers your food comes in as seed starters for your garden! We'll be sharing our seed starting tips next week so stay tuned!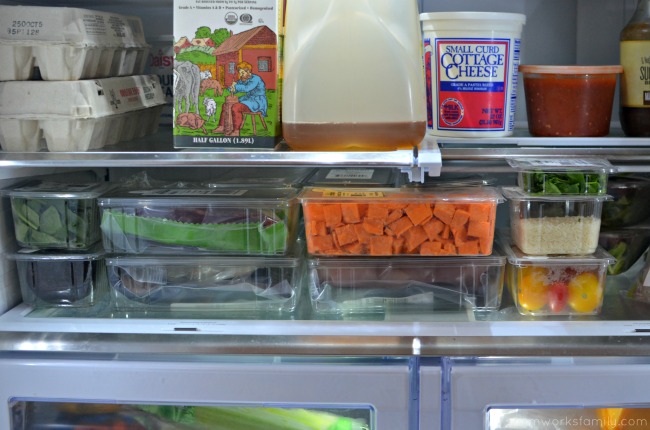 4. Freezer Meals
Now I know that things do come up and sometimes we don't even have the mere 30 minutes to cook a meal. So I prep ahead and turn leftovers from one meal into freezer meals for a meal in the future. I turned the leftovers from this amazingly delicious Southwest Steak and Sweet Potato bowl into mini pot pies to gobble up in the near future when all I have time for is turning on an oven and sticking a freezer meal in to bake. By prepping freezer meals for the oven or the slow cooker, I can make sure the days we don't have a Terra's Kitchen meal are covered!
5. Time Management
My biggest enemy during the week is time. The time between picking the kids up from school and dinner is a big black vortex that seems to disappear before my eyes. No, seriously. I have NO idea how time goes so quickly between then.
So in an effort to be better with time management, in addition to meal planning, shopping, and prepping on the weekends, I also set a timer to go off 30 minutes before my husband normally comes home from work so I know when I have to start cooking dinner. It's so easy to get sucked into working just a little longer when you work from home so setting limits and timers is important.
By setting aside this time and scheduling it for these tasks, I'm able to stay on top of feeding the family. And a fed family is a happy family!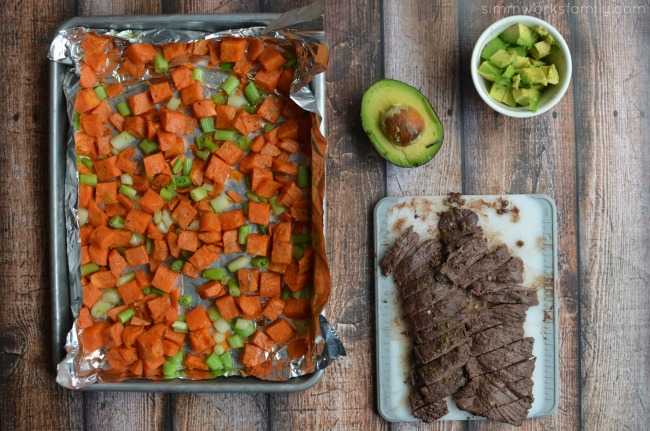 Southwestern Steak and Sweet Potatoes Bowl
Recipe courtesy of Terra's Kitchen
16 ounces sweet potato chunks
salt and pepper
1 tablespoon plus 1 teaspoon canola oil
1/4 teaspoon cumin
.7 ounces jalapeno slices
.3 ounces minced garlic
12 ounces skirt steak
2.25 ounces sliced scallions
1 avocado
1. Preheat the oven t o450 degrees. Line a baking sheet with foil.
2. Cook the Potatoes: Pour sweet potatoes onto baking sheet. Pour 1 tablespoon of oil, 1 teaspoon salt, 1/4 teaspoon pepper and 1/4 teaspoon of cumin (optional) over sweet potatoes and toss with your hands to coat. Place in the oven and roast until browned and tender (approximately 20 minutes). In the last 5 minutes of cook time, chop the remaining jalapeno and use a spatula to stir it into the potatoes along with the remaining garlic and all of the scallions.
3. Make the Steak Rub: Pour half of the jalapeno slices, half the garlic, 1 teaspoon salt and 1/4 teaspoon pepper into a small pile on a cutting board and keep cutting through the mixture with your knife until the jalapeno releases juices and you have made a wet paste. Rub mixture over steaks.
4. Cook the Steaks: Rub a grill pan with 1 teaspoon of canola oil and place over high heat. Once grill starts to smoke, add steaks and cook to medium rare, turning once (approximately 3-4 minutes per side). Remove to a plate and allow to rest for 5 minutes. Slice against the grain and make sure to save the juices on your plate to use later.
5. Dice the avocado by cutting in half, removing the pit, using a pairing knife to cross hatch the flesh and scoop out flesh with a spoon.
To Serve: Divide sweet potatoes between two bowls and drizzle the steak pan juices over each. Fan sliced steak over potatoes and top with diced avocado.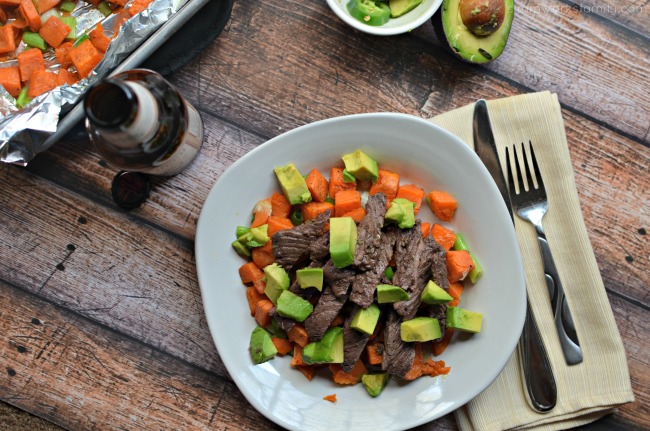 Do you have any tips for easy weeknight dinners?
Want to try Terra's Kitchen for yourself? Use code SIMM30 at check out and save $30 off your first order (no expiration). The only condition is a minimal order of $64.99 (which is always the minimum to ship). Enjoy!
This is a sponsored conversation written by me on behalf of Terra's Kitchen. The opinions and text are all mine.