After recovering from gallbladder surgery last week and this week, there's one thing I was grateful for. Ok, two. My mother-in-law and husband's help AND Charlie's Classic Cooking meal delivery service.
I love to cook. I love to eat. I love to watch my family enjoy what I eat. But after going through surgery, or even just having a super busy week schedule, having pre-made meals in the fridge that I know are going to be delicious just takes a huge weight off my shoulders. And when it's food as good as Charlie's? Well… lets just say my family was very happy.
We first heard about Charlie's Classic Cooking when my son and I took two awesome classes a few months back with Stone & Glass as part of their Fire and Fettucini classes. Perfect for just about any coupling you could think of – mother son, father daughter, significant others, girlfriends, "bros" … hahaha – Stone & Glass paired with Charlie's Classic Cooking to bring together a glass making class and a cooking class. I did the glass making class and Ethan made some amazing fettucini for us to enjoy together after the class ended. I've been thinking about that fettucini ever since.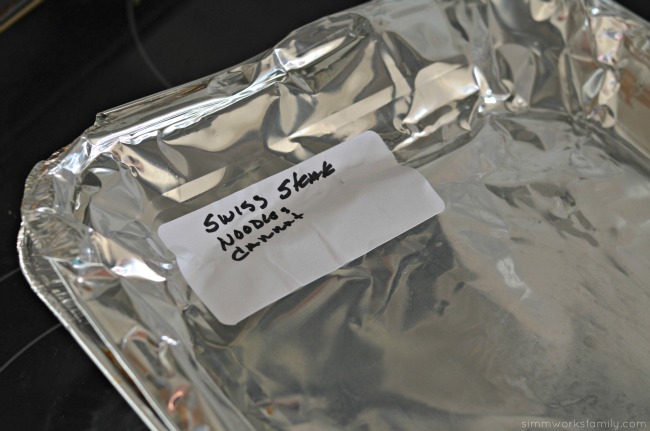 Meal Delivery Service From Charlie's Classic Cooking
The meals were delivered to our door step and my husband was able to take them inside and put them in the fridge. Each one was labeled with what was inside and we were given our menu with reheating instructions. This made it easy to plan which meal to make on what day depending on what the kids and my husband had going on each night.
Here's a peek at our menu: 
Lime and cumin grilled chicken with tomato-corn relish and fresh green beans;
Fettuccine alfredo with carrots, broccoli, red peppers and mushrooms;
Swiss steak with egg noodles and baby carrots; and

Sheppard pie with mashed potatoes and spinach salad. 
It was hard for me to choose a favorite as I already LOVE Chef Charlie's fettucini, but the lime and cumin grilled chicken was so juicy and flavorful that it won me over! And I was able to turn leftovers into chicken enchiladas a day later. YUM! My husband, however absolutely loved the Sheppard pie and swiss steak.
At Home Prep | Enjoying Our Meals
Once the meals were delivered, all we had to do was store them in the fridge and pull whenever one we wanted to enjoy that night out and follow the directions. It was easy enough to simply leave the choices in my husband's capable hands, give him the menu with reheating instructions, and let him prepare the meals for the family. He literally had to look at what temperature the oven had to be at and heat up the meals. And if pinched for time, we could use the simple microwave instructions.
What I loved, besides the ease in which these meals came together, was the fact that I could still customize them to my family's liking. Take the Swiss Steak for example. My daughter does not eat most meats (besides bacon, salmon, and chicken nuggets) at dinner. So my husband simply set aside some carrots and noodles for her to heat up seperately. Even my choosy eaters were able to pick and choose what parts of the meals to enjoy.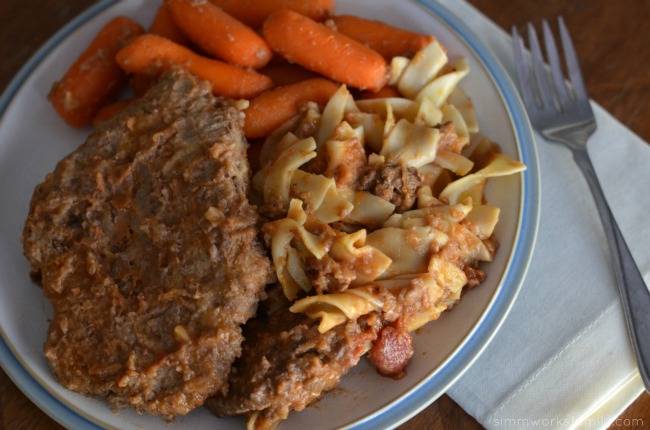 These home delivery meals start at $175 for a family of four, receiving four dinners for four people weekly. The weekly meal service allows you to have chef prepared meals weekly. The meals are delivered right to your door (home or office) weekly and monthly menus are sent via email or on their website as a weekly reminder of what's for dinner each week. You can check out the Charlie's Classic Cooking website or email charles@charliesclassiccooking.com for more info! 
What would you love to taste from Charlie's Classic Cooking? 
*** This giveaway is now closed ***
Congrats to Linda Appleby! 
Chef Charlie doesn't just want my family to enjoy a good meal, he's also giving one away to one lucky reader on the Simmworks Family Blog! 
One winner will receive a dinner-for-four delivered right to your door (a value of $75).  
Open to US only, 18+. Must live in San Diego County. This giveaway ends October 16th, 2015 at 11:59EST.
Mandatory Entry
Please comment* below with what you would love to taste from Charlie's Classic Cooking. Take a look at this sample menu of what others are being delivered in their weekly meal service drop offs. 
Thank you and good luck!
*Important: By completing any entry in our giveaways, you agree to ALL of our giveaway terms and conditions. Comments such as "Thank you for the giveaway" "I want to win" etc will not be counted as the mandatory entry and will be deleted along with all corresponding bonus entries. Please be aware that comments are moderated and may not appear right away. Make sure you use a valid email address so we may notify you if you've won! Giveaway winners will receive their meal directly through the sponsor. Winner must provide mailing address within 48 hours to receive their meal.