This shop featuring medicine cabinet essentials for baby checklist has been compensated by Collective Bias, Inc. and its advertiser. All opinions are mine alone. #MyLittleRemedies #CollectiveBias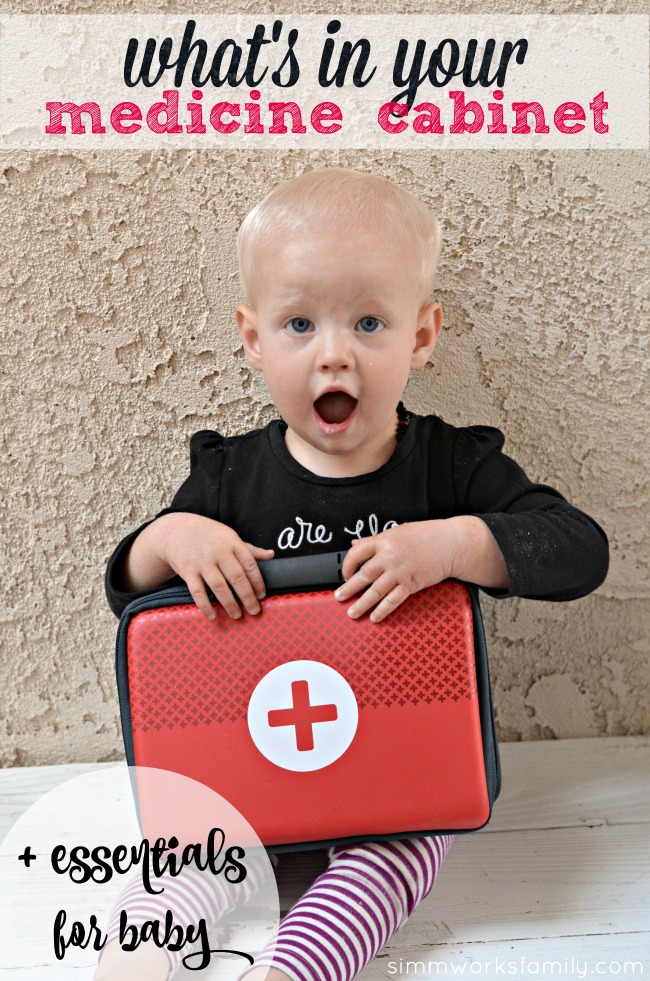 When you have 3 kids, you get very familiar with your medicine cabinet. And having it stocked up on all of the essentials is quite important. Because when something happens, you don't want to have to drive to the store to take care of it. Over the years our medicine cabinet has mostly stayed the same. Save for a few new items from brands we've come to trust, you can find just about everything we stocked for baby #1 is still there for baby #3. It helps that I have a retired nurse for a mother-in-law! We're sharing our list of medicine cabinet essentials for baby.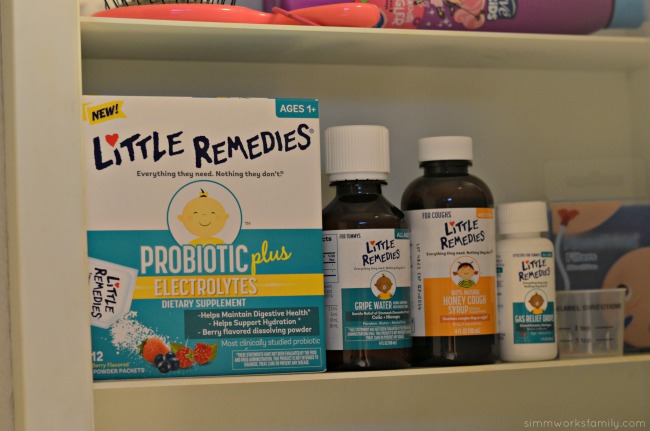 Medicine Cabinet Essentials For Baby Checklist
What to add to your medicine cabinet
Creams, Lotions & Gels
Diaper rash cream Diaper rash is inevitable for all babies. Look for a product that contains zinc oxide, which is best for soothing irritated skin. Now there's even diaper rash spray so you don't have to worry about a mess on your hands.
Hydrocortisone cream This anti-inflammatory salve is sold in pharmacies in 1/2- or 1-percent strengths. Both are mild enough for infants and are used mainly for eczema; dry, itchy skin; or to treat bug bites.
Triple antibiotic ointment Once your child is crawling and walking, he's likely to get minor cuts or scrapes. This topical cream can be applied to scratches, cuts, or abrasions to prevent infection.
Petroleum jelly Besides working wonders on dry skin and eczema, this cheap, tried-and-true moisturizer can be applied to diaper rash to shield the skin from contact with irritating urine and stool. We've also had to use it when our children have constipation issues to help things along.
Tummy Troubles
Probiotics If your child has tummy troubles, or has been prescribed antibiotics, it's a good idea to consider a probiotic for them to help rebuild their gut bacteria. 

Little Remedies® Probiotic Plus Electrolytes contains 5 billion active cultures of the probiotic Lactobacillus rhamnosus GG, which helps keep the digestive system in balance and supports immune function.* 

Little Remedies® Probiotic Plus Electrolytes also contains electrolytes to provide vital minerals and nutrients to help support hydration.* Plus, there are n

o artificial flavors, artificial dyes, or parabens and it is a great berry tasting dissolving powder. You can pick up some in the Digestive aisle at Target! 

Simethicone (Mylicon) drops This over-the-counter gas remedy stays in the gastrointestinal tract and is not absorbed into the body. It doesn't always produce results, but it's safe to try.
Gripe Water 
*This statement has not been evaluated by the food and drug administration. This product is not intended to diagnose, treat, cure or prevent any disease.
Pain Relief
Acetaminophen We always have a bottle of infant Acetaminophen at the ready just in case our littles are experiencing pain or we're trying to bring down a fever. And on our fridge is the exact dosage we can give to our child depending on their age and weight. Read the label to check the dosage, and use the dropper that comes with the product or another dosing instrument.
Ibuprofen As with acetaminophen, ibuprofen infant drops or liquid can relieve pain and fever. Never give it to a child younger than 4 months old without your doctor's consent. We've used this when our littles were teething and inconsolable by alternating between Acetaminophen and Ibuprofen as directed by our pediatrician.
Feel Better Essentials
Medicine syringe or dropper These little suckers will end up in just about every room of your home. But never when you need it. They are essential to ensure that you're giving your child the right amount of medicine. Syringes, which are measured off in teaspoons and milliliters, are best. They don't drip and are easy to direct into the mouth of a squirming baby. Make sure to clean it out after every use and put it away where you'll find it to reduce the chance of a minor freak out occurring when its the middle of the night and you need it.
Nasal aspirator ditch the one they give you at the hospital! It isn't as efficient and gets gross pretty quickly! We love the type that you physically suck on to get everything cleared out. Sure it sounds gross but it works 10 times as well. There are a few types out there and they even started selling them at major retailers like Target.
Saline nasal drops or spray

Made from pure salt water, these drops help loosen and clear baby's stuffy nose. They can be used alone or with a nasal aspirator (I highly suggest using these before using the nasal aspirator). A cool-mist humidifier will also soothe upper respiratory infections and loosen up the "gunk" in there.

Cotton swabs Use swabs to clean the folds of the outer ear. Never insert them into the inner canal of baby's ear; you risk perforating the eardrum.
Bandages Don't leave a child younger than 2 years old alone with a bandage on unless you're sure it's securely in place or that he can't reach it. Bandages can become choking hazards!
Digital thermometer Now many experts and pediatricians claim that you should be taking your baby's temperature rectally until they're about 6 months of age. And I have to tell you… I've never done this. But neither has my pediatrician. We like to use the forehead thermometer that doesn't even have to touch our kid and gives a reading instantly. Not only is it non-evasive but if you've ever had to comfort a sick child, it's a lot less of a stressor on them as well!
Nail clippers Infants grow so quickly, they may need their nails trimmed every five to seven days. Use clippers designed specifically for babies, and be careful not to cut their fingertips. If your baby is resistant, try clipping her nails while she's sleeping or otherwise occupied. I've also gotten away with using a small nail file.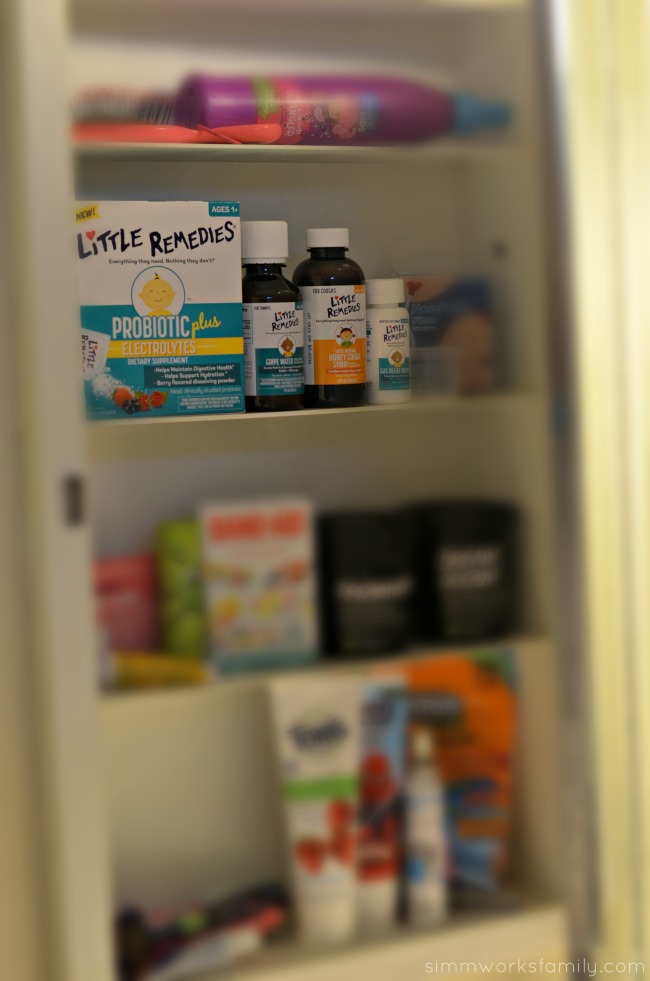 Don't forget anything! make sure to take this Medicine Cabinet Checklist with you when you head to the store. That way you won't have to run back for one last thing in the middle of the night. You can laminate it and keep it adhered to the inside of your medicine cabinet for quick reference. I've added a spot to include the expiration dates of the items you are using so there's no risk of using an expired product. Make sure to check with your baby's pediatrician before administering any medication.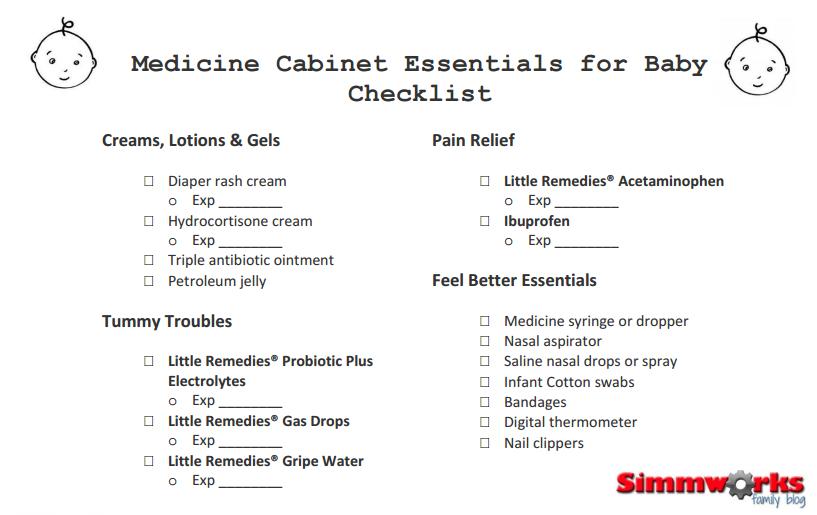 (click to print)
Plus, the list can double as a packing checklist in case you and baby are travelling! We're heading to a conference later this week so I packed everything I needed in a first aid kit so we'd have everything ready to go just in case.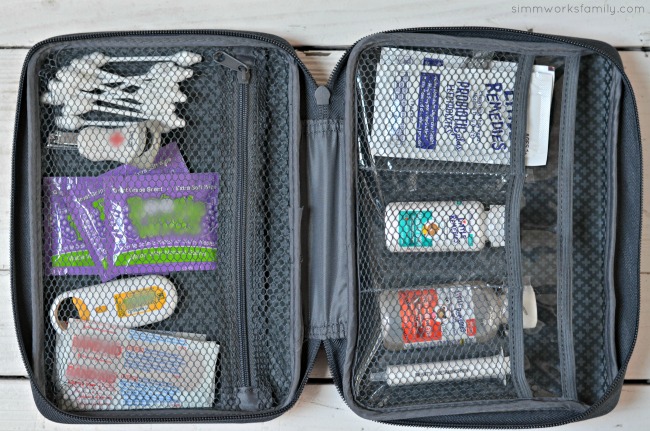 Need to stock up on your medicine cabinet necessities? You can find everything you need at Target. Print this helpful checklist so you won't forget anything!
And while you're at it, take advantage of the Buy 1 Little Remedies product and get a $5 Target Gift Card offer starting 4/24 at your local Target store. This deal runs through 5/14 so stock up now!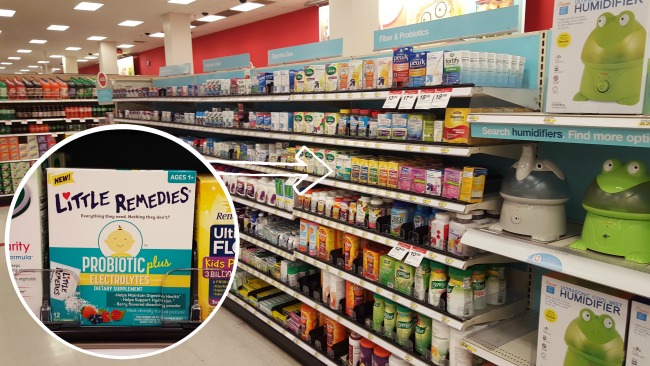 What essentials do you keep on hand at all times?