I am a member of the Collective Bias® Social Fabric® Community. This shop has been compensated as part of a social shopper insights study for Collective Bias and it client. #DreamParty #cbias
It's no secret that I love to host a good party. So when the middle of summer came around I knew we had to have a celebration with our friends and make the most of the final weeks of fun in the sun. Hosting a Minnie Mouse summer party seemed like the perfect way to do just that.
Good thing there's a great selection of Hallmark Disney-branded party goods and an extensive selection of Disney cakes available at our local Walmart. Planning this party was a breeze since all of the things I needed to make it fabulous were easily accessible.
We sent out our invitations to our playgroup and headed to Walmart to pick up the essentials for our party. We called ahead the day before to make sure they could create a cake perfect for our summery theme and once we had a pick up time we were on our way! Check out our Minnie Mouse Summer Party G+ album to see how our shop went.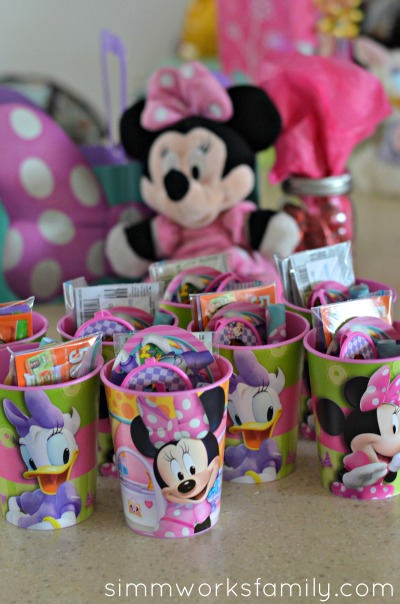 Party Decor and Favors Made Easy
Most of my kids birthday parties are quite unique. I usually have to make my own decorations and figure out exactly what I want for things like party favors. With the Hallmark Minnie Mouse party packs I was able to get everything I needed for a fabulous party favors for a fraction of what it would cost if I purchased each item separately. And since I used cups for their loot I was able to save money on plastic bags!
We also picked up some great decorations including a kit that had everything we needed for a full room of fun! From dangling Minnie's to a huge bow centerpiece to a cute bow snack caddy, putting this party together was a breeze. I simply added my daughter's favorite plush Minnie and Daisy and I was set.
Any good party has to have some awesome party favors! And this party had some great favors for each of the kids to take home. We stuffed some reusable Minnie Mouse cups with the party favor pack we purchased at Walmart along with some Minnie hair clips and boogie wipes for any messes. I also picked up a small Minnie gift for my daughter – wrapped in a Minnie bag – since she did such a great job helping me plan and decorate for the party.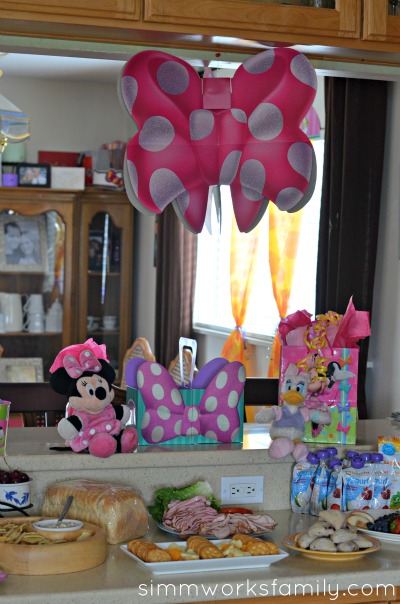 Simple Summer Snacks
I kept the menu for our summer party simple and went with sandwiches, pita chips and dip, fruit and dip, crackers and mickey shaped cheese, scones, and various kid-friendly snacks. I even found some Disney Foodles – mickey shaped snack trays – in the produce section of my local Walmart.
We had a separate dessert table outside that included the gorgeous cake we picked up at Walmart's bakery in a Mickey and Minnie summer luau party theme. It was so easy to order and a quarter sheet only cost $20!
Plus by ordering my cake I saved time by not having to make one. And I love the selection of DecoPac decorated cakes available. The next time you're at Walmart, check out the bakery and see if they have their Disney DecoPac book available for you to flip through.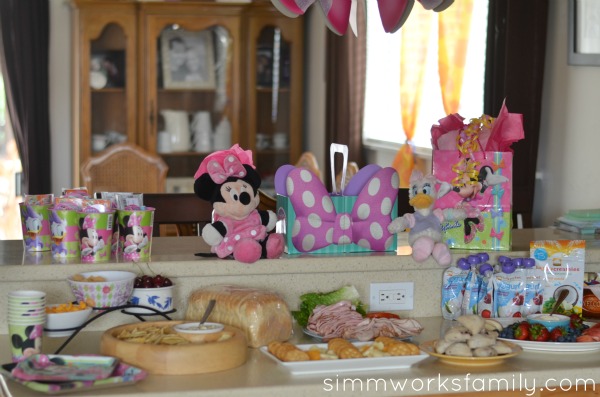 What's for Dessert
Any good party has to have a good dessert table. Since we had a small group coming we decided to stick with the basics. I made a delicious fruit pizza and served it next to our Minnie and Mickey cake along with some more party favors and Minnie plates and napkins.
The Minnie decor didn't end in the house – we also brought the party outside and had decorations on our patio and in the front yard to keep the theme moving throughout the party. I picked up a few leis to add to our dessert table to tie in the cake's theme with the Minnie decor. Since there were a few boys at the party I didn't want them to feel too overpowered by Minnie Mouse and bows.
Minnie and Friends also made their way out and parked themselves right in front of the delicious desserts. It didn't take long for the kids to find these sweet treats and begin enjoying themselves.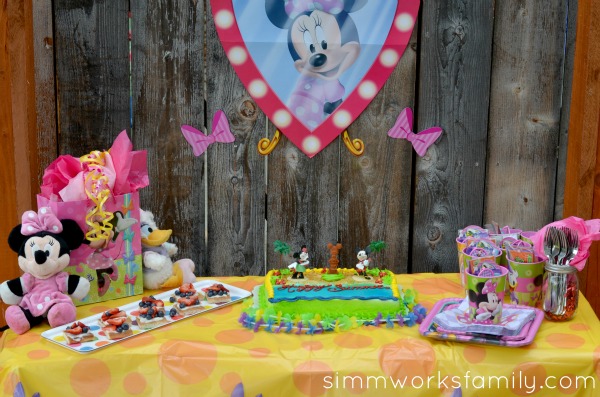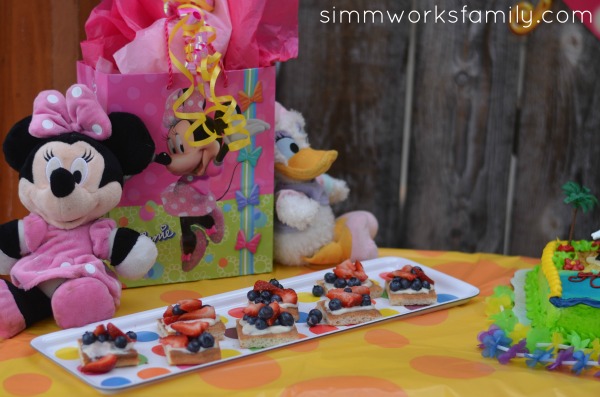 Enjoying Friends, Food, and Fun
Our summer party was an absolute blast! It was great to get our friends together to enjoy the beautiful weather we have. We really don't need much of an excuse to throw a party but it was so nice to have everything taken care of with the help of Hallmark and Disney.
We will definitely be using the Walmart bakery again in the near future. This mama knows that she needs to hand off some of her to-do list – especially when it comes to celebrations – so having someone else bake and decorate will be well worth it! Plus the cake was moist, the butter cream tasted great, and the kids and adults enjoyed themselves.
Most of the moms were amazed at how great the cake looked. An added bonus? The decorations can be used as toys once you're done with the cake! My daughter snagged the decorations off of the cake and has been playing with them ever since. We'll be buying our birthday cakes at Walmart from now on.
If you're looking for a great way to celebrate summer or any other upcoming occasion with your child definitely check out the great party goods that Disney and Hallmark have put together at your local Walmart.
I now know exactly where to go for hassle-free, easy party planning that looks amazing!
How do you celebrate summer?