This article is sponsored by Piggy Paint
Over the past few weeks I've felt as if I haven't had a chance to really spend one-on-one time with my daughter. We both keep very busy between playdates, preschool, and family activities so when I was offered the chance to create a special moment with her I took it!
Even though she's only two she has proven to be quite the girly girl. She is obsessed with all things hair and makeup, including nail polish. So when I went in search for a safe nail polish to use for her I chose Piggy Paint. And as I've mentioned before, we love it!
In addition to the three colors we already have, and the nail polish remover we recently purchased at our favorite hair cutting salon, we received some new colors to try out. We decided to share the fun with friends and invited a few moms and daughters over for a Motehr Daughter Piggy Paint Spa Party.
We set up with some refreshments and snacks and played a bit outside before coming in to pamper ourselves. We used the Piggy Paint nail polish remover to remover the reminants of the last time we painted our nails and let the girls choose the colors we would use.
Of course my daughter had already been eyeing the purple nail polish as purple is her favorite color. Followed by pink.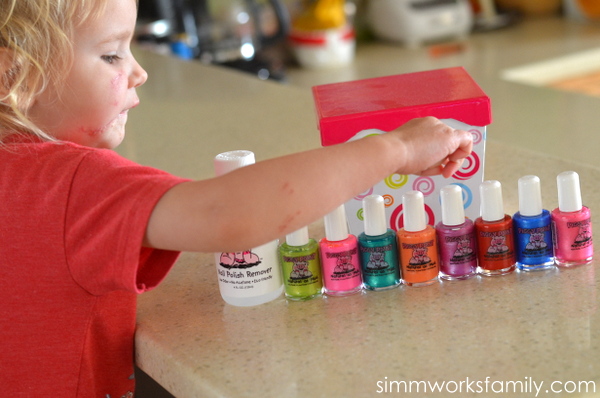 Our friend chose a gorgeous and bold blue to paint her toe nails. She didn't want to paint her finger nails because that would involve taking a break from snacking. Smart girl!
As we painted their nails we let them watch a little PBS Kids to distract them from wiggling around too much. Luckily Piggy Paint dries very quickly and can easily be fixed with a swipe of the nail polish remover.
To ensure maximum dryness and chip resistance we used a hair dryer to dry the polish for one minute with warm heat/low setting. The girls had quite fun with the blow dryer and tried to see who could sing loudly enough to be heard above the hum.
Once we were done painting their nails they admired the beautiful outcome. They were quite proud of the colors they chose!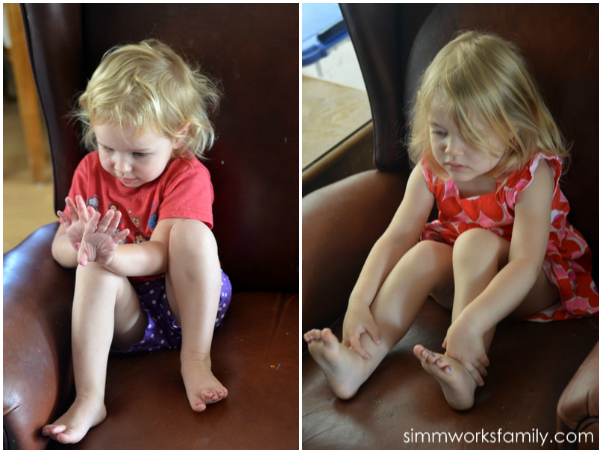 Ready to purchase some Piggy Paint of your own? Well we have a special 15% discount to use at PiggyPaint.com! Piggy Paint is also available at select Walmart stores and at walmart.com.
To take advantage of this discount enter the promo code PiggyFun at checkout. This offer expires April 30th 2013.
Or are you more interested in winning some Piggy Paint? Well hurry because this giveaway will only run for one day!
This giveaway is closed
Open to US only, 18+. This giveaway ends April 8th, 2013 at 12:00noon EST
Mandatory Entry
Please comment* below with what Piggy Paint nail color you'd want to paint your nails.
Bonus Entries
These entries are NOT required, they just give you a few extra chances to win, do one two, or them all, it's up to you. Please leave a separate comment for each entry you complete. Please note that your COMMENT is your entry, not the action you perform.
1. Do you Follow us on Instagram – leave a comment and let us know!
2.  Do you Like Piggy Paint on Facebook – leave a comment and let us know!
3. Follow us on Pinterest and leave a comment with your Pinterest url.
4. Follow Piggy Paint on Pinterest and leave a comment with your Pinterest url.
5. Follow us on Twitter and leave a comment with your Twitter user name.
6. Follow Piggy Paint on Twitter and leave a comment with your Twitter user name.
7. Tweet this  and leave a comment with your tweet URL. (you may do this twice a day, please leave a comment each time)
Enter to win a @PiggyPaint "Toe-Tally Fancy" 3 polish set on the @SimmworksFamily blog. Ends 4/8 http://bit.ly/Zgn5uo
Disclaimer: I participated in a campaign on behalf of Mom Central Consulting for Piggy Paint. I received a product sample to facilitate my review and a promotional item to thank me for participating.