I participated in a campaign on behalf of Millennial Central Consulting for Mrs. T's Pierogies. I received a product sample to facilitate my review and a promotional item as a thank you for participating.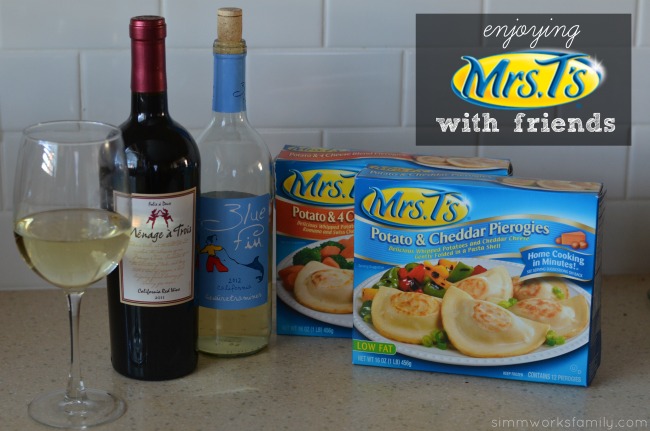 About once a month or so my friends and I make a point to get together and enjoy a little adult company sans kids. And about every other time we choose to have a mom's night in as opposed to a mom's night out.
When it's my turn to host I always want to serve a dish that just about anyone can eat and that's simple and versatile. So when I was asked to try Mrs T's pierogies with my friends I was excited to try it out! Surprisingly I had never tried pierogies but am always looking for new foods.
Not only did Mrs. T's pierogies turn out to be super easy to make but they're also very tasty. The perfect comfort food for a mom's night in. And great with a glass of wine.
Quick and Easy – A Simple, Delicious Meal
Mrs. T's are the perfect pairing of pasta and potatoes. Flavorful whipped potatoes combined with tasty additions, like Cheddar cheese and onion, are gently folded into a pasta shell to create the perfect canvas for your favorite ingredients and spices. Yum! Totally up my alley.
Since there are a number of ways to serve pierogies I decided to spice things up and saute some peppers and onions along with the pierogies on the stovetop. I then added some hot Louisiana style chicken sausage to the mix to create a flavorful dish.
With how quickly the dish cooks up I didn't even bother to start it until after the guests arrived. I could then chat and drink a glass of wine with them as they enjoyed the cheese and fruit tray while I cooked dinner. I was even able to save half a box of pierogies and make a vegetarian version for my vegetarian friend who arrived a bit later. The mamas loved it!
Mrs. T Pierogies with Sausage, Peppers & Onions
1 tablespoon olive oil
1/2 onion, chopped
1/2 red bell pepper, chopped
3 hot Louisiana style chicken sausage links, sliced
1 box Mrs' T's potato & cheddar pierogies
Heat saute pan on medium heat and add oil. When oil is hot add onions and bell peppers to the pan. Saute for 3-4 minutes or until onions are translucent. Add sliced sausage and frozen pierogies.
Cover and let cook 3-5 minutes stirring every so often so the pierogies don't burn. Flip pierogies over and let cook another 5 minutes or until done.
Serve with a salad and wine. Enjoy!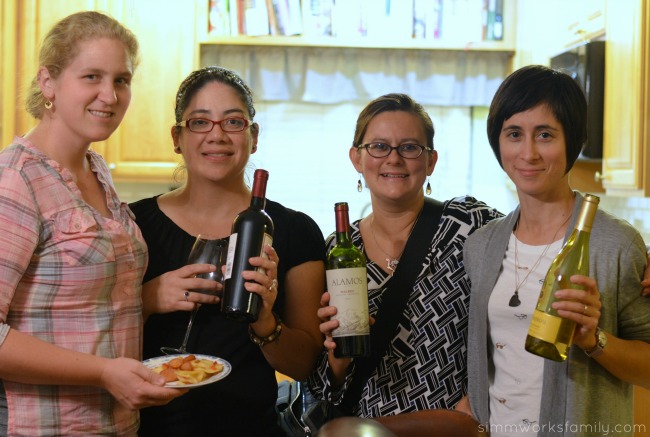 Bursting with flavor, Mrs. T's Pierogies make delicious finger foods, side dishes and main dishes – so be sure to keep a few boxes of pierogies in your freezer. I have a few extra in there right now!
The next day after the event I checked my messages on my phone to find a text from one of my friends. She had sent me a photo of the Mrs. T's pierogies box she picked up at the grocery store that morning for their family dinner. I love when I can let the food speak for itself and inspire my friends to create delicious dishes at home with ease.
You can find great recipes, product information and more by visiting the Mrs. T's website. Or check Mrs T's on Facebook for the latest news and information.
Have you ever had pierogies? What are your favorite flavor combos?