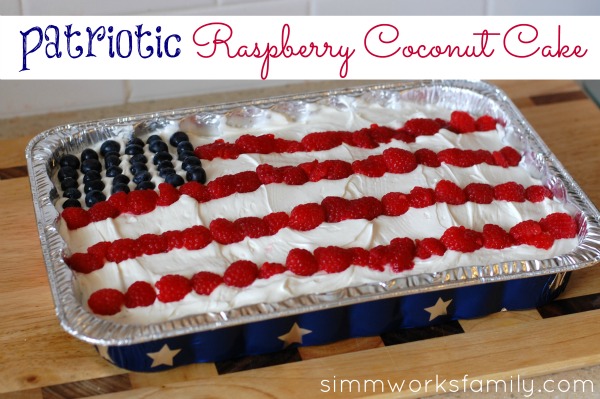 Sometimes the holidays are just more fun when the foods we eat are festive. So in celebration of the 4th of July I made this delicious, and very easy, Raspberry Coconut Cake. This cake is the perfect addition to any summer party and will please all of your guests!
Desserts don't have to be fancy or made from scratch every time. When you're in a pinch, using boxed mixes and sprucing them up a bit to make them your own is the perfect solution. If you have a summer party to go to (or if you're hosting one) this is sure to be a crowd pleaser! And per my father-in-law's suggestion… next time I may add a bit of rum to the mix to change the flavors a bit.
Raspberry Coconut Cake
For Cake
1 box Vanilla or Yellow cake mix
2 eggs
1 egg white
1/3 cup applesauce
1 tablespoon coconut oil
1 pint raspberries (reserve a handful to top the cake)
1 teaspoon sugar
For topping
blueberries
raspberries
your favorite frosting (cool whip lite for anyone watching their calories?)
Preheat oven to 350 or as recommended on the cake mix box. Prep cake pan with shortening or cooking spray.
Mix cake mix, eggs, applesauce and coconut oil together until well combined. Pour cake into cake pan and set aside.
Mash raspberries in a bowl and sprinkle with sugar. Stir together to dissolve. Drizzle raspberries over cake batter in a zig zag pattern. When all of the raspberries are on the batter, take the end of a spoon or a tooth pick and swirl raspberries into the batter.
Place in the oven and bake for 18-20 minutes or until a toothpick comes out clean and the edges are golden.
Let cake cool completely and then top with your favorite frosting and decorate for the occasion! Blueberries are the perfect accompaniment to the raspberries and the blue looks perfect with the red raspberries. I cut my raspberries in half since I didn't put enough aside to finish the stripes of my flag 😉
Serves 16 | 4 WW+ Points (not including frosting)