I recently held a playdate over at my house for my playgroup and one of the mamas came over with a large carton of peaches in tow to share with everyone. When she left she graciously left the remaining peaches.
Now there are a lot of foods I'll eat without a problem but I've never taken well to peaches, nectarines and apricots. Something about them has never been very appealing. So I was very surprised when my son started asking to eat the peaches and could consume a whole, large one on his own for breakfast. But even though he showed an interest in them he couldn't eat the peaches fast enough to go through the whole bunch.
I had to start thinking of a way to use up the excess peaches. And so I went off to Google in search of a good recipe to use for our upcoming 4th of July dinner at my brother-in-law's house. As soon as I landed on this recipe by one of my favorite cooks, Alton Brown, I knew he wouldn't disappoint me. But since I was feeding a larger group and also didn't have the time to prep and bake this dessert at my brother-in-law's house I tweaked the recipe a bit to allow for making larger cakes.
I tested the recipe out this weekend and whoa! It came out perfectly! The addition of vanilla bean ice cream took this dessert over the edge. Remember how I'm the one who isn't so crazy about peaches? Well I even ate a piece for breakfast the next day! I'll definitely be trying this with apples in the Fall.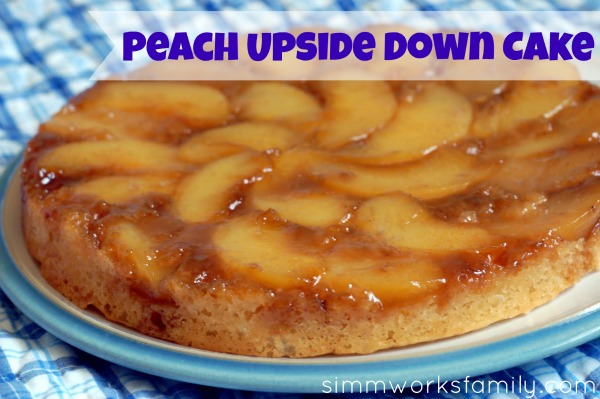 Peach Upside-Down Cake
5 tablespoons unsalted butter, divided
3/4 cup light brown sugar
3 medium peaches, peeled
2 teaspoons ground cinnamon
1 1/2 cups all-purpose flour
3 teaspoon baking powder
1/4 teaspoon baking soda
1/4 teaspoon kosher salt
2/3 cup granulated sugar
1 1/2 cup buttermilk, room temperature
1 1/2 teaspoon vanilla extract
Ice cream for serving, optional
Preheat oven to 350 degrees F.
Divide 4 tablespoons of the butter between 2 8 inch pans. Melt the remaining tablespoon of butter and set aside. Evenly divide the brown sugar between the pans; sprinkling it on the bottoms. Cut each peach into 12 to 14 pieces. Lay the peaches on top of the sugar; evenly dividing them between the dishes and sprinkle with the cinnamon. Set aside.
In a medium mixing bowl whisk together the flour, baking powder, baking soda and salt. In a separate bowl whisk together the sugar, buttermilk, vanilla extract and 1 tablespoon of melted butter. Add the wet mixture to the dry mixture and stir just until combine. Pour the batter over the peaches; dividing the mixture evenly between the two pans. Place on the middle rack of the oven and bake for 35 to 40 minutes or until the cake reaches an internal temperature of 190 degrees F on an instant-read thermometer and is slightly golden brown on top.
Remove from the oven to a rack and allow to cool for 5 minutes. Run a knife around the edge of each pan and turn upside down onto a serving plate. Repeat with each cake. Serve immediately with some vanilla ice cream if desired.
Serves 12 | 6 WW+ Points