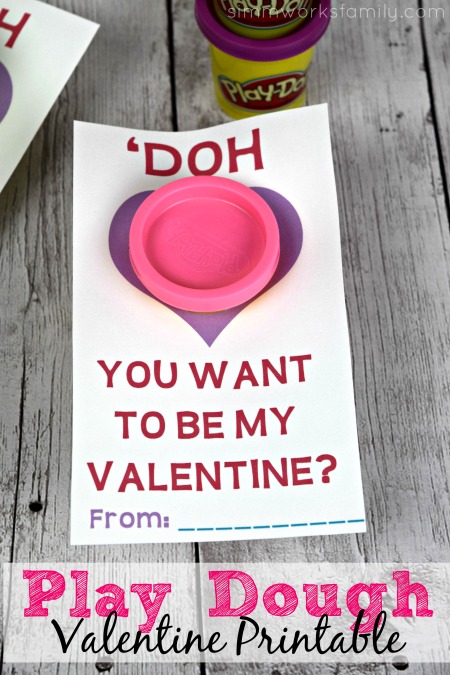 Valentine's Day is going to be here next month and as always I wanted to create something special for my kids to hand out at school this year. I'm not a huge fan of my preschooler giving out candy for Valentine's Day because I know kids will be getting a lot of that already.
This year I decided to go with one of my daughter's favorites – colorful play dough. Play dough is perfect for boys and girls and can provides hours of enjoyment. To go along with this play dough is a custom made Valentine Card "DOH you want to be my Valentine?" You can use the printable linked below or simply use your Cricut machine to design one yourself so you don't have to do any cutting.
I designed this  printable through the Cricut design space and was able to get the perfect size hole sliced into my design for my play dough to fit perfectly. I made the machine do all of the hard work.  How awesome is that? If you have a Cricut machine and want to recreate it, it's really simple.
Here's what you do: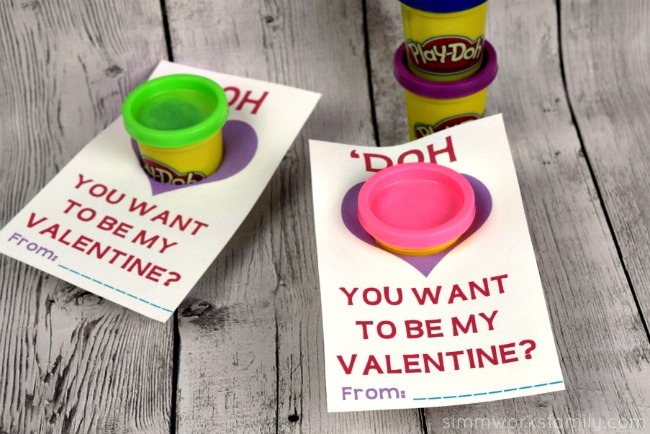 DOH You Want to be my Valentine – Play Dough Valentine
What you need:
White Cardstock
Color Printer
Cricut machine
Small Play-doh
What you do: 
1. In the Cricut Design Space, open up a new document and then using the font Birthday Cakes add in the words 'DOH you want to be my valentine? From __________. Add a little spacing between your fonts and add in a heart using the insert image button found on the left hand side.
2. Once you have your heart in place go to insert image and add in a circle. Make the circle a total of 1.5" and place in the middle of your heart. Right click the circle, hold down ctrl and right click the heart. Now select slice from the layers menu and remove the circle from the heart. You are left with the most perfect circle to slide your play-doh through.
3. Now select all and flatten your image and then attach your image. Now we can head over to the Cricut button and print out our design. Once it's printed cut it to the size you'll be happy with, remove the circle from the middle of the heart and slide in your play-doh.
That's it! Enjoy.
Don't have a Cricut machine or want to make this on your own? Simply download this PDF and print and cut out each valentine. If you don't have a 1.5″ circle punch you can either cut the circle out by hand or use glue dots or tape and stick the play dough right onto the circle!
What was your favorite Valentine as a child?