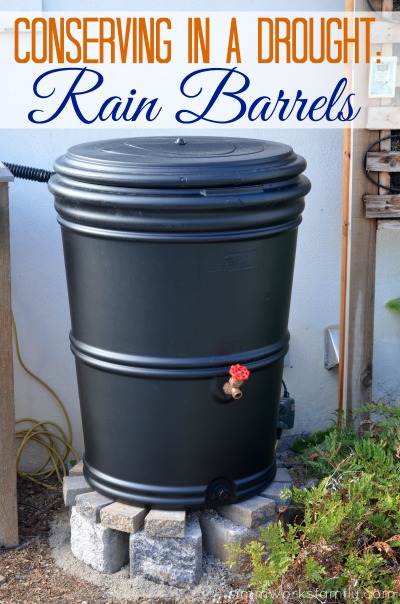 With our city in an ever constant drought, we've taken quite a few steps over the years to reduce the amount of water we use in our home. But with the addition of two children in our lives, it's been hard to stick with the conservation efforts we've made.
So when we heard about the rain barrel rebate program through the City of San Diego we knew we needed to investigate further. And we were so glad we did.
Then we found out that Dixieline was running a sale on 60 gallon rain barrels for $90. So our $75 rebate and $90 sale price meant that we were paying $15 out of pocket for each barrel. Now that rocks! We picked up two for our home and are considering going back to get two more (limit of 4).
Facts about Rain Barrel Systems
Did you know that one inch of rain falling on a 1,000 square foot roof can harvest 600 gallons of rainwater?
By implementing a rain barrel system, you can:
Reduce water pollution as a result of rainwater runoff which carries pesticides, fertilizers, sediment, oil, and trash into local rivers and lakes.
Reduce soil erosion and improve the ability of water to infiltrate the soil at a reduced intensity.
Reduce dependency on the municipal water supply and see a cost savings on your water bill.
Treat your garden, plants, and lawn to clean and free rainwater and help save energy by reducing demand on our drinking water supply!
(source: County of San Diego: Rain Barrel Information)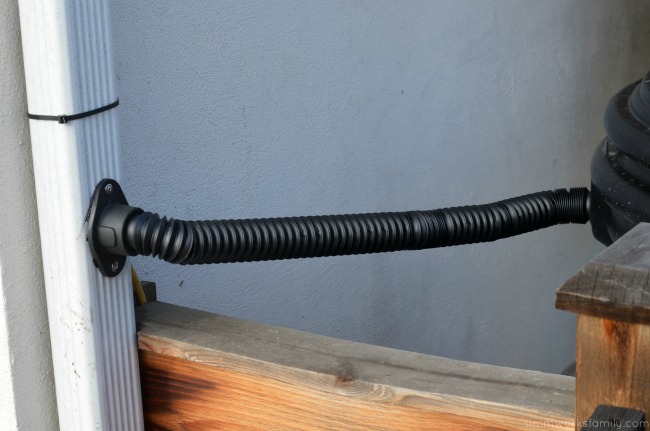 Rain Barrel Rebate Program for San Diego County
San Diego County homeowners can now get rebates of up to $75 on each residential rain barrel (up to 4 per home) as part of extensive regional efforts to promote wise use of water.
Collecting and reusing rainwater is an easy way to use water more efficiently. A rain barrel collects water from gutters and downspouts for use on your water efficient landscape while reducing the amount of water flowing into storm drains.
To be eligible for a rebate, the rain barrels must be a minimum of 50 gallons and be designed for the intended purpose of rain capture. Residential rebate program details are at www.watersmartsd.org/programs/residential-rain-barrel-rebates.
There is also a program currently being run by the City of San Diego where City of San Diego (City) Public Utilities residential customers that are served by an individual water meter can receive a cash-back rebate when purchasing and installing a rain barrel and connecting it to the home's rain gutter downspout.
Effective March 1, 2013 the rebate is $1.00 for every gallon of rain barrel storage capacity, up to 400 gallons and $400.00. The minimum rain barrel size is 50 gallons and multiple barrels are ok. This program is a bit more stringent than the one mentioned above (you have to submit before/after photos) but is great if you're getting a larger barrel.
Rebates for this program will be distributed on a first-come, first served basis and funding is limited. Read through the guidelines (PDF) prior to filling out an application (PDF). You can find more information on the City of San Diego's website here.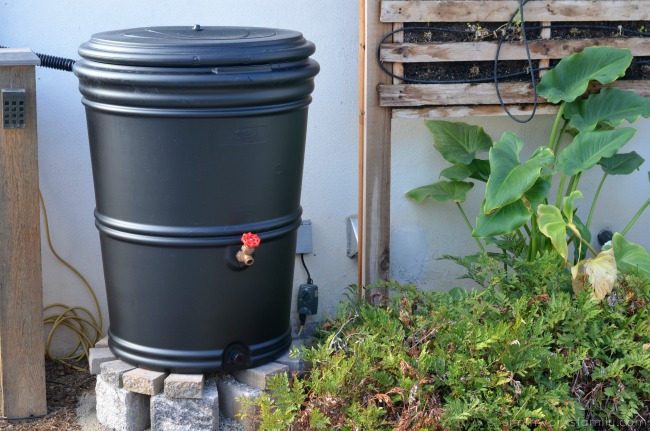 Our next step in water conservation is to install a valve on our washer to drain all of our gray water from our second rinse cycle into our garden so that we can water our lawn.
When we tackle that project (and you know that by we I mean my husband) I'll be sure to take plenty of photos and notes along the way!
How are you conserving water?