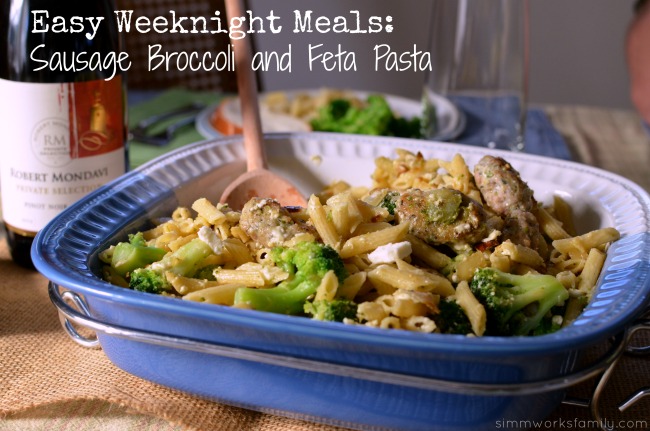 One thing I love about weeknight meals is the fact that I get a chance to reconnect and check in with my family after our busy day.  The family table we've created has helped us connect more as a family and truly enjoy each meal together.
Unlike the weekends, weeknight meals need to be made quickly and are usually planned a few hours before I actually have to make the meal. And that means I need a great arsenal of easy weeknight meals – like this delicious sausage broccoli and feta pasta recipe – ready to use when I don't have a clue what I want to make.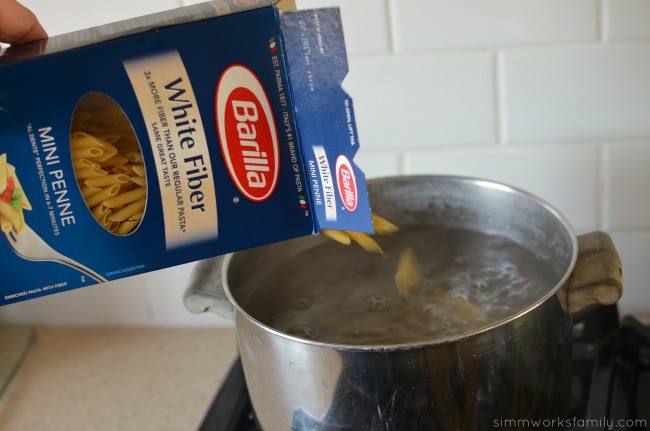 Another great tool I have at the ready is a great stocked pantry. Having a pantry and fridge that are full of different selections helps me create these meals and feed my family a quick and easy nutritious dinner that everyone loves. One of my daughter's favorite meals is noodles. Plain noodles.
She literally asks for noodles at least once a day. Sometimes she even requests them for breakfast! And when we make her noodles she'll almost always eat the veggies I prepare with them.
And my son is all about the sauces! Simple natural ingredients that are good for my kids makes my job a bit easier. Plus I can easily add a bit of sautéed spinach to the mix without my son even noticing.
Pasta is a great way to bring the family together and to create a delicious meal packed with nutrition. I find it quite easy to include not only a protein in with my pasta but veggies as well.
With all that eating, the kids can be persuaded  to chat about their day with us between bites.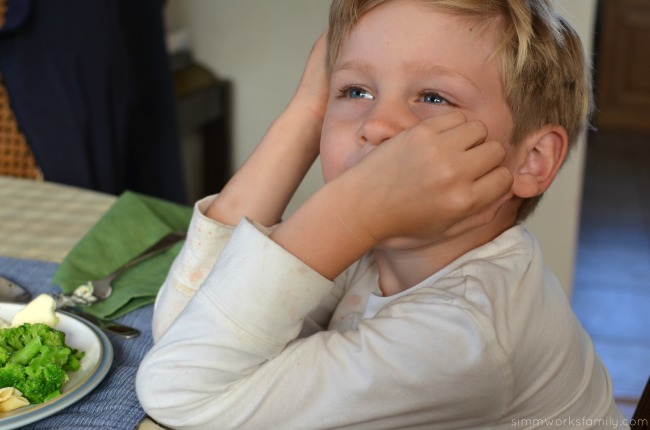 One of my favorite parts of our meals together is when we get to share and grow together as a family. To hear the tangents my son goes on about the latest bug he's caught or what he's learned at school just makes my heart full.
And hearing his plans for the next day – or his requests for our adventures on the weekend – usually allows us to talk about upcoming events, family plans, and vacations we're thinking of. We're able to talk about what's going on with each other and learn so much about the kids and ourselves.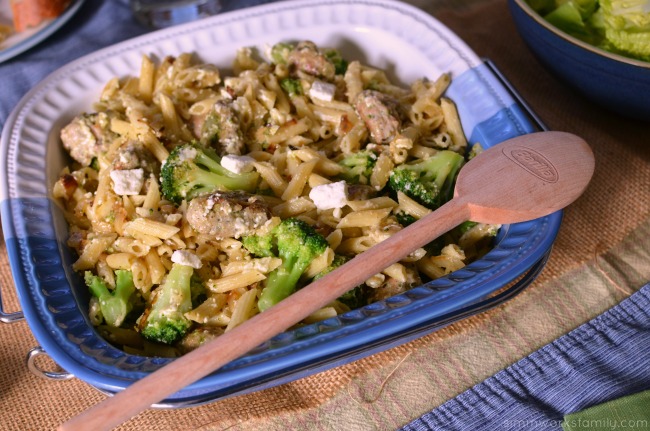 Sausage Broccoli and Feta Pasta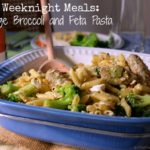 1 pound Barilla mini penne whole grain pasta
2 cups broccoli florets
2 tablespoons olive oil
1/2 yellow onion (chopped)
2 cloves garlic (chopped)
1-2 sweet basil chicken sausage links (cut)
1 cup feta (crumbled)
Boil pasta until al denta according to package directions. Add broccoli to water 1/2 way through cooking time.
While pasta is boiling, add olive oil to a skillet. Once oil is hot, add diced onions to the pan. Cook until translucent – about 2-3 minutes. Add garlic to the pan and cook until just fragrant – another minute.
Add chicken sausage to the pan and brown. Once the pasta and broccoli are done, add to the pan with the sausage. Ladle a little pasta water over the pasta and top with feta. Toss and let simmer until sausage is fully cooked and feta is slightly melted.
Drizzle with some olive oil before serving and enjoy!
What's your favorite quick fix dinner on the weekdays?