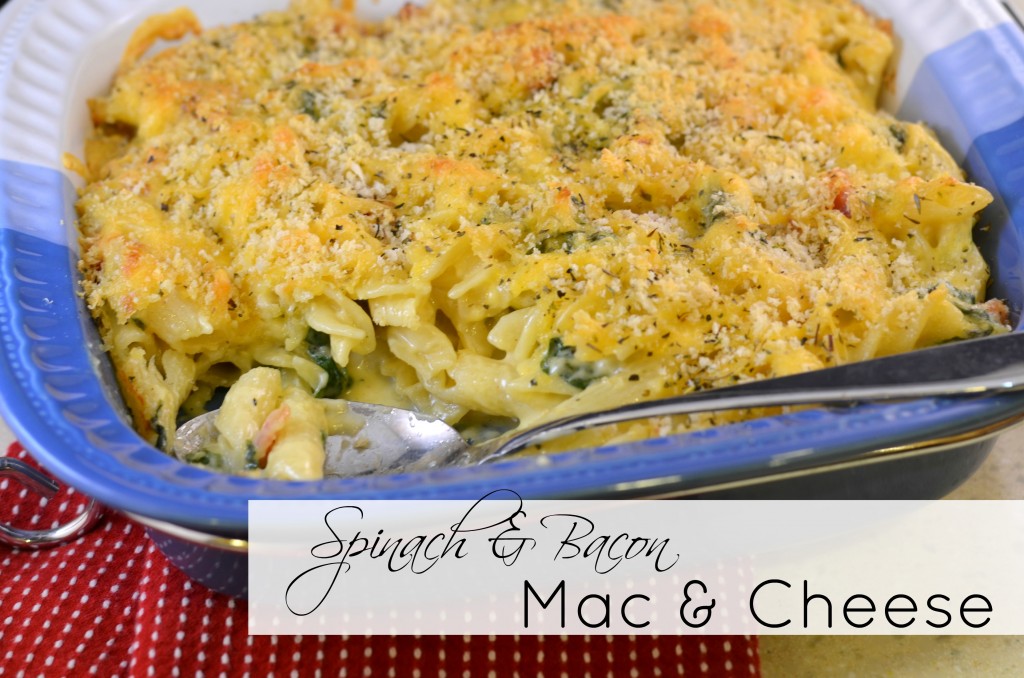 Spinach and Bacon Mac and Cheese
One of my favorite comfort foods is mac and cheese. There's just something about the creamy goodness of the sauce and the filling, tasty noodles that screams satisfaction. I know that after every serving of mac and cheese I'll have a smile on my face and a very full belly.
A few years back I was watching Ina Garten and she made her Grown Up Mac & Cheese. After watching her make this dish I've never made mac and cheese the same again! With a few key tips I took from Ina I've created a family favorite that we make at least once a month: Spinach and Bacon Mac and Cheese.
What I absolutely love about this dish is, like many of my favorite dishes, it's a "whats left in the fridge" kind of meal. You can use just about any cheese you have on hand and throw in any vegetable you think might be tasty. Some nights it's broccoli, other nights it's frozen peas. Last night it was spinach.
So skip the boxed mac and try something that is sure to become a quick family favorite. You will not be disappointed!
Spinach and Bacon Mac and Cheese
Ingredients
1 bag pasta, any type
2 tablespoons butter
2 tablespoons all purpose flour
1/4 teaspoon nutmeg
1/4 teaspoon salt
1/4 teaspoon pepper
1/2 cup heavy cream
1 1/2 cup 1% milk
2 cups shredded cheddar cheese, plus more for topping
4 pieces bacon, cooked and diced
2 cups spinach, raw
1/2 cup panko bread crumbs
1/2 tablespoon Italian seasoning
1 tablespoon Parmesan
Instructions
Cook pasta until al dente. Add spinach to the noodles when they're done cooking and stir to wilt spinach. Set aside. Preheat oven to 375 degrees.
While pasta is boiling, melt butter on medium-low heat until it's nutty and aromatic. Add flour and whisk together until combined. Add nutmeg, salt, and pepper. Cook for 1-2 minutes or until the flour is cooked through.
Reduce heat to low and add cream to flour mixture, whisking as you add it. Make sure the mixture is smooth and creamy. Add milk and whisk again. Cook until the sauce is simmering.
Take sauce off heat and add shredded cheese, mixing with a whisk. Season with salt and pepper. Add noodles and bacon and stir until noodles are coated with sauce.
Place mac and cheese in a casserole dish. Sprinkle with reserved cheddar, panko, Italian seasoning, and Parmesan. Cook in oven for 25 minutes or until top is bubbling and golden brown.
Let sit 5 minutes before serving.