I participated in an Influencer Activation on behalf of Influence Central for Little Remedies. I received product samples to facilitate my review as well as a promotional item to thank me for my participation.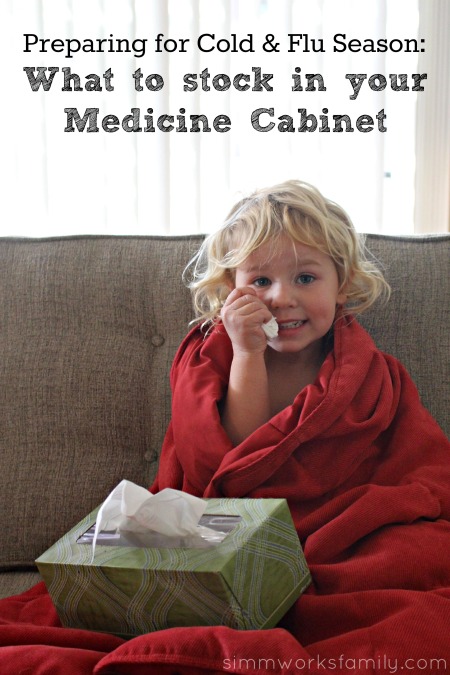 One of the worst things to happen is to wake up with a sick child and have nothing in the medicine cabinet to help them out. Midnight runs to the pharmacy are not ideal and most likely avoided with a little planning.
One thing I try and do is plan ahead and make sure I have everything on hand for these situations. Sometimes its as easy as a seasonal check in the medicine cabinet to remove expired products and stock up on stuff we're missing.
Here are a few suggestions on what to stock in your medicine cabinet to reduce the chance of that midnight pharmacy run and get that little one back in bed snoring away when a cold hits.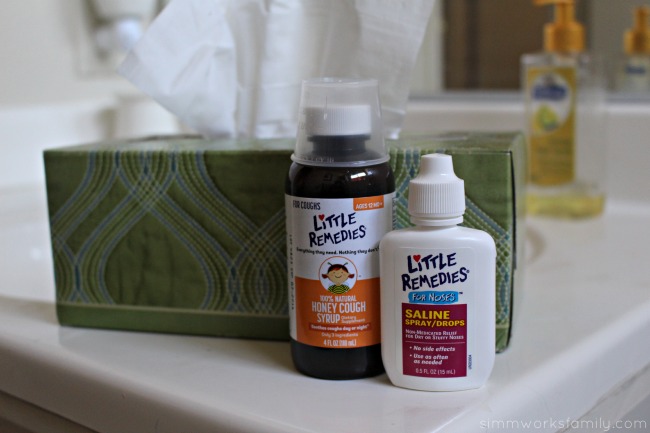 What to Stock in your Medicine Cabinet
1. Thermometer –
As soon as my kids start complaining about not feeing well the one thing I reach for is the thermometer to rule out fever. Now most of the time a low-grade fever is good. It's the body's way of fighting off an infection but is something that needs to be monitored.
We've invested in a forehead thermometer because in the middle of the night our kids do NOT want anything stuck in their ears or armpits. Plus, our thermometer has an easy read light up display so there's no fumbling to turn the lights on if we have to check them when they're sleeping.
2. Saline Spray –
When the kids get congested the last thing I want to do is just leave the mucous to start running down the backs of their throats. Not only does this exasterbate the problem, but it's just not fun to have a kid hacking up a lung trying to get that mucous back up.
With a great Saline Spray/Drops solution from Little Remedies we can help remove the mucus easier to clean little nasal passages. Plus these drops moisturize nasal passages that are dry, irritated or crusty due to low humidity, heated environments, air travel, allergies or colds.
3. Tissues –
Once we use the saline spray, tissues are a necessity. Our kids know exactly where we stock them and we sometimes find them curled up on the couch with a box under their arm. I cringe to think that one day we'd run out…
4. Natural Cough Syrup –
If a cold progresses into a cough, a natural cough syrup like the Little Remedies Honey Cough Syrup is great to have on hand. Not only does it help little ones by soothing their cough day or night, it also only has 3 ingredients and no artificial colors or flavors, no saccharin or alcohol, no high fructose corn syrup.
5. Acetaminophen and Ibuprofen –
When a fever continues and starts to rise, we try and combat it by alternating between acetaminophen and ibuprofen every four hours or until the fever dissipates. Make sure to check with your pediatrician to confirm what doses each of your children get as well as their thoughts on alternating before you do this.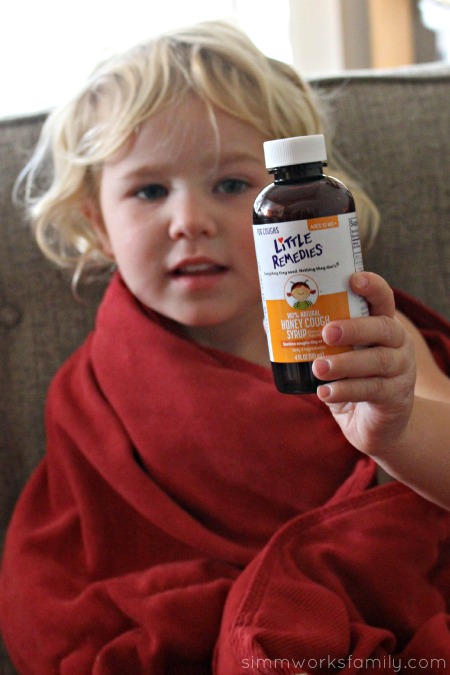 As I type I'm battling "the crud" and know how much it sucks to be sick when your little ones are sick. By keeping a well stocked medicine cabinet I can make sure that the little ones are soothed and cared for even when I'm stuck sipping hot tea while becoming BFFs with my tissue box.
Our #1 rule in this house is to wash, wash, wash our hands so we don't spread the sick germs when one of us gets sick so I'm hoping I can prevent one of them from getting what I have. But you never know! Good thing I'm prepared.
For more information, visit LittleRemedies.com. You can also connect with Little Remedies on Facebookand Little Remedies on Twitter!
What's your #1 medicine cabinet must have?