This is a sponsored post written by me on behalf of The a2 Milk Company™. All opinions are 100% mine.
As a busy mom of three, I need quick and easy breakfast ideas for those mornings that just don't go a smoothly as I plan. So at the beginning of the week, I take a look at our schedule and figure out what days might be the hardest to squeeze in making breakfast. Whether it's a day I'm also making lunches, or a day we have to leave earlier than normal, I want to be prepared and do what I can ahead of time to make our mornings easy.
On those days that I need to plan ahead for breakfast, I've started to make these delicious overnight oats the night before. Not only are they simple and easy to make, but they are so versatile! Plus, with a2 Milk® I don't have to worry about tummy trouble after eating them!
The kids love the taste and I love the simplicity! Plus, there's minimal ingredients and almost no mess (unless I give the baby some without watching her). And when I put them in mason jars, the kids can bring them with us in the car if they didn't finish breakfast at home. Easy peasy!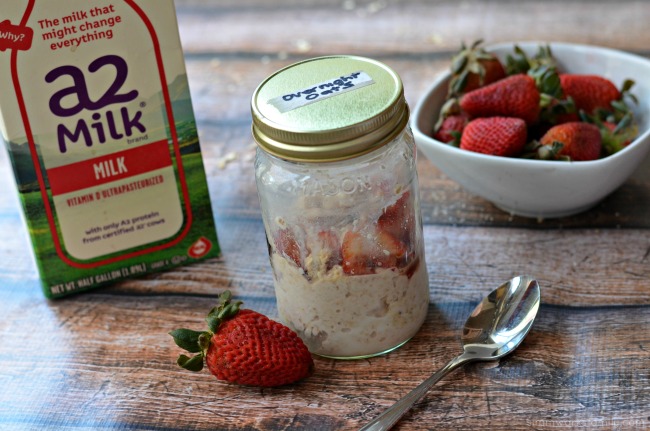 Strawberry Vanilla Overnight Oats
1/2 cup quick oats

1/2 cup 

a2 Milk®

1/2 cup strawberries

1 teaspoon vanilla

1 tablespoon sugar
Wash the strawberries and dice them up. Add them to a small bowl. Pour vanilla and sugar over the strawberries and stir until well coated. Let macerate in the fridge.
While the strawberries are working their magic, grab a mason jar, the oats, and a2 Milk®. Pour 1/2 cup of oats in the bottom of the mason jar. Top with milk. Then grab the strawberries and pour 1/2 into the jar. Save the other 1/2 in the fridge.
Screw on the mason jar lid and store the jar in the fridge overnight. In the morning, remove lid and stir up with a spoon.
Microwave for 30 seconds if you'd like to remove the chill from the oats. Top with the remaining strawberries and enjoy!
​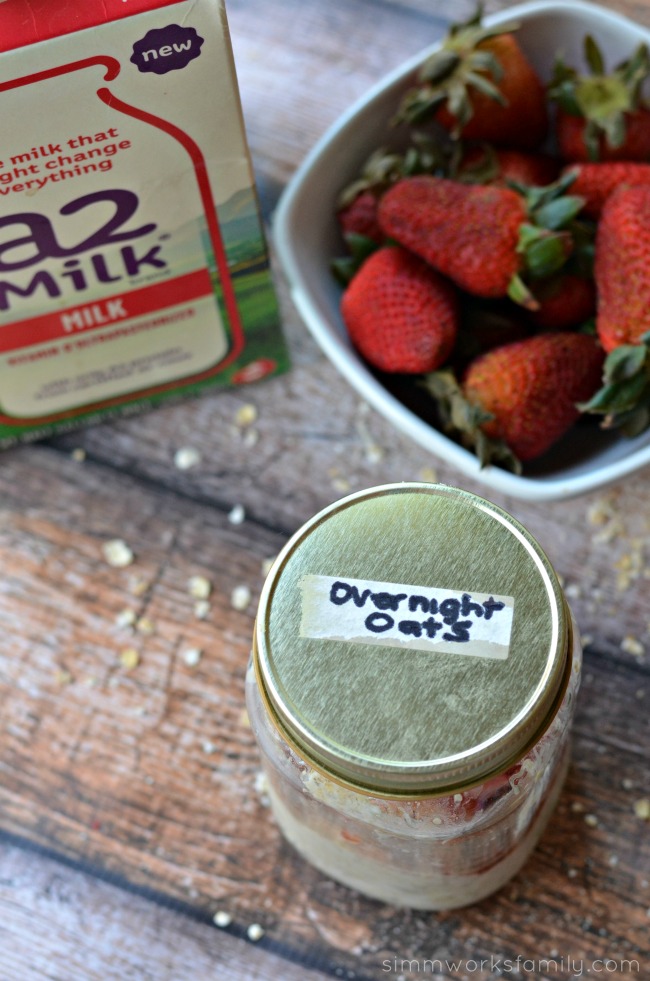 Over the past few weeks we've incorporated a2 Milk® into our everyday lives and I have to say that I really enjoy it. And the kids haven't noticed a difference at all. Since we started introducing our 13 month old to cow's milk, she's only ever tried a2 Milk®. Since all other forms of mammal's milk (i.e. goat, sheep, human) only contain the A2-type proteins, she's used to only getting the A2 protein. I'm hoping this continues to make her transition to cow's milk easier.
You can find more about a2 Milk® and my recipe for No Cook Chocolate Avocado Pudding here. And for more awesome recipes and news on a2 Milk®, check them out on Twitter, Facebook and Pinterest. 
Find a store near you that carries a2 Milk® by using this Product Locator. Save now with this a2 Milk® $1 Off Coupon. 
What's your favorite easy, make-ahead breakfast?