When I was little I would get excited around this time of year. Because this time of year was when we would start to receive the big catalogues in the mail from various stores and toy companies. My dad would save them up and hand over the big books and the catalogues that came in the mail during the week so that we could go through and circle what we wanted for the holidays and upcoming birthdays.
It was an easy way for him to figure out exactly what we were asking from Santa as well as get some tips on what he should surprise us with as well. He was always good at figuring out exactly what we wanted under the tree each year. That may or may not be a result of him waiting till the night before Christmas to do all of his holiday shopping with those catalogues. So he was limited in what to get us and had to go off of our scribbled down lists and circled items.
Nowadays with my own kids we build a wishlist throughout the year. Constantly changing and removing things. Not just for gifts, but as ways to remind ourselves of what we want to do or get as rewards for other things too. My kids love to save their pennies and cash in to purchase the latest toy they have their eye on. And now making those lists has gotten even easier.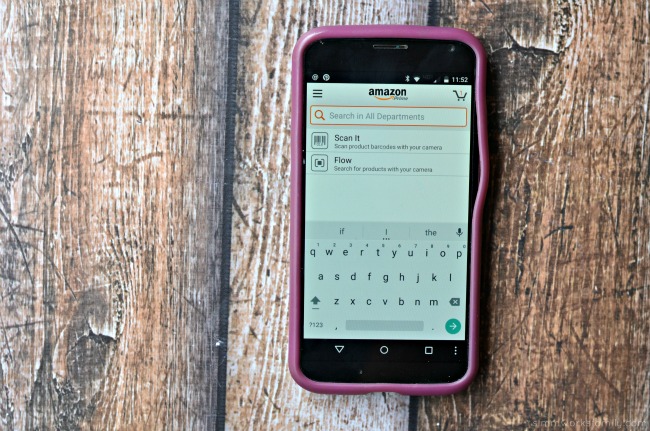 When I was at Target yesterday perusing the Halloween aisles, my son asked to head up to the toy aisle to take a look. I obliged and the whole family headed over. As I was walking over I realized that I needed a batman mask for my costume (I had just put a batman shirt complete with cape in our basket). Since Target didn't seem to have any, I hopped onto Amazon and quickly purchased one using my Prime account. Shortly after my son was running up to me asking me to put a Minecraft lego on his list.
Since I already had the Amazon app out, I figured I'd take a look and see if I could just search and add his item quickly while we were in-store. And that's when I saw it… the option to scan a barcode right from the app to find an item. That way I could not only scan the items the kids wanted to add to their list in-store, I could also note which items were cheaper to purchase on Amazon or in the store! Talk about a win-win. And it's so simple!
Here's how:
Using The Amazon App In Store
Building Your Child's Holiday Wishlist With Ease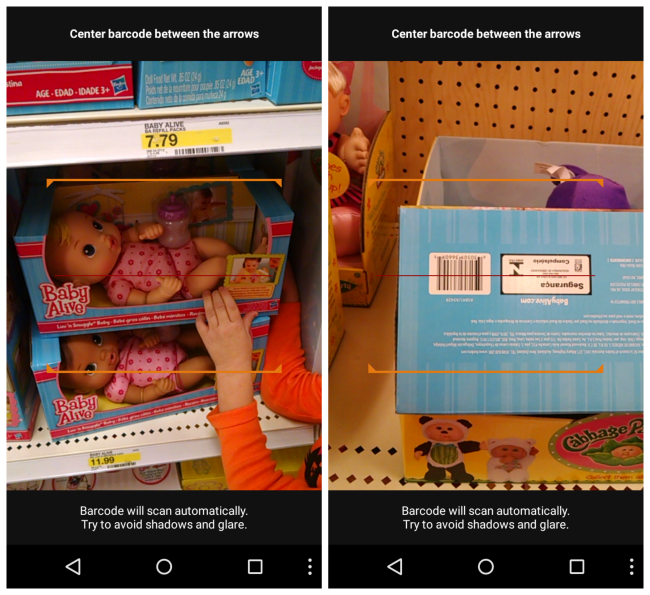 As you peruse every single toy aisle with your kids as you do every time you visit the department store – wait, is that just my husband? – let your kids start to choose what they'd like to ask for on their holiday wish lists. As they choose items, grab the item, and using the barcode in the Amazon app, scan the item.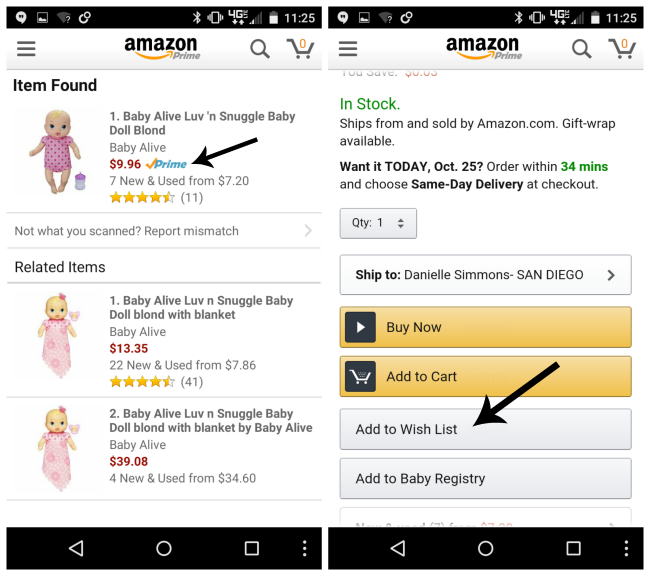 Once the correct item is found via the barcode, simply click on the item title and then scroll down to Add to Wish List. Click on the Add to Wish List button.
A list of your current wish lists will appear and then you can select which child's wishlist you want to add the item to.
As soon as I selected Molly's Wish List, the baby doll she chose was added. Easy peasy and onto the next item! I don't know what I'll do if she asks for a pony but at least I'm covered for most in-store items.
How do you make wish lists easier during the holidays?