Who's ready for holiday guests? This girl is! And with this free toilet seat decal inspired by A Christmas Story, no one's falling in the potty! This shop has been compensated by Collective Bias, Inc. and its advertiser. All opinions are mine alone. #MerrySpritzmas #CollectiveBias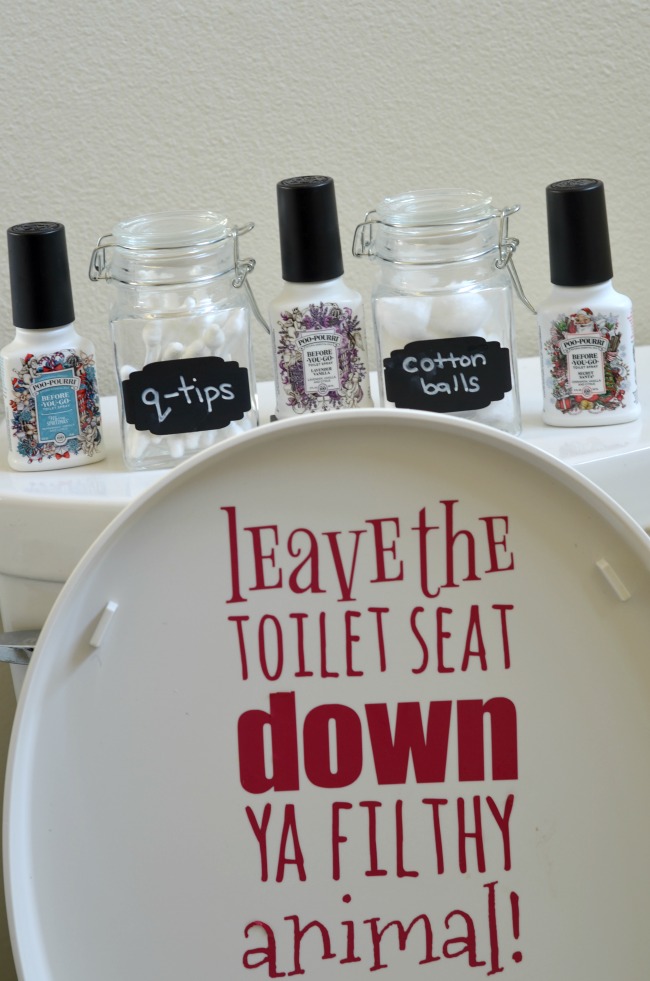 One thing I love about the holiday season is that I get to see a lot of my favorite people all in the same month. Whether it's family coming into town, friends stopping by with plates of cookies, or the neighbor down the street, the end of the year is when all of the commotion happens. And that means one thing… the loo can be a busy place!
So in order to make sure our house is in tip-top shape and ready for guests, I do a few small things to prep in advance. Not only does this make it easier for guests, but makes my life easier as well. And since our guest bathroom is also the bathroom the girls use, I've made a funny decal inspired by a classic Christmas movie to remind male guests to keep the seat down. Because, yes, my kid has fallen into the toilet because someone forgot to do this…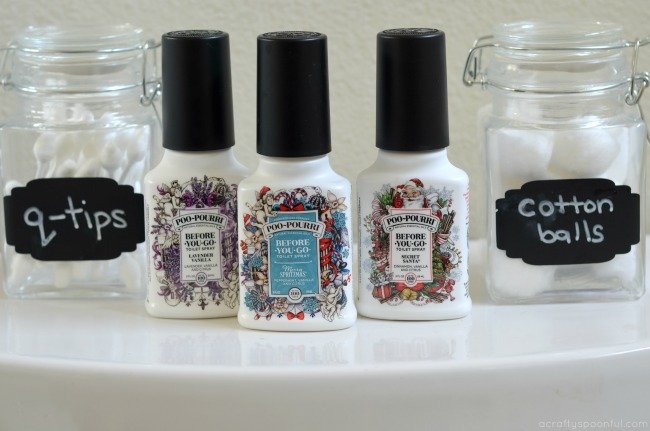 (click on the images to visit Poo~Pourri.com and find your perfect match)
The Best Ways to Impress Your Guests this Holiday Season
One thing that I always hate is using the restroom at someone else's house. Whether it's a quick trip or something a little longer, I don't want to put myself in an embarrassing situation. I've also found myself in need of a few necessities over the years when I'm at someone's house and I don't really know how to ask. So in an effort to make our home more inviting, I've taken a few proactive steps so that guests feel right at home when visiting.
#1 – Have Toiletries Accessible
When guests come over I like to put out these cute labeled jars out so that they can help themselves to things like cotton balls, etc. I also stock the medicine cabinet with things like aspirin, acetaminophen, etc and hairspray, bobby pins, and tweezers. And underneath the sink I keep a few personal items.
#2 – Don't Skimp on the Toilet Paper
Another thing I keep plenty of under the sink is toilet paper. No one wants to visit your home, head to the bathroom, only to have to yell to get someone to bring some toilet paper to them (or find other ways of cleaning up). So I stock a good number of rolls under the sink for easy access.
#3 – Have the Poo~Pourri Out
And front and center by the toiletries that are on the back of the toilet is the Poo~Pourri. Because there's nothing worse than heading into the restroom at a friend or family member's house and realizing that when you thought you only had to go #1, you really had to go #2. No one needs to know when you have Poo~Pourri available.
Guests simply need to spray 3-5 times and do their thing. Poo~Pourri's pure blend of natural essential oils creates a film on the surface of the water. he protective barrier traps odor under the surface before it ever begins! All you'll smell is a refreshing bouquet of natural essential oils. It's as easy as that!
You can hover over the image above and click on the images to visit Poo~Pourri.com and find your perfect match. Whether you're a spiced apple person or prefer the calming effects of lavender vanilla (my favorite!), there's a scent out there for you. Add a spritz of holiday magic by leaving the porcelain sleigh smelling better than you found it with fun holiday scents like Merry Spritzmas® or Secret Santa that are perfect for a stocking or in place of a gift tag for that special someone.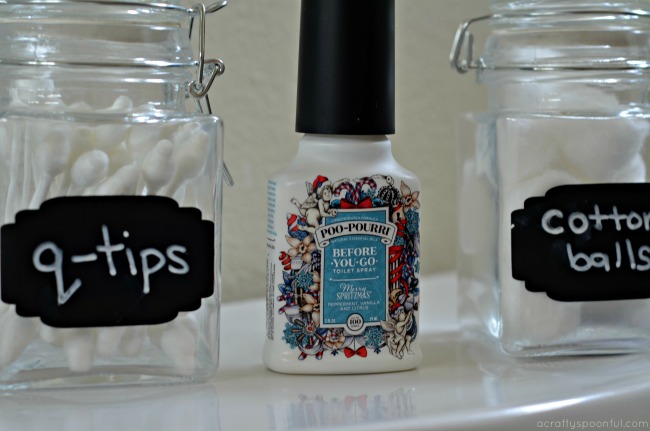 Finding the right scent of Poo~Pouri was fun. I chose a few festive holiday blends for the season and a more neutral scent for year round (or in my purse when I'm on the go). Poo~Pourri transforms your bathroom experience (and those who come in after you) by stopping bathroom odor before it begins…seriously!
Poo~Pourri Merry Spritzmas® is a blend of peppermint, vanilla and citrus natural essential oils and Poo~Pourri Secret Santa is a blend of cinnamon, vanilla and citrus natural essential oils. How amazing does that sound for spreading holiday cheer? The favorite holiday blend in our home is Merry Spritzmas®. Smelling is believing!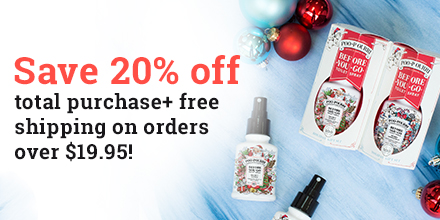 And right now you can enjoy 20% off your order! Just head over to the Poo~Pourri website to order now. While it's a fun (and funny) gift, it's also something that works. Win-win! Plus, there's always free shipping on orders over $19.95.
Now on to how to download and put on this awesome toilet seat decal inspired by A Christmas Story.
How to Add A Decal To Your Toilet Seat
What you'll need:
Oracal 631 vinyl (or equivalent non-permanent vinyl).
Transfer paper (or clear contact paper)
clean terry cloth
rubbing alcohol
burnishing tool or credit card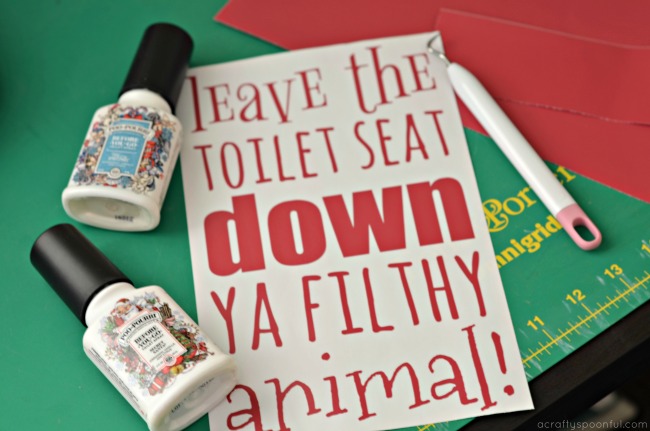 What you do:
1. Download the Filthy Animal SVG file and cut it out on the vinyl of your choice using your cutting machine.
2. Weed your design and transfer design onto transfer paper.
3. Prep the inside of your toilet seat by putting a small amount of rubbing alcohol onto the clean terry cloth and wiping the surface down. Let dry.
4. Grab your vinyl on transfer paper and try to eyeball the alignment so that the decal goes on evenly and in the middle of the lid. Press your design down.
5. Using your burnishing tool or credit card, scrape the design gently onto the lid and get out any air bubbles to ensure that the vinyl is properly secured. Once secured, remove transfer tape
6. Enjoy your decal and wait till guests come over to admire your throne!
Grab the FREE A Christmas Story Toilet Seat Decal SVG Here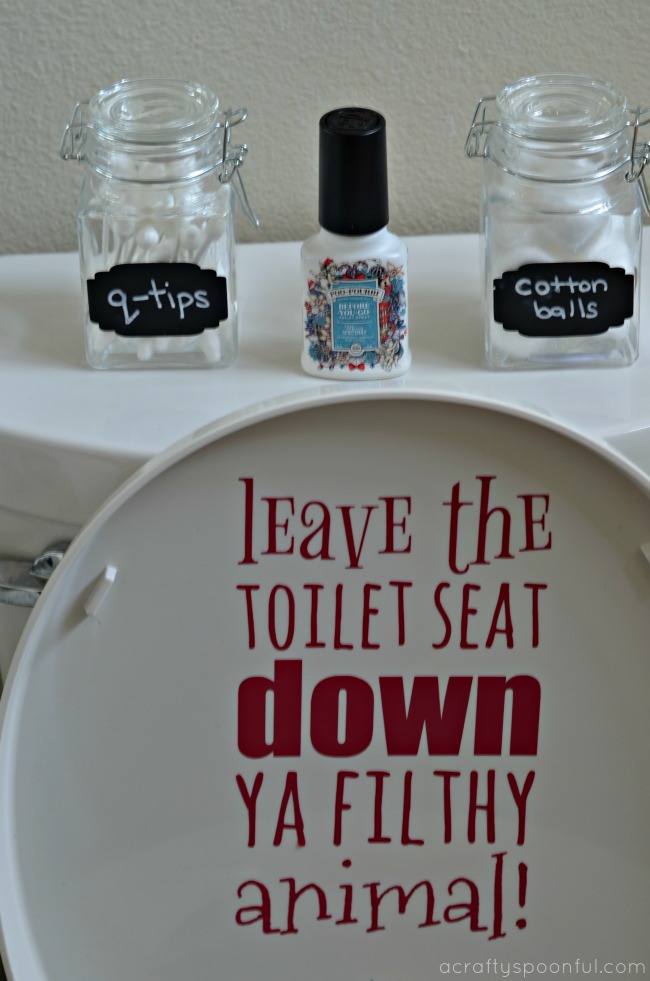 What are your top tips for making guests feel at home?
Loved this post? Read on!
Pin this article for later!
Click the Pin button on the image below to save for later.