When I learned that I was pregnant for the second time I knew I wanted to pursue other options when it came to where I gave birth. The experience I had with my son was not my ideal situation and I wanted to make sure that I did everything possible to make sure I would receive the birth I dreamed about. Yes, I know that sounds crazy but I just knew I could give birth naturally with no intervention and wanted those around me at that time to believe so too.
I went in search of a birthing center that not only allowed for a natural birth but was also covered by my insurance. And that's when I learned about Best Start Birth Center San Diego Best Start is the only state-licensed, nationally accredited, free-standing birth center in Southern California. That means they are not part of a hospital or HMO. They are a private practice owned and operated by midwives. They have physicians associated with the practice whom we consult with and refer clients to as needed, but they are not here for deliveries — it is the midwives who do the deliveries. Best Start is also the only state-licensed, nationally accredited facility in San Diego offering Water-birth.
When I went in for my first appointment I was immediately set at ease. I received a tour of the facilities, met a few of the midwives there that day and got to know the reception staff and nurses. I would come to find out that they are a tight knit group who work very well with each other. Every time I called in or had a question or concern at an appointment I was quickly helped and given great information and answers. I never felt like my concerns weren't important nor did I think that anyone was hurrying me up or brushing me off. I was important and they cared as much about my pregnancy as I did. My best interest was their concern.
Each time I went in for a prenatal appointment I would see a different midwife. They do this so that you get to know each midwife at the practice. The midwives rotate who is on call so when you go into labor you don't know who's on call until you call in. As luck would have it the only midwife I didn't get to meet due to schedule conflicts (I always had to make my appointments for certain dates and some midwives were off on those dates) was the midwife who would deliver my daughter.
But that wouldn't matter. From the first few moments I met Brita on the day I came in to deliver my daughter I knew things were going to be ok. Throughout the birth both Brita and her birth assistant were reassuring, calm and empowering. I wasn't sure if I could get through my natural birth without my trusty doula and best friend by my side (like at my son's birth) but with these two women I knew I could. Every step of the way they were there to guide me. They offered me different suggestions and positions and never once said I had to do anything. They let me decide what I felt most comfortable with and when I needed direction the most they helped me out.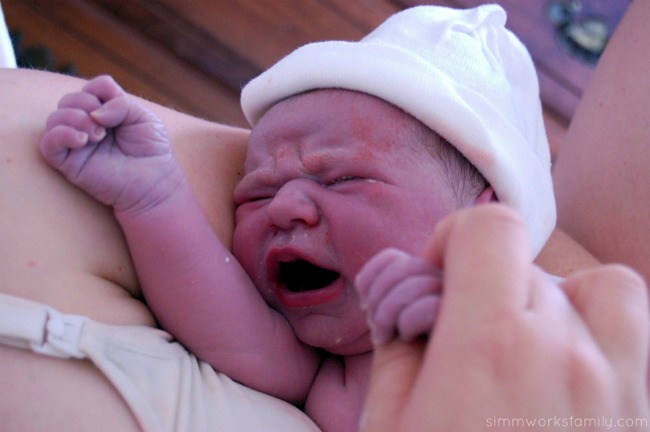 As soon as my daughter came into the world I knew I had made the right decision in going with Best Start Birth Center. She was immediately placed in my arms and was allowed to stay with me for a bit. Then she was taken to be measured and weighed while I delivered the placenta. I then tried to get her to latch on before handing her over to Daddy while they sutured me up (yup… I tore!). The whole time we were there after giving birth she was in the room with us either in my arms or in Daddy's arms. My son came to visit two hours later with my mother-in-law with lunch in tow and four hours after that we were headed home.
Two days after I gave birth a nurse came to my home to check on me and the baby. She offered help with breastfeeding and gave me great suggestions for different foods to eat, teas to drink and how to overall care for myself while caring for a new baby. At my 6 week check up I was greeted by congratulations and smiles while everyone oohed and aahed at my new daughter. I felt as if I had come full circle from the first time I visited the birthing center seeing the new mom next to me waiting for her 6 week appointment. If I decide to get pregnant again I will more than likely be turning to Best Start to deliver my third child.
To read my full birth story go here. And if you are considering a birthing center for the birth of your child and have more questions please feel free to contact me at any time!