We have been compensated in the form of a Best Buy Gift Card in exchange for sharing our favorite last minute Minecraft gift ideas from Best Buy.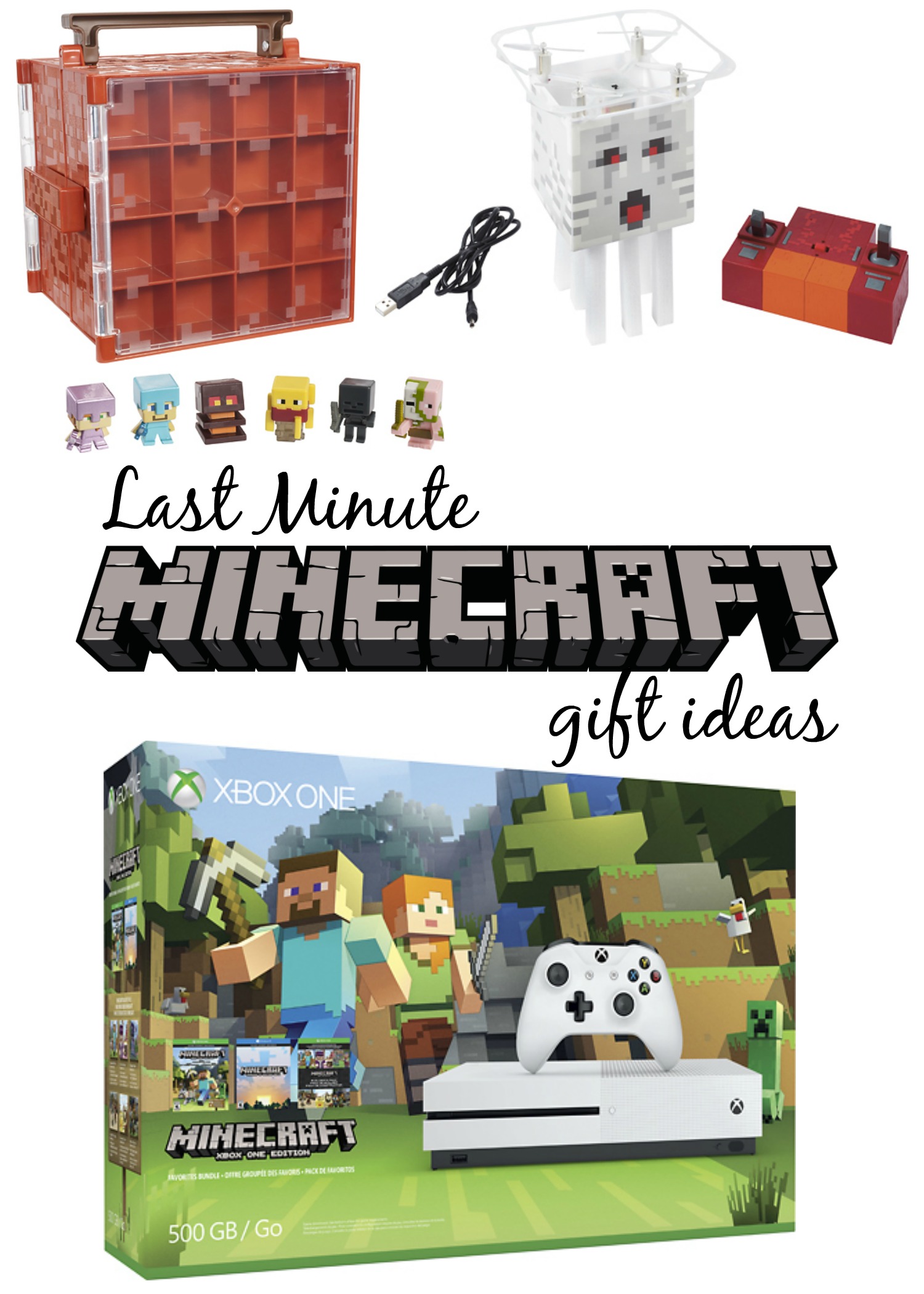 We've been a Minecraft crazed household since early last year. And just about any wish list my son brings to me has at least one Minecraft-inspired item on it. So if you've started hearing about Creepers and Ghasts and other weird sounding things, you may be introduced to Minecraft soon. And you may have seen a few Minecraft-related things on your child's list. But don't worry! It's not too late to pick up some last minute Minecraft gifts with the help of Best Buy!
Build and explore exciting new worlds with Best Buy's assortment of Minecraft games and collectibles. If you aren't familiar with the awesome world of Minecraft, it is a game about placing blocks and going on adventures. Explore randomly generated worlds and build amazing things from the simplest of homes to the grandest of castles. Play in Creative Mode with unlimited resources or mine deep in Survival Mode, crafting weapons and armor to fend off dangerous mobs. Do all this alone or with friends. The games are very family-friendly and great for kids.
And even after you've started playing the game, there's still fun to be had! The toys and collectibles make great gifts for anyone already into the game. Best Buy carries a large assortment the assortment of Minecraft products – this includes an Xbox One S console bundle, additional Minecraft games and Minecraft toys and collectibles. Check out our top picks below (each of these items is on my son's wish list)!
Grab all of the Minecraft goodness here: http://bby.me/e7cb. And make sure to take advantage of FREE 2-day shipping to get it by Christmas or pick it up at your local Best Buy store by selecting store pick up. So convenient!
Last Minute Minecraft Gift Ideas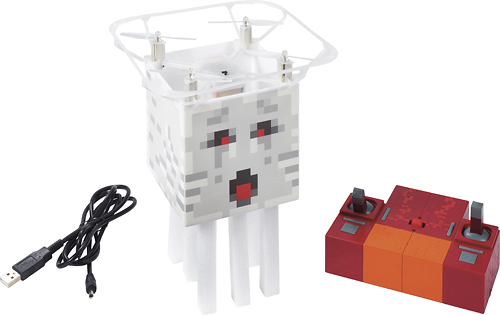 1. Minecraft RC Flying Ghast
At the top of my son's list is this awesome Minecraft RC Flying Ghast. You get to bring one of the key mobs to life with this quadcopter! Using the remote control, you fly this Ghast quadcopter through the air as in the game.
The flying Ghast can move forward and backward, left and right, and up and down. Special features include 360-degree turns, automatic landing capabilities and a stunt button take the fun to new heights! This is a great gift for any Minecraft fan.
On sale for $20 off at $59.99! Killer deal. With free 2-day shipping, of course.
2. Minecraft Motion Movie Set
My son is really into watching YouTube videos and has been asking if he can set up his own channel. While I'm not quite ready for him to be in front of the camera, his ideas for some stop motion fun sound right up my alley! With this Minecraft Stop-Motion movie creator set you can make your own movies come to fruition. It comes with a movie stage, six different background cards, four exclusive figures and over 18 accessories to help you bring your stories to life. This Minecraft Stop-Motion movie creator lets you animate with your smartphone or tablet in just three easy steps. Pretty cool, right?
Only $19.99 right now with free 2-day shipping.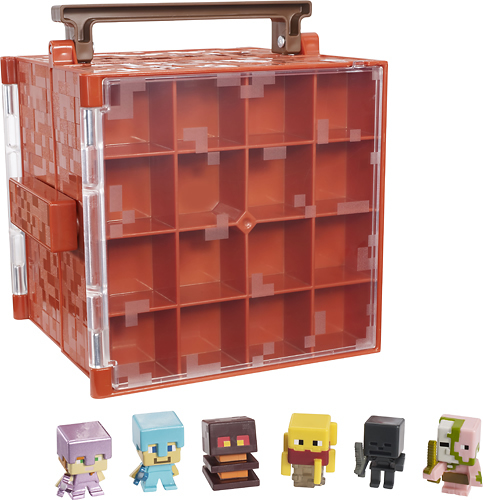 3. Minecraft Minifigure Collectors Case
Minecraft Minifigs are perfect for stocking stuffers or present toppers but you need somewhere to put them all! This Minecraft Minifigure Collectors case holds up to 32 figures and allows you to display and transport all of your little guys.
Organize and display your favorite Nether explorers in this Mattel Minecraft collector case. Flip it over to discover a Minecraft world complete with a playtime portal for entertaining creative minds. This lightweight Mattel Minecraft collector case includes six starter characters and a convenient handle that lets you easily transport up to 32 figures.
$39.99 right now with free 2 day shipping!
4. Minecraft Card Game
Play your favorite hit video game anywhere with this Minecraft card game. Mine, craft and reserve resource cards, but watch out for TNT and Creeper cards in this game full of action and adventure. Crafting points with wood, stone, iron, diamond and gold resource cards lets you position yourself for a win in this Minecraft card game.
A great stocking stuffer at $12.99 and free 2 day shipping.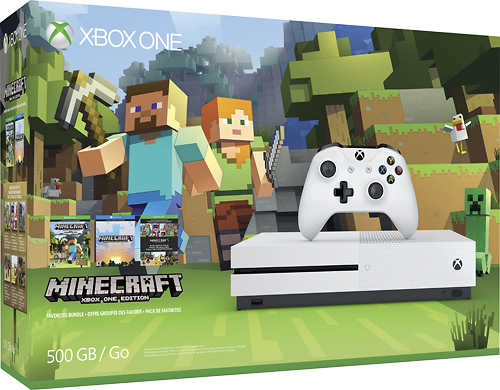 5. Microsoft XBox One S Minecraft Bundle
Upgrading your gaming system? You gotta check out the Xbox One S Minecraft Favorites Bundle (500GB), featuring everything you need to build, survive, and explore! Get full game downloads of Minecraft for Xbox One and Windows 10, plus thirteen fabulous, community-favorite content Packs, including Halo Mash-up and Festive Mash-up.
Craft new Minecraft worlds together with friends on Xbox Live, the most advanced multiplayer network. And now with the new Xbox One S, you can even watch 4K Blu-ray™ movies, stream Netflix and Amazon Video in stunning 4K Ultra HD, and play a growing library of Xbox 360 games. With all the biggest blockbusters this year, there's never been a better time to jump ahead with Xbox One.
And right now you can score this bundle for $249.99 ($50 off)!
What's on your Minecraft fan's gift list?
Grab all of the Minecraft goodness here: http://bby.me/e7cb. And make sure to take advantage of FREE 2-day shipping to get it by Christmas or pick it up at your local Best Buy store by selecting store pick up.