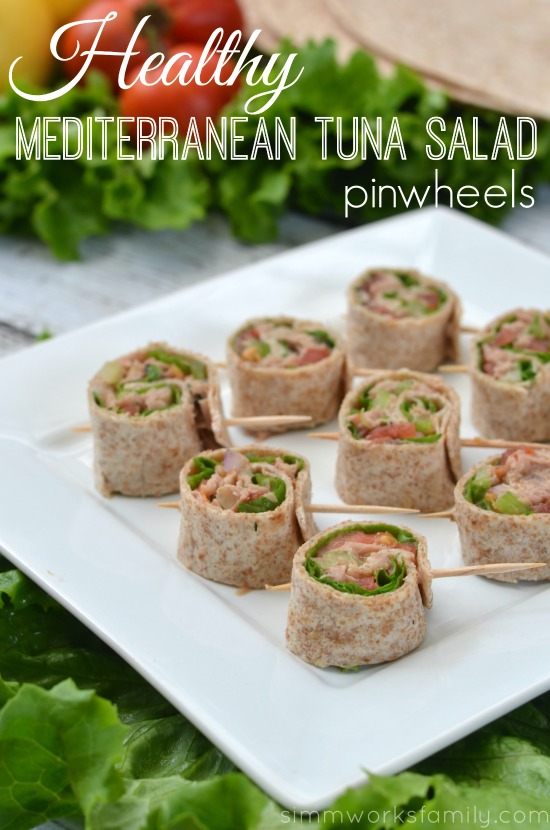 With spring arriving and the change in weather, I try to turn to some of my favorite light, healthy lunch recipes. One of my favorite recipes is this healthy Mediterranean tuna salad.
By cutting out the mayo and subbing olive oil instead, this tuna salad is not only light and refreshing, it also has fewer calories in it as well! The best part is how versatile it is! Don't have basil? Try another herb you do have. Don't like onions? Try another flavor!
To spruce it up for the kids I decided to make these healthy Mediterranean tuna salad pinwheels. I simply wrapped up the tuna salad in some whole grain tortillas, layered some greens and fresh tomatoes from my garden, and piled on the tuna salad.
The results? Delicious! And I'm fairly certain the star of this recipe is the tuna.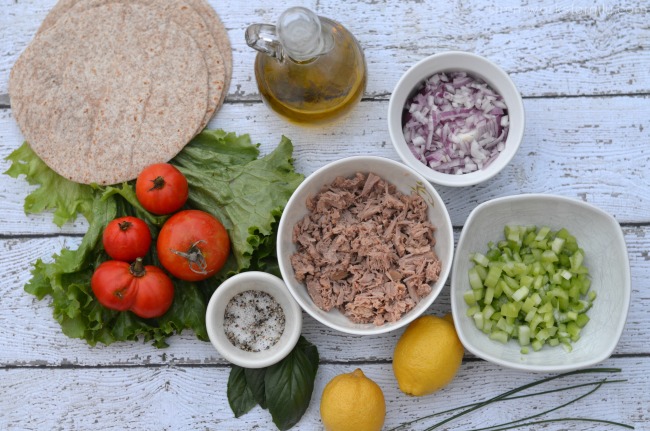 Healthy Mediterranean Tuna Salad Pinwheels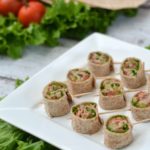 1 can tuna (flaked)
1 tablespoon fresh basil (chopped)
1 tablespoon fresh chives (minced)
1/2 stalk celery (diced)
1/4 red onion (diced)
drizzle of olive oil
salt and pepper
juice of 1/2 a lemon
1 tomato (sliced)
2 pieces red leaf lettuce
2 whole grain tortillas
Mix together the first six ingredients in a small bowl. Set aside. Grab the two tortillas and layer a piece of lettuce onto each one. Then add a few slices of tomatoes (about three on each tortilla).
Spread a bit of the tuna salad onto the middle of the tortilla. Roll up the tortilla tightly. Secure with toothpicks and cut into rounds, using extra toothpicks in each individual pinwheel.
Serve and enjoy!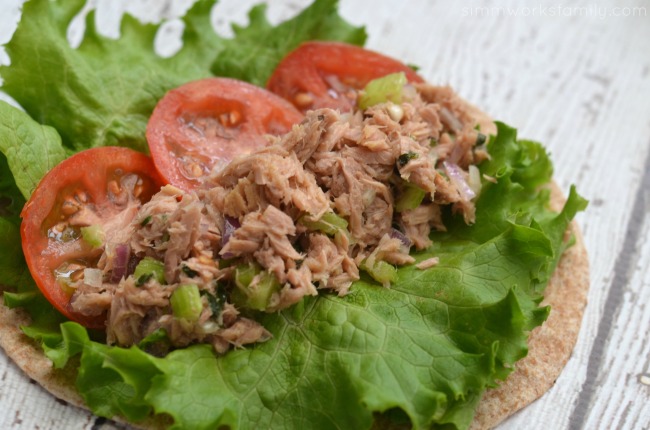 Not only is this a fabulous lunch for the family, it's also a great appetizer for any parties coming up. Simple and easy to make, guests are sure to love the fresh, delicious flavor of these pinwheels.
What's your go-to healthy lunch recipe?
Love this recipe? Try a few more:
Pin this article for later!
Click the Pin button on the image below to save for later.