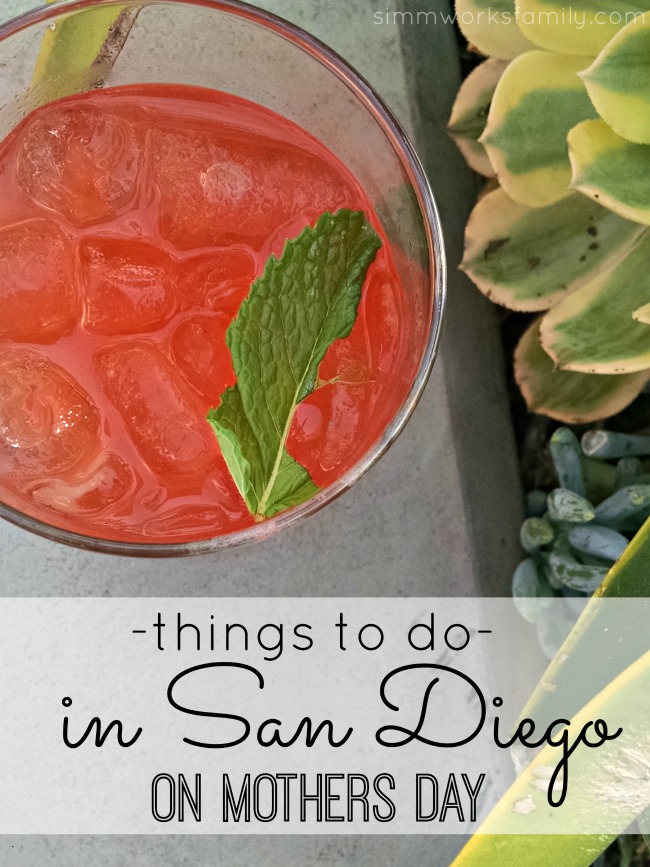 This weekend is Mother's Day weekend and many are looking for fun things to do around town. Including me! So I've put together a great list of things to do in San Diego for Mother's Day. From brunch to dinner and everything in between, to a fun run and a home tour, there's plenty to do in America's Finest City this weekend!
I'm excited to spend Saturday afternoon with one of my favorite girls, my 4 year old daughter, at an event that benefits a wonderful cause. Chula's Mission will be hosting "Once Upon an Apron" on Saturday, May 9th from 12-3pm. This is an event that is perfect for mother daughter bonding! Apron decorating, jewelery making, and more.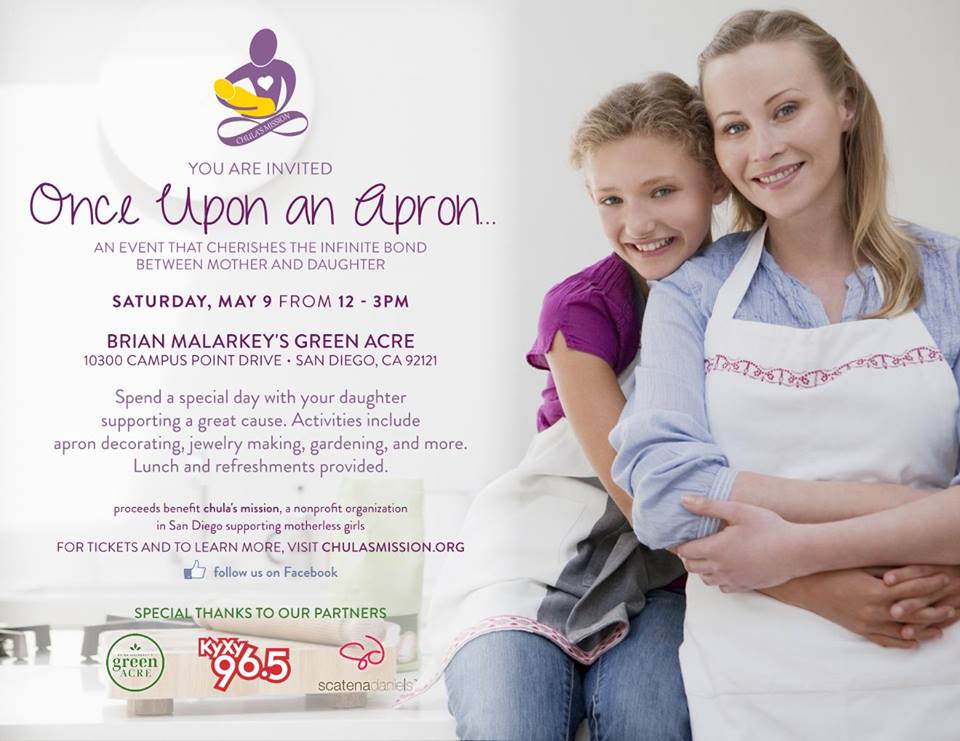 I'm not quite sure what's planned for Sunday but I'm up for anything. And we'll be attending brunch the following Sunday at Karl Strauss to miss the crowds on Mother's Day.
Now for a fabulous list of restaurants and events to attend in San Diego on Mother's Day.
Things To Do in San Diego for Mothers Day
Brunch at Mister A's
Enjoy brunch at Mister A's, which is just minutes from Downtown and features beautiful views. Entrees include Buttermilk Fried "Chicken And Waffles" or Eggs Benedict With Fresh Crab Meat Or Pork Belly.
Price: $64.50 per person
Location: 2550 Fifth Avenue Twelfth Floor, San Diego, CA 92103
Website
Brunch at Hotel Del Coronado
An elegant brunch with live musical entertainment, a rose for each mom that attends and a children's buffet. MENU
Price: $115 for adults in the Crown Room, $105 in the Ballroom. Children ages 6-10 are $42, and children 5 and under eat free.
Location: 1500 Orange Ave Coronado, CA 92118
Website
Dining at Blue Point Coastal Cuisine
A limited menu will be served from from 1 – 5pm. Moms ordering from this menu will eat for free!
Price: varies, you can view the menu HERE
Location: 565 Fifth Avenue, San Diego, CA Gaslamp Quarter
Website
SEA180°'s Mother's Day Champagne Buffet Brunch
Champagne Buffet Brunch with omelets, a pancake station, a prime rib carving station and more. MENU
Price: $59.95 adults, $12.95 kids 6-12 and kids under 6 are free
Location: 800 Seacoast Dr Imperial Beach, CA
Website
Mother's Day Dining at BiCE
Traditional Italian cuisine located in San Diego's Gaslamp Quarter. Featuring entrees like Swordfish Cutlet with Puttanesca Sauce and Homemade Oven Baked Lasagna
Price: $48 per person, Kid's (10 & under) are $24 each
Location: 425 Island Ave San Diego, CA 92101
Website
Mother's Day Champagne Brunch Buffet at Loews Coronado Bay Resort
Enjoy views of the Coronado Bay while dining on Maine Lobster Ravioli or Tenderloin of Beef. MENU
Price: $72 for adults and $32 for children ages 6 to 12
Location: 4000 Loews Coronado Bay Rd. Coronado, CA 92118
Website
The Flower Fields at Carlsbad Ranch
Mother's Day is the last day to experience the beautiful Flower Fields this season.
Price: $12.00 for Adults, $11.00 for Seniors 60+, $6.00 for Children 3-10, Children 2 and under are free
Location: 5704 Paseo Del Norte, Carlsbad, CA 92008
Website
Mother's Day at Rancho Bernardo Inn
Dine at the beautiful Rancho Bernardo Inn, featuring different menus throughout the day. Three different restaurants and menus: Veranda Fireside Lounge & Restaurant | Avant | Aragon Ballroom
Location: 17550 Bernardo Oaks Dr., San Diego, CA 92128
Website
Hornblower Mother's Day Cruise
Enjoy being on the water in beautiful San Diego. Two different cruises to choose from: Mother's Day Champagne Brunch with Live Jazz or Mother's Day Sunset Dinner Cruise. Menus: Brunch Buffet Menu, Buffet Menu or Dinner Menu
Price: Varies, depending on cruise
Location: San Diego Grape St. Pier 1800 N. Harbor Dr
Website
Bonita Golf Course Mother's Day Brunch
Includes bottomless champagne
Price: Adults $33.95, Seniors $30.95, Kids $12.95
Location: 5540 Sweetwater Road Bonita
Website
Mother's Day Brunch Buffet at The Shores
Enjoy an oceanfront buffet with your Mom! Menu includes American Cheeses, Ginger Tangerine Glazed Chicken Salad, Angus Prime Rib of Beef, desserts, and a children's station. MENU
Price: $49/person, $24.50 children 6-12, $4 per year children 5 and under
Location: 8110 Camino Del Oro La Jolla, CA 92037
Website
Coronado Historic Home Tour
Tour 6 beautiful homes in Coronado on Mother's Day
Price: $35 members, $45 non-members
Website
Mother's Day Brunch Cruise
Gourmet buffet, live music and beautiful San Diego views while aboard one of the vessels of the Flagship Cruises and Events fleet. Featuring an omelet station, carving station, taco bar & more
Price: $69.50/Adult, $41.70/Child 4-12 yrs
Location: 990 North Harbor Drive, San Diego, CA 92101
Website
Brunch at Top Of The Market
Enjoy beautiful views at one of San Diego's finest restaurants. Entrees include Steak and Eggs, Free Range Eggs Benedict with Blue Lump Crab Cakes and Smoked Salmon Scramble Omelet.
Price: Prices vary, see MENU
Location: 750 North Harbor Drive San Diego, CA 92101
Website
Mother's Day Dining at The Grand Del Mar
Brunch at The Clubhouse Grill (10:00 am – 4:00 pm) – $42 per person, includes coffee and tea MENU
Champagne Brunch in the Elizabeth Ballroom (10:00 am – 2:00 pm) – $108 per adult | $30 per child (ages 4 – 12) MENU
Dining at Amaya (Brunch: 11:30 am – 4:00 pm Dinner: 4:00 pm – 10:00 pm) – $75 per person | Children's buffet, $30 (ages 4 – 12)
Afternoon Tea and Bubbly (2:00 pm – 4:00 pm) – $50 per person
Location: 5300 Grand Del Mar Court, San Diego, CA 92130
Website
Mother's Day Run
Run with Mom! This 5k and 10k benefits the San Diego Rescue Mission
Price: Entry fees vary. Register HERE
Location: 3000 N Mission Bay Dr. San Diego, CA 92109
Website
Mother's Day Brunch with Shamu
Enjoy brunch inside Sea World, with a french crepe station, omelet station, french toast, bagels and much more!
Price: This special brunch is $55.00 for ages 10+ and $27.00 for ages 3-9 (Park admission is required & not included in this price)
Location: Sea World, San Diego
Website
Mother's Day Brunch at Fleming's Steakhouse
Enjoy delicious entrees such as Baked Brioche French Toast, Prime Rib with a Trio of Sauces, Porcini-Crusted Filet Mignon and more!
Price: $39.95 for adults and $18.95 for kids
Location: La Jolla (8970 University Center Lane, San Diego, CA 92122) and San Diego (380 K Street, San Diego, CA 92101)
Website
What are your plans for Mother's Day?