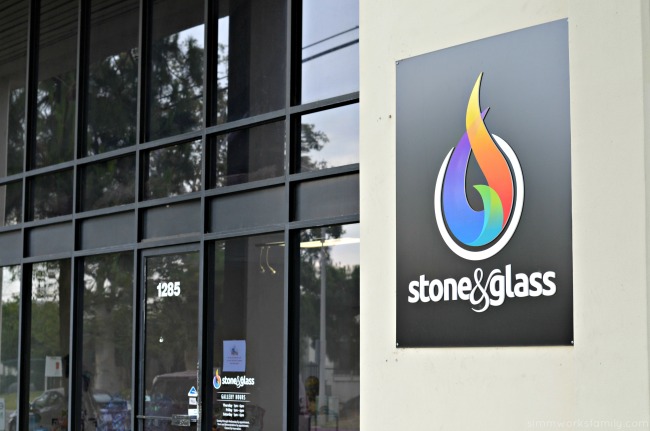 A few weeks ago I took a few hours to spend with my oldest. He hasn't gotten much one on one with me since the baby was born and we were due for a mommy and son date. We were invited to Stone & Glass to preview their new Fire and Fettucini classes. Perfect for just about any coupling you could think of – mother son, father daughter, significant others, girlfriends, "bros" … hahaha – Stone & Glass has paired with Charlie's Classic Cooking to bring together a glass making class and a cooking class.
One person learns how to make something with glass while the other learns how to cook a meal. So while I was learning how to make a beautiful glass heart, my son was learning how to make pasta by hand. Talk about a hands on experience! And afterwards we all were able to eat together and enjoy the meal he made.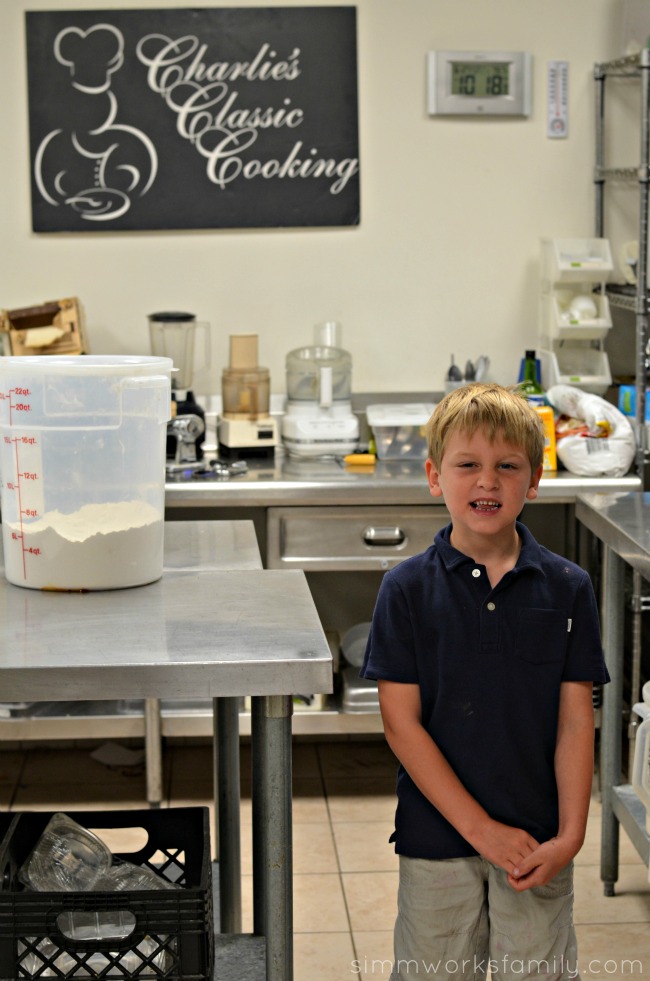 During the glass blowing session the Stone & Glass team will explain safety tools and basic skills, you will learn how to shape and control the glass and apply color to create your masterpiece.  Every student will design and create handmade artwork in glass and gain a strong understanding of how glass art is made. My other two classmates made sea stars with different colors and designs.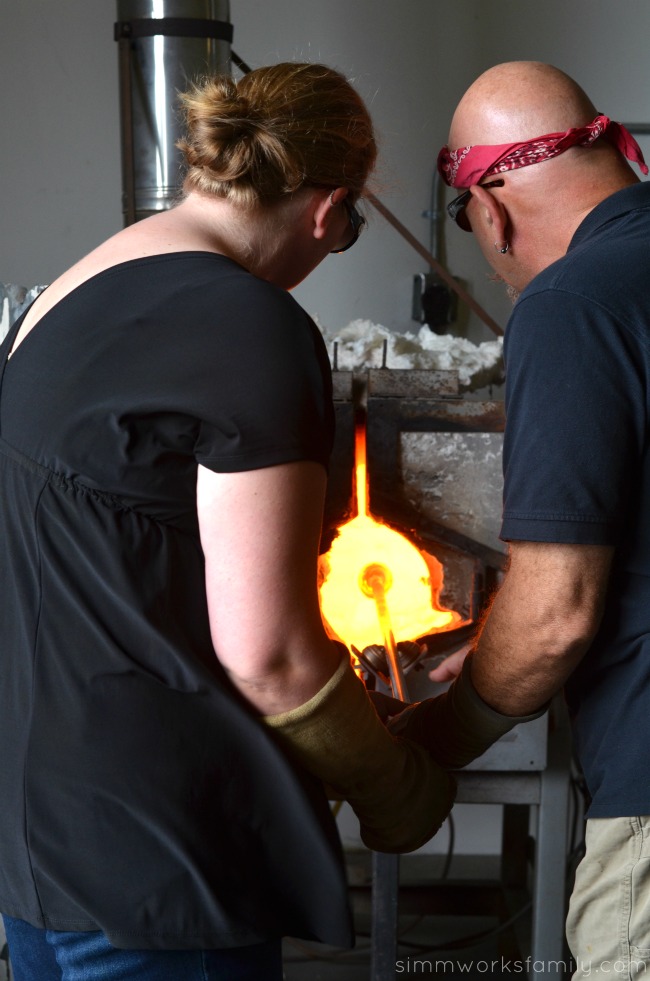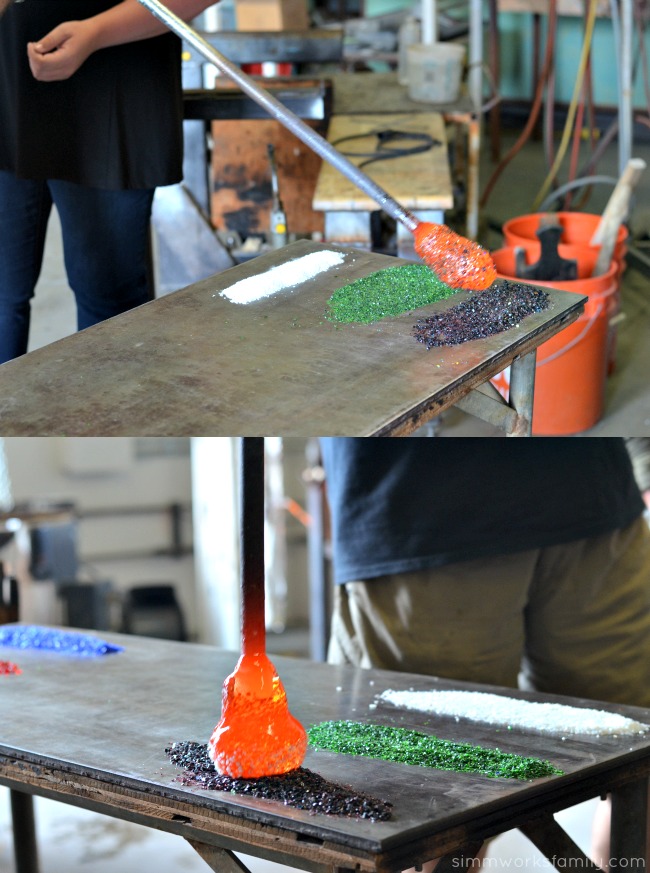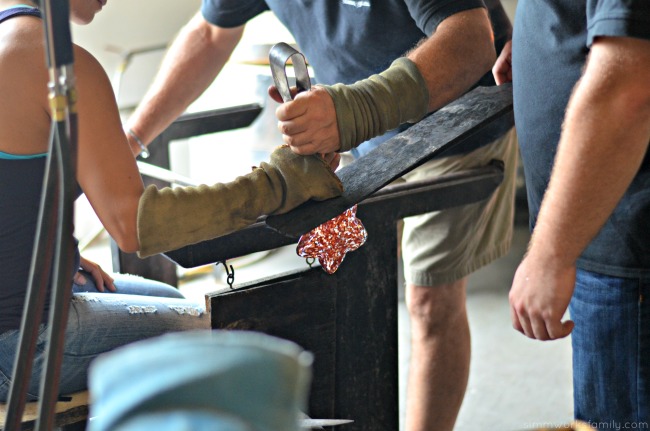 In the cooking session Chef Charles of Charlie's Classic Cooking will lead you through making your pasta and sauce from scratch, perhaps adding a few surprises, preparing a side dish and dessert. And once you've had handmade pasta, you won't want to go back to the boxed stuff! Oh my word is it good. 
Can you tell he had fun?
The best part? It's only $125.00 per pair! This class is offered the last Saturday of each month and available for private parties.
And while my son was too young for the glassmaking portion, he was the perfect age for cooking. Children 9 years and older can partake in the glassmaking and children 5 years and older can participate in the cooking. You can find more info on the Stone & Glass website.
Looking for a great opportunity for the kids?
Speaking of kids,  Stone & Glass is offering a One Day Glass Camp for children ages 9 to 13 on Thursdays in August from 9am to 3pm. In the morning session the kids will be working with cold class; creating glass tiles following patterns and samples provided or unique masterpieces using various pre-cut glass materials. 
Lunch is another creative opportunity – a nutritious lunch prepared with Chef Charlie of Charlie's Classic Cooking. They ramp up the excitement in the afternoon with a hot glass demonstration, after which each student will work with our glass blowing team to create solid glass objects.
The glass camp is $120.00 per child per day. All tools and materials are provided. Pieces are ready for pick up in a week. These are small group sessions with a minimum 4 participants and maximum of 6. For more info, visit the Stone & Glass website.
Who will you be taking on a Fire & Fettucini adventure? 
Stone & Glass on Facebook | Stone & Glass on YouTube | Stone & Glass on Instagram