Is Great Wolf Lodge a good place to stay when you have a toddler? Check out these things to do with toddlers at Great Wolf Lodge!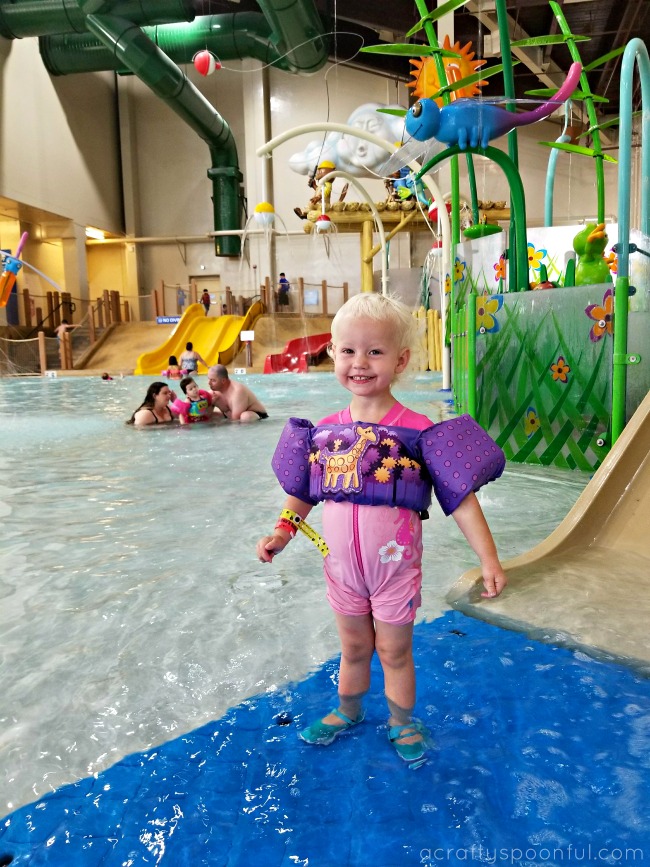 The day after the big kids got out of school for the summer we surprised them with a fun staycation to kick off the beginning of summer. Over the 4 day getaway, we spent two days at Great Wolf Lodge Southern California. We'd never stayed at a Great Wolf Lodge and have been dying to try out the closest one to our house. So when I saw the opportunity to purchase a Groupon again (we missed the first opportunity), I jumped on it and booked a night.
As we did a bit more research on our upcoming stay, one thing was clear: there is a TON to do for all age groups. Including toddlers. And once we got there, we found this to be 100% accurate. Not only were there fun things for the big kids, but for the small kids and adults as well.
If you've planned a night at the Great Wolf Lodge, here's what you should put on your list to do with your toddler: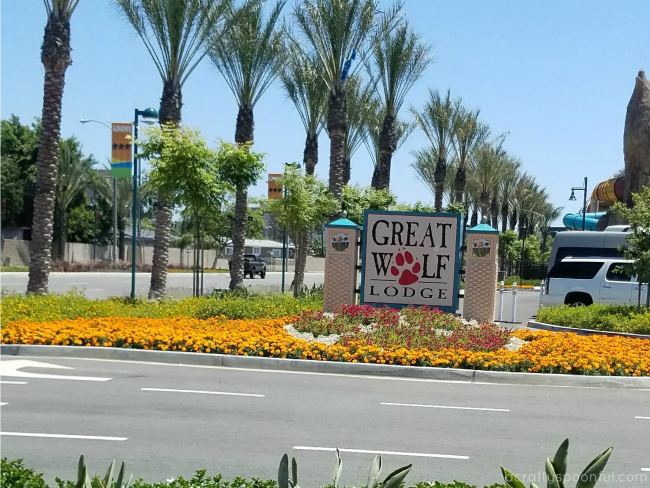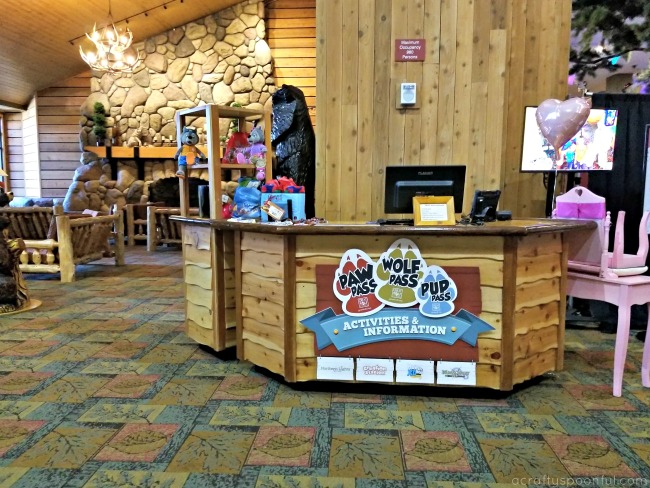 Things to Do With Toddlers at Great Wolf Lodge
1. Grab a puddle jumper or bring your own –
While there are quite a few places your toddler can go at Great Wolf Lodge, safety is first. Make sure you either bring your own life jacket (or favorite puddle jumper) or use one that's provided for you at the various life jacket stations. We preferred our own because sometimes they're out of life jackets at certain times of days or locations and it's easier to just grab our own.
2. Park yourself somewhere close to the Cub Paw Pool –
After enjoying an afternoon at the water park on our first day there (you can enjoy the park starting at 1pm on your check-in day even though check in is at 4pm) and exploring everything for the first time, we knew that as soon as we arrived at the water park on our full day at the park, we needed to snag a spot near our toddler's favorite area: Cub Paw Pool.
Now not only does this area have a zero-depth entry that makes it easier for toddlers and infants alike to explore at their own pace, it only goes to 24″ deep in the deepest area. There are age appropriate slides, water funnels, and fun splash areas that are sure to excite any little one. And parents can just relax (as much as one can when they're in the water with kids) while their littles play around them and have fun. My husband literally sat at the bottom of a small slide as he watched our daughter go up the stairs and down the slide 100s of times as I took the other two to the "big kid" areas of the park. She seriously did not want to leave to go anywhere else once she found Cub Paw Pool.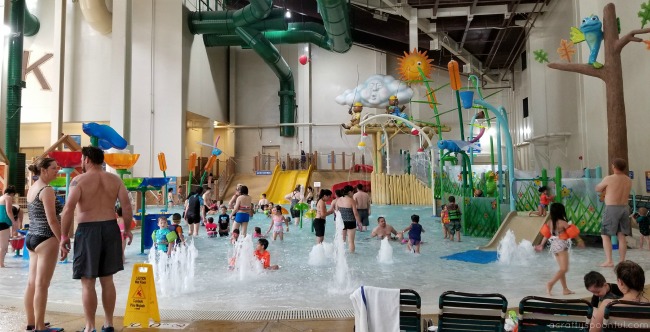 3. Enjoy a fun splash area that older siblings can have fun at too at Fort Mackenzie –
While Cub Paw Pool was perfect for the toddlers and infants, if your toddler is a bit more adventurous, let them splash and explore around Fort Mackenzie. The older kids can enjoy the medium size slides while the younger kids take turns trying to shoot water at passersby or stomp around in the big puddles. But watch out! That bucket on top of Fort Mackenzie does fill with water and tips to empty every few minutes.
You may be surprised to find that after your toddler tries out the small slides in Cub Paw Pool that they ask to try the medium sized slides over at Fort Mackenzie! Maybe. If they're daredevil 2-year-olds like mine…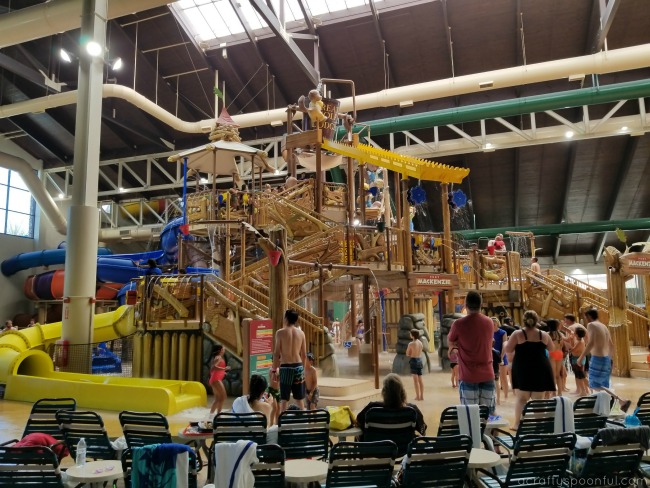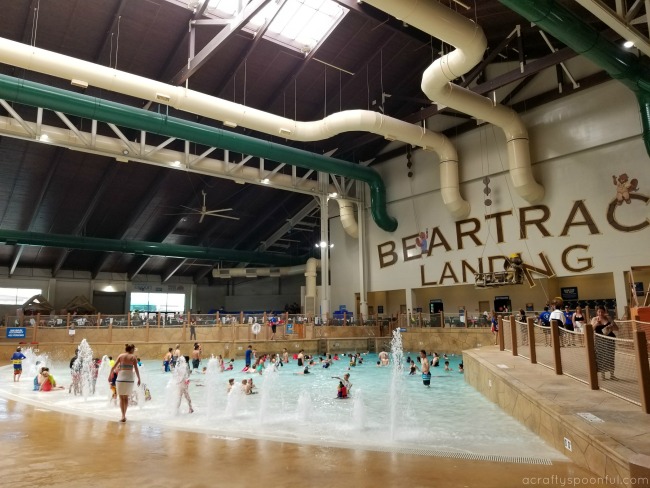 4. With life jackets on, enjoy the waves of Slap Tail Pond's wave pool.
There are lulls in between the waves (pictured above) but once the wave machine starts going, the littles LOVE trying to jump over the waves closer to the shore as the big kids swim in deeper. This pool also has a zero-depth entry that makes it easy for all to enjoy. And your little one might surprise you by asking to be taken further into the waves. Just make sure to hold on a bit tighter as you go in deeper.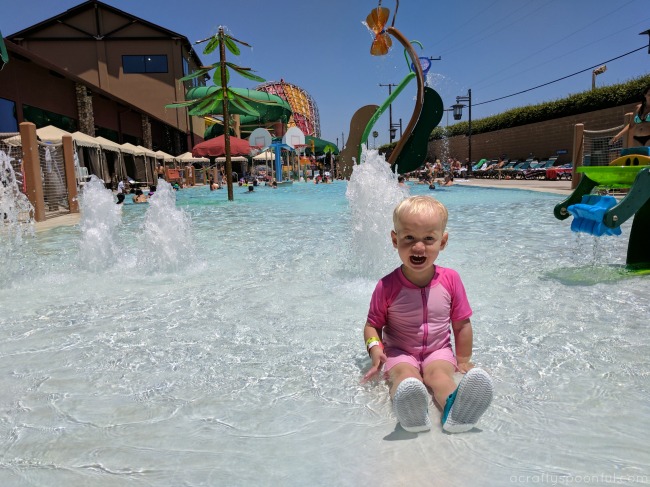 5. Looking for some sun? Enjoy the rays (with sunscreen lathered on, of course) at Raccoon Lagoon.
Another zero-depth entry pool that gets to about 4 feet deep, this pool has two entrances on either side that offer fun play areas for toddlers to explore. The big kids will take over the center of the pool where the basketball hoops are but that's ok, the edge is closer to the restaurant and drinks!
In between splashing in the water and played with the water funnels, our 2-year-old munched on a delicious corn on the cobb snack from the Grizzly Jack's Bar and Grill. I couldn't pull all of the kids out of here but sadly had to as our day was coming to a close. You can stay the full day on the day you check out but we were ready to dry off and head to our next adventure by then.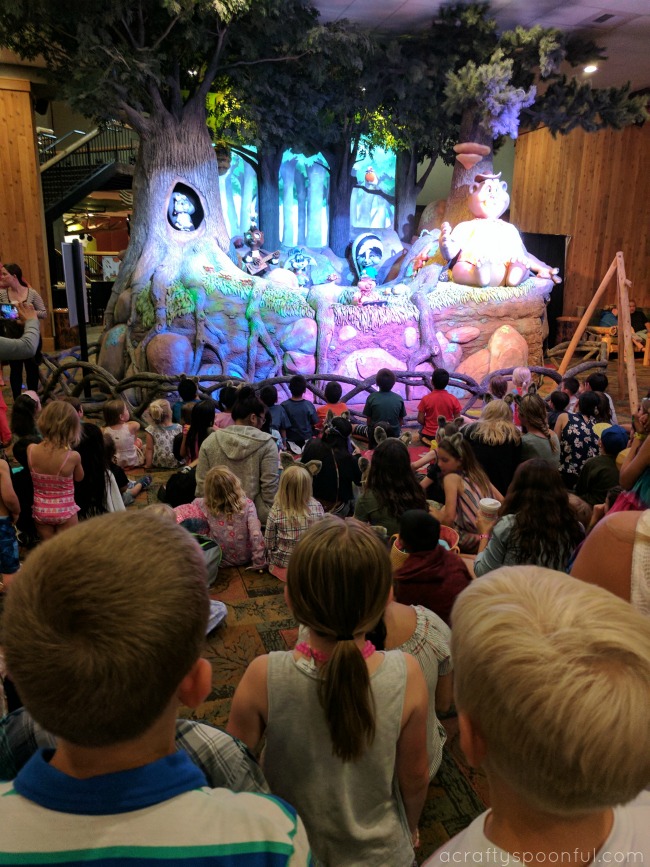 6. Staying a second night? Make sure to head down for storytime.
Some littles may be in bed by the time this starts (I believe it was 8 or 8:15pm) but both of our girls headed down with dad to check out The Forest Friends Show followed by Great Wolf Lodge bedtime stories as told by one of their Ambassadors of Fun. Don't forget your camera because after Story Time, meeting Wiley, Violet or one of the Great Wolf Kids characters is an unforgettable memory you won't want to miss – and a pretty cute one too! High paws are always welcome and definitely encouraged.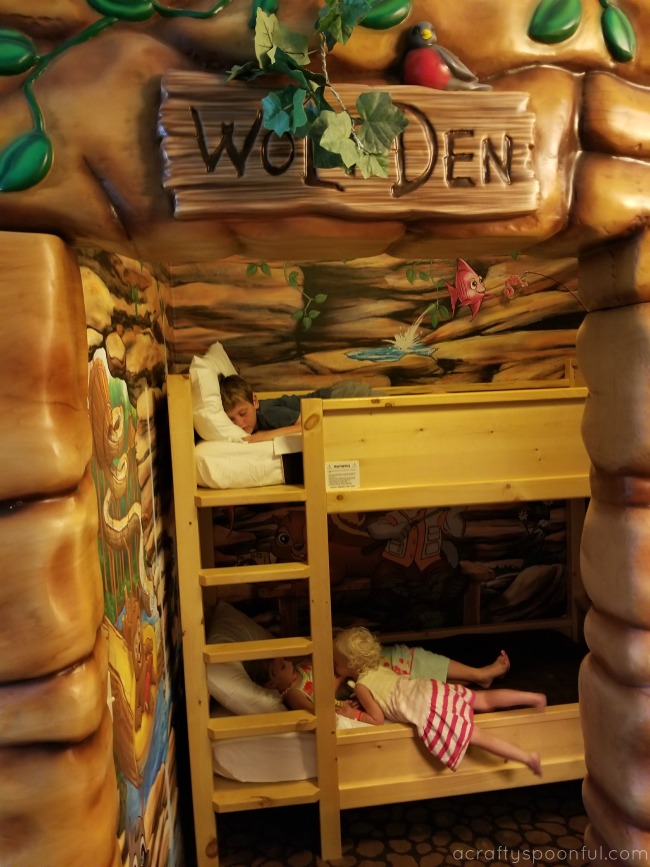 As you can see, there is plenty to do at Great Wolf Lodge when you have a toddler. And some things we didn't even get a chance to do! Good thing the whole family was in agreement that we'd have to come back soon!
A few highlights I didn't mention above but the toddler loved: Pizza from Hungry Like a Wolf for dinner, Donuts from Dunkin Donuts for breakfast, brownies and fudge at Bear Paw Eats & Sweets, the mini carousel and candy claw at the Northern Lights Arcade, and ending our trip with a souvenir wolf from the Buckhorn Exchange Gift Shop.
Don't forget to book a Wolf Den room if you have more than one cub! The bunk beds were a huge hit with our kids. While one night may be great for a lot of families, we'll be booking two nights next time we head up so we can enjoy more of the amenities offered.
Have you been to Great Wolf Lodge? What was your favorite part?