I participated in an Ambassador Program on behalf of Influence Central for SoCozy. I received Target gift cards to facilitate my review and thank me for my participation.
This girl. She's full of, spunk, sass, and always on the go. She's also blessed with a curly mane of hair that has been the source of our arguements every single morning. Until we found the right tools to take care of her hair.
Learning how to properly care for my kids hair is important to me because I want them to know how to properly care for themselves as they get older. Even with this girl that is always on the go, I can find time in the morning to tame her mane with a few simple tools.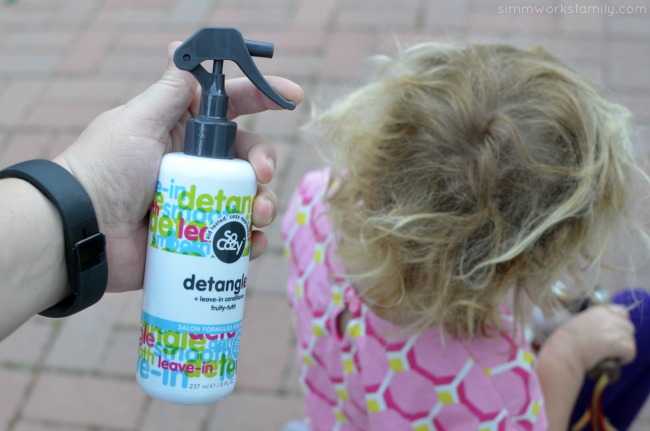 Curly Hair Tips for Kids
1. Find the right brush – one of my biggest tools in the morning to ensure no tears when we take care of my daughter's curly locks is our Wet Brush. Not only does it ease the pulling and distress my daughter's knots and tangles bring, it also feels great in my hand and in hers. That means she can brush her own hair some mornings when I'm still getting lunches packed.
2. Use a good conditioner – in the bathtub the night before I always make sure that my daughter uses a shampoo + conditioner so that her hair is ready for the brushing after her bath and again in the morning. Keeping her hair conditioned and well cared for also makes her curls look better when her hair dries.
3. Don't skip the detangler – we cannot even go near my daugther's tangles and curls in the morning without a detangler. And I'm SO excited to have found the SoCozy detangler because it also has leave-in conditioner included as well. That means her hair stays smooth and soft AND the curls look great even when we haven't just given her a bath.
SoCozy salon quality hair products for children are now being sold at Target. I was able to find our new detangler and the 3 in 1 shampoo + conditioner + wash on the shelves at our local Target in the Beauty section.
Not only did they have these two products I picked up but they also carried the Boo! Lice Prevention Shampoo and Spray. I know exactly where to go when I get the next letter home from my son's school about a lice outbreak (is your skin crawling?).
We'll be using our new SoCozy over the next few weeks and can't wait to share how they work for our family (and yes – my son will be using these as well!). Not only do we need something for my daugther's hair but for my son's hair as well.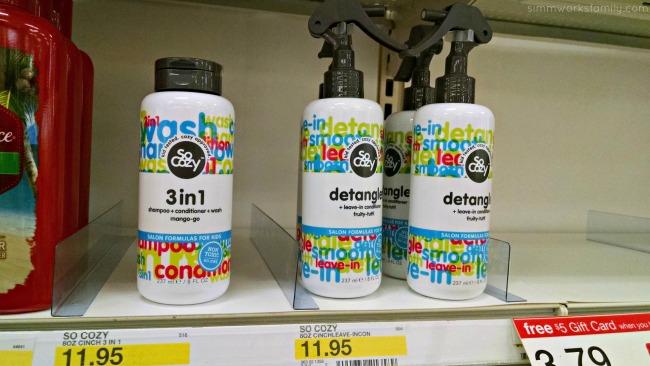 SoCozy is currently running a contest and would love for you to join in on the fun! The contest taking place from 3/23 – 4/30. You can enter here: https://socozy.com/socozy-stylers/
What's your morning hair care routine?