I am a Legoland California ambassador. I receive a 4 pack of tickets yearly as an ambassador however all opinions are my own.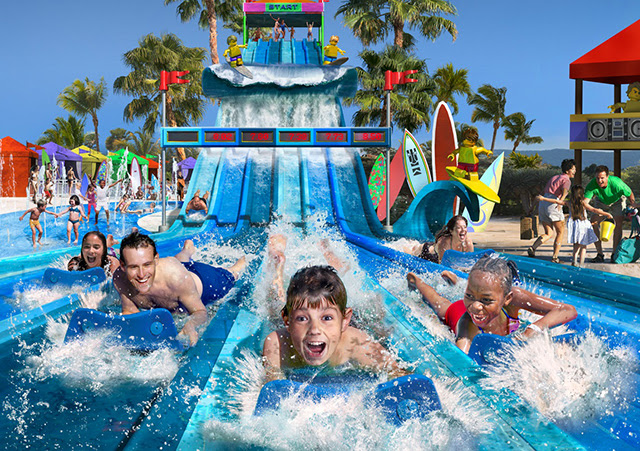 LEGOLAND Water Park is bigger, wetter and better this summer with the addition of the newest California beach-themed area, Surfers' Cove, opening June 30, 2017.
In celebration of 4th of July, LEGOLAND® California Resort salutes Carlsbad Fire Department, Carlsbad Police Department and Carlsbad Lifeguards for protecting our city and beaches this fourth of July weekend by inviting them and their families to spend the day at the official opening of Surfers' Cove at LEGOLAND® Water Park!
Surfers' Cove is the latest California beach-themed expansion of LEGOLAND® Water Park and features Riptide Racers, six water slides extending 100-feet where guests can jump on mats and race against each other for the fastest time. After competing, racers can pose with a LEGO® winner's trophy for a photo opportunity to capture their big win! Kids can enjoy Wipeout Lagoon — an epic "spray ground" where multiple water jets splash on and off creating a wave effect.
Plus, LEGOLAND Water Park's culinary team has created Beach Street Tacos to enlighten taste buds of water racers of all ages. And, of course, cool LEGO models add to the beach theme including LEGO surfers, LEGO seagulls, LEGO crabs and a LEGO lifeguard. A surfing dog model sits on top of a wave at the peak of Riptide Racers perhaps as a "judge" to see which racer reaches the bottom quickest!
The opening day of Surfers' Cove kicks off with a little friendly water slide racing competition of the "red, white and blue"…meaning the firefighters, lifeguards and police officers. Two people from each team will race against the other teams and the lowest time after three races determines the winner. The prize? A LEGO surfer trophy, of course!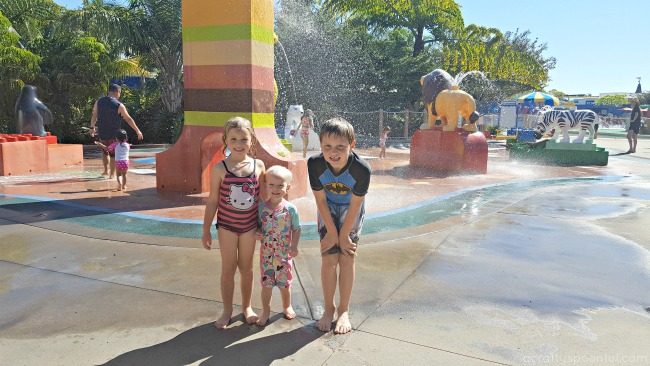 The LEGOLAND Water Park is open seven days a week now through August 2017. For ticket prices, operating schedule and additional information, visit www.LEGOLAND.com or call 760-918-LEGO (5346).
Want to see what's coming up at LEGOLAND California? Read on!
Brick-Or-Treat Party Nights Halloween Celebration at LEGOLAND® California Resort – Last Saturday in September and Saturdays in October
LEGOLAND® California Resort is getting ready for Halloween with San Diego's biggest kids' Halloween party, Brick-or-Treat Party Nights! Every Saturday night (Sept. 30, Oct. 7, 14, 21 & 28) starting at 5 p.m., guests can enjoy a Ghost Cruise adventure, a new pop-badge challenge, a new theater show in Castle Hill, costume contests, dance parties, LEGO® pumpkin patch building, live music, costume entertainers, and safe trick-or-treating at treat stations with specialty items, candy carts throughout the Park and two bonus treat stations inside SEA LIFE® Aquarium. LEGOLAND® Hotel joins in the fun with its own Halloween party on Oct. 31. For information and event pricing: (760) 918-LEGO or www.LEGOLAND.com.
LEGOLAND® California's Annual Tree Lighting Ceremony! – November 27, 2017
LEGOLAND® California's Nightly Tree Lighting Ceremonies kick off Nov. 27 when a celebrity guest lights the world's tallest LEGO® Christmas tree in the annual tree lighting ceremony. The LEGO tree stands more than 30-feet-tall and is made of more than 245,000 forest green DUPLO® bricks. The festive event features entertainment, fireworks and a visit from Santa! Activities are included with regular Park admission. Kids 3–12 $89; Adults $95. Parking $15.
Holidays at LEGOLAND® California Resort– November 18, 2017 – January 1, 2018
Live entertainment, twinkling lights and festive cheer await guests during the Holidays at LEGOLAND® California Resort! Beginning Nov. 18, kids and families can enjoy nightly tree lighting of the Park's LEGO® Christmas tree decked with spectacular lights and LEGO ornaments. The fun continues in Heartlake City with festive holiday songs and dancing with LEGO Friends Live and a touch of a snow flurry. The holiday fun concludes with the annual Kids' New Year's Eve Party on December 31. All activities located inside the Park are included with regular Park admission. Kids 3–12 $89; Adults $95. Parking $15. Celebrate the New Year with LEGOLAND® California Resort's Kids' New Year's Eve Celebration – Dec. 31, 2017
LEGOLAND® California's New year's Eve Festivities – December 31, 2017
Don't let bedtime spoil your fun! New Year's Eve festivities kick-off early at LEGOLAND® California Resort with a party that lets kids ring in 2018 without missing their bedtime! Like the famous ball dropping in Times Square, Kids' New Year's Eve features live music, entertainers and a countdown of its own with a huge LEGO® brick that drops 22-feet into 2018 followed by a spectacular fireworks display at 6 p.m. The party includes performances by some of the top children's entertainment groups in the nation. All activities are included with regular Park admission. Kids 3–12 $89; Adults $95. Parking $15.