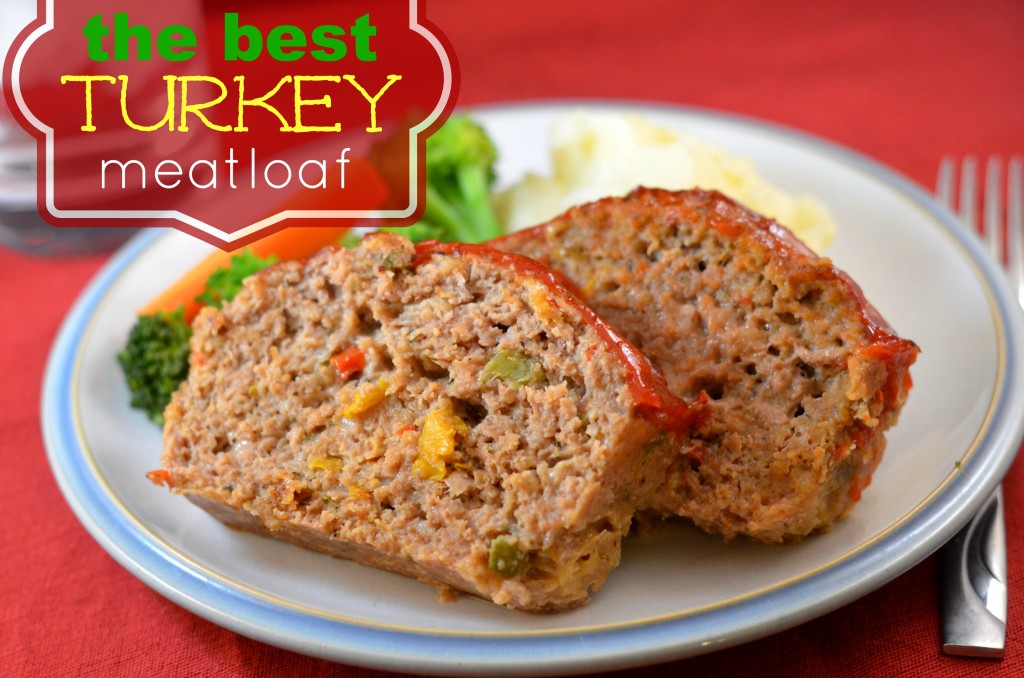 The Best Turkey Meatloaf Ever
When I first started Weight Watchers before my son was born I fell in love with making meatloaf from ground turkey. While I heard complaints about ground turkey being too dry and not as good as ground beef I was determined to make a tasty and healthy version of one of my favorites.
With a few additional ingredients to my original meatloaf recipe I created a delicious meal that I make over and over again. It truly is the best turkey meatloaf ever! I cheat a little and use the Trader Joe's frozen fire roasted onions and peppers. Then I chop them up into smaller pieces. I think that the juices from the cooked veggies really add more flavor to the whole meal.
The best part is how versatile it is. While I always include the ingredients below I sometimes add extra veggies or different cheese to the mix to change it up. Well… and to clean out the fridge. Grated zucchini is probably the best addition to this recipe. But make sure to squeeze out all of the excess liquid first before adding it.
If you're looking for a great way to incorporate veggies into you meal without having to pile on an extra serving, this is a great way to do it! Now I just wish my kids would start to gobble it up as much as my husband and I do. We think they might be warming up to it though.
The Best Turkey Meatloaf Ever
Ingredients
1 1/4 pound lean ground turkey
1/2 cup onions and peppers, diced
1 clove garlic, minced
1 egg
1 tablespoon Worcestershire sauce
1 tablespoon Italian seasoning
1/2 cup panko bread crumbs
1/4 cup swiss cheese (any type would work)
salt and pepper
1/2 cup ketchup
1 tablespoon mustard
1 tablespoon brown sugar
Instructions
Preheat oven to 375 degrees.
Saute onions and peppers in a nonstick skillet on medium heat. Add garlic and cook until fragrant. Set aside to cool slightly.
Grab a small cup or bowl and mix together ketchup, mustard, and brown sugar. Set aside to top meatloaf later.
Place ground turkey in a large bowl, add sauteed veggies, egg, Worcestershire sauce, herbs, panko, swiss cheese, salt and pepper. Mix together well until everything is incorporated.
Grab a loaf pan and add meat mixture to the pan forming a round dome on top. Cook for 40-45 minutes.
Take meatloaf out of the oven and top with a thin layer of the ketchup mixture. Place back in the oven and cook for another 15 minutes or until fully cooked and the inside reads 160 degrees.
Let rest for 5-10 minutes before serving.
Serves 5, 2 slices = 1 serving at 6 WW points