Living Coast Discovery Center San Diego
I've lived in San Diego all my life and am still amazed when I find out about places I've never been before. When I first heard about the Living Coast Discovery Center San Diego while visiting their booth at the fair I was excited to find out how much they had to offer.
While we've been members of Sea World, currently have memberships at the San Diego Zoo and Birch Aquarium, and go to the museums and beaches whenever we can, we still crave new experiences. Especially when they're only 10 minutes away from our house. The Living Coast Discovery Center offers this and more!
This weekend we headed out to the Discovery Center to participate in a VIP Experience. And boy did we feel like VIPs on our visit!
Birds of Prey
We started our visit by taking a tour of the premises. Quickly greeted by calls from some of the amazing birds of prey on the premises. From ducks to bald eagles and everything in between, these gorgeous feathered friends will keep you entertained.
My kids absolutely loved watching the bald eagle and golden eagle who live next to one another. Each of the birds brought to the Living Coast Discovery Center are rescues. From injuries ranging in blindness, wing injuries (their wings are either partially amputated or have calcified due to injuries), and crippled feet/talons, these birds would not be able to survive in the wild.
To be taken in by the Discovery Center has literally been a life saver. And some are taking full advantage of that. One of the bird species typically lives 8 years in the wild. Well… that bird is now 18!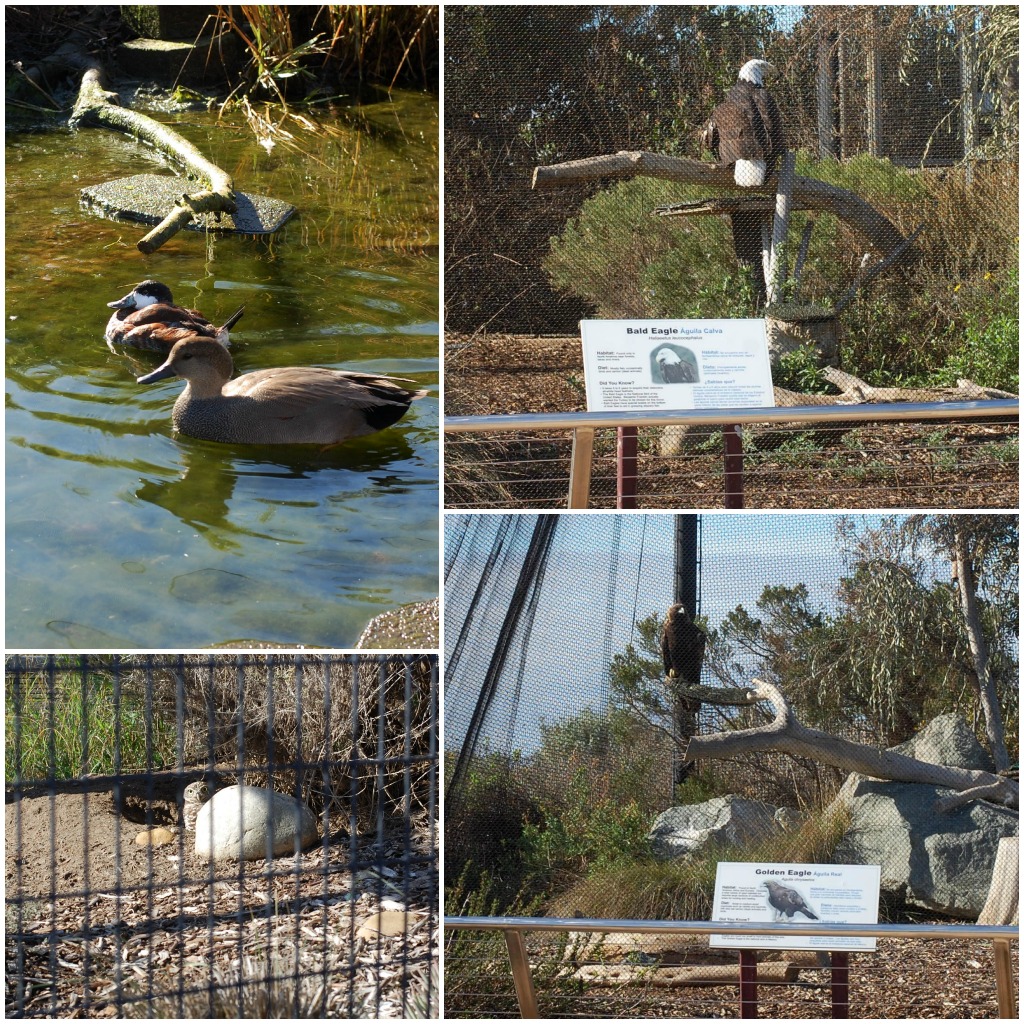 Meeting a Burrowing Owl
Because our guide, Sherry, was totally awesome my kids received an amazing experience. They had the opportunity to meet a burrowing owl. How amazing is that?
This little guy was so cute. And the kids couldn't stop talking about how his little head could go all the way around to look at his surroundings. While we weren't allowed to pet the owl (something the kids asked about immediately) this meeting sparked curiosity in my kids.
As soon as we got home we were researching owls, where they live, what they eat (and what they throw back up), and what types live close to us. I love when experiences lead to learning and questions.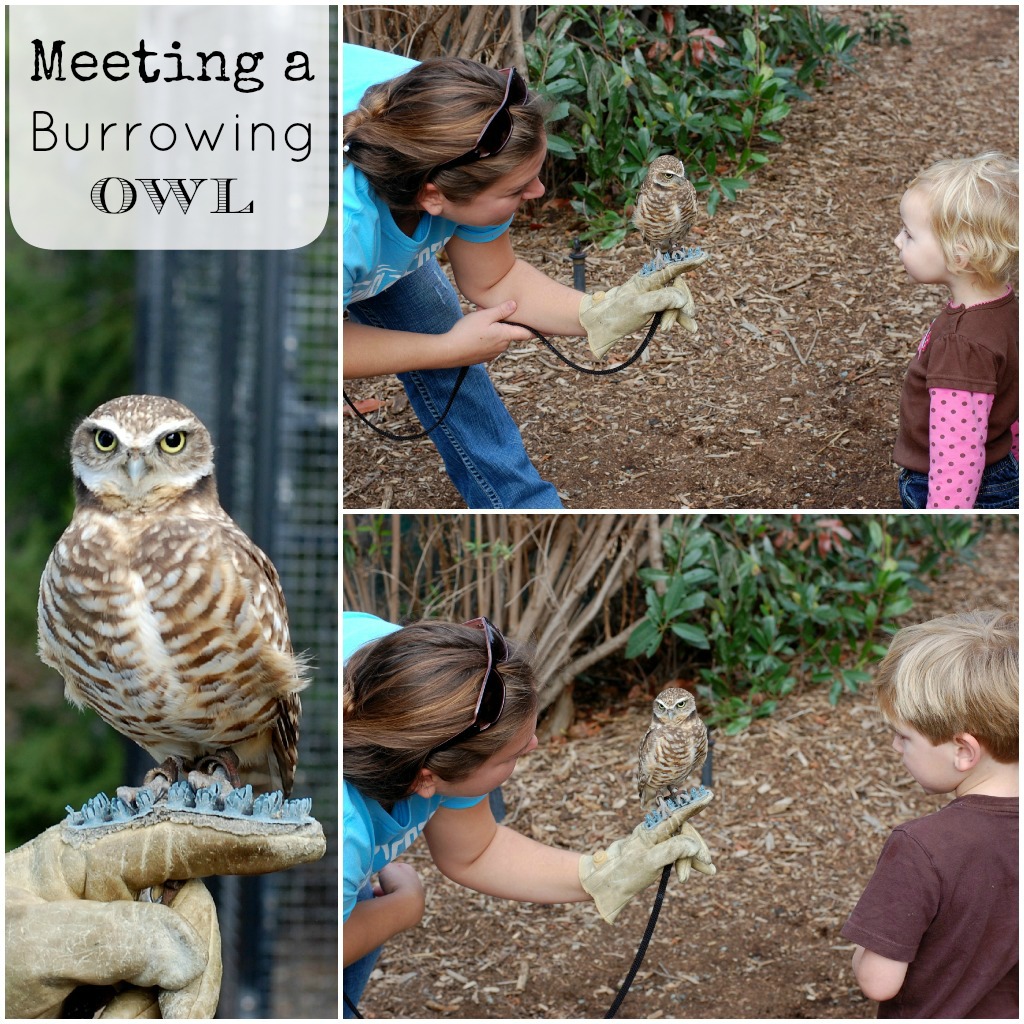 Learning More About the Ocean
After soaring in the air with the birds, we traveled underwater with the marine life. Starting with a back stage tour of the starfish, anemone and horn shark shark eggs. We learned that the horn sharks actually screw their eggs into the sandy bottom of the ocean to insure that the babies stay put and are safe from harm as they grow. How awesome is that?
We then were able to take a look at an empty lobster shell and decorator crab shell that were molted off from the previous season. The kids were able to check out the shells up close and see where these crustaceans live.
After the behind-the-scenes look at what takes place at the Discovery Center we headed over for our VIP Animal Encounter. The kids were giddy with anticipation!
VIP Animal Encounters
Every day the Living Coast Discovery Center San Diego offers presentations that are free with admission:
11:00am – Shark & Ray Interaction
1:30pm – Sea Turtle Interaction
2:00pm – Shark & Ray Interaction Saturday & Sunday only
2:30pm – Eagle Interaction
That means that FREE with admission you can see sharks and rays, sea turtles, and eagles when they're most active – when they're being fed! And with the times spread throughout the day, your family will have a full day of interaction, learning, and fun!
Want a bit more interaction? For only $45 you can add on a VIP Animal Encounter to make your visit extra special!
Simply pick from the following menu of options for your next Discovery Center adventure:
Feed the sharks & rays
Meet and feed the endangered green sea turtles
Meet an owl up-close (5 different types to choose from)
Meet a hawk or falcon up-close (2 different types to choose from)
Meet a snake and tortoise up-close
Each experience is a 15-20 minute personal animal encounter. Each encounter is just $45 for a group of up to 6 people.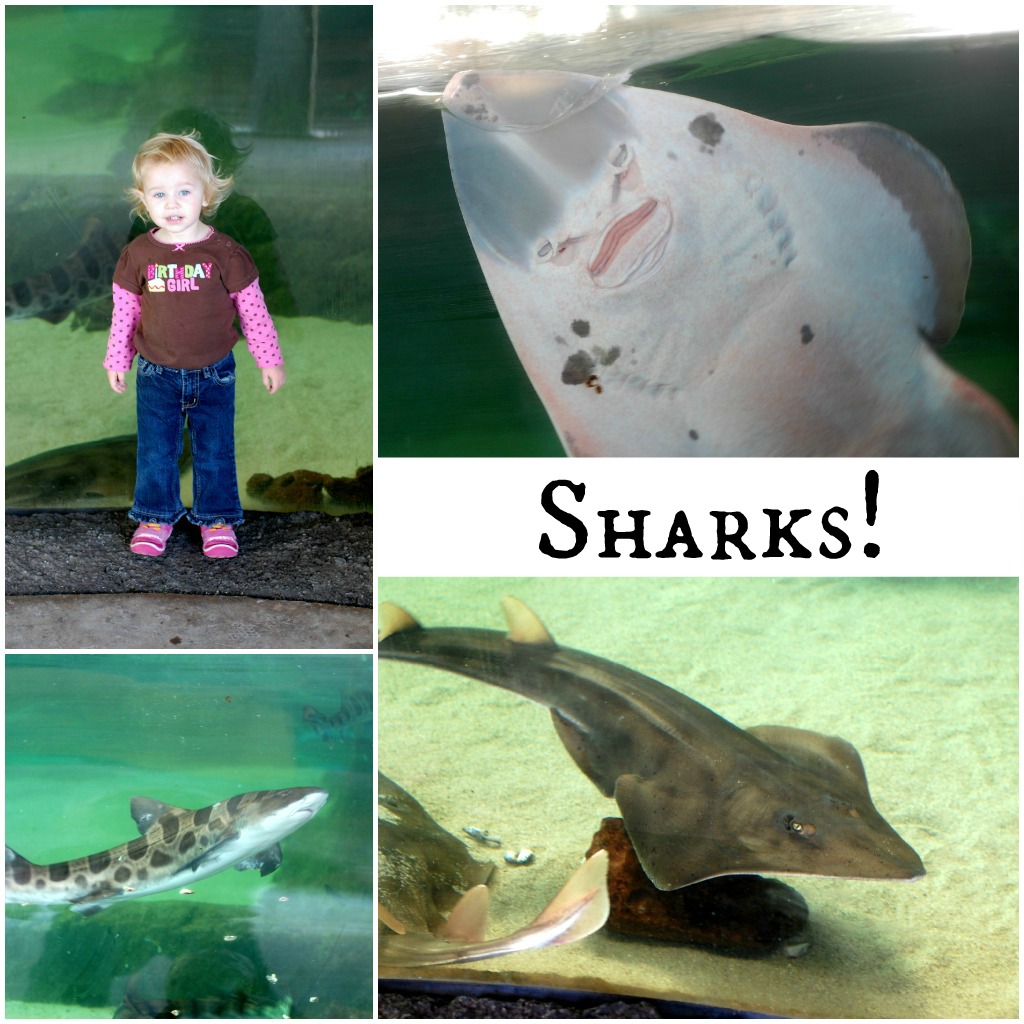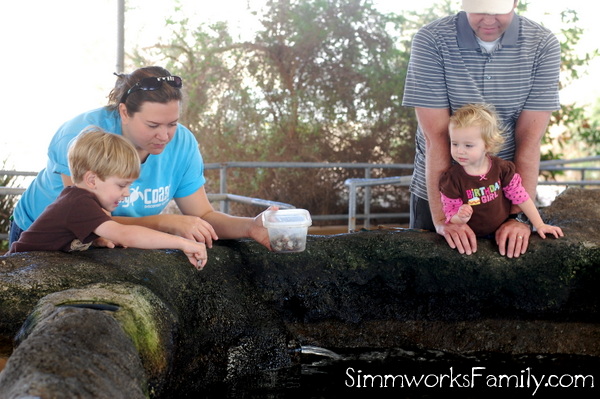 Feeding the Sharks & Rays
Once we headed over to where the sharks and rays hang out we got to see the sharks feed. It was exciting and fun to watch them swish back and fourth trying to pick up more pieces of food. The kids tried to follow them as they went back and fourth from one side of the tank to the other.
When the sharks were done feeding we headed over to the bat rays to feed them by hand. We've pet bat rays at Sea World but have never actually fed them before. Sherry showed us how to hold the fish pieces between our fingers and squish them a little to get the rays excited. And with that we were ready to feed the rays!
It was fun to see the reaction on my son's face as the rays jumped up out of the water and splashed and slapped about.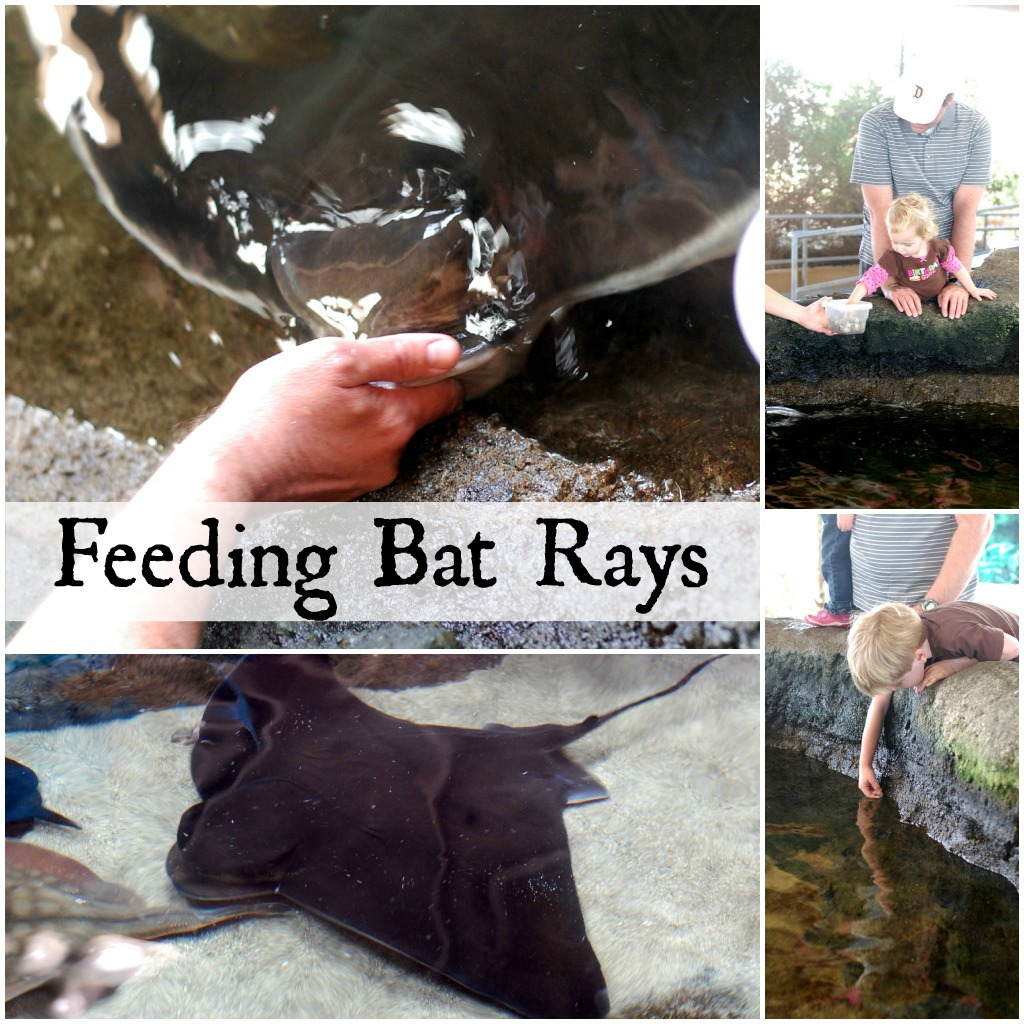 Once we were done with our VIP experience we spent the rest of the day enjoying the grounds. We took a 1.5 mile hike out to the water and spent a wonderful family day together. We ended our visit with the sea turtles.
These little (big) guys were hatched at Sea World and cannot be released into the wild because they'd try and return to their hatching grounds once old enough. Since they can't really return to Sea World they'll now live here.
My son loved interacting with them and seeing them up close. The whole experience had him talking about the animals we saw for days!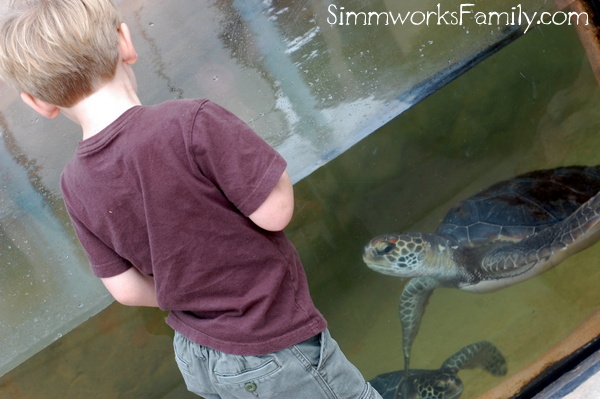 Interested in checking out the Living Coast Discovery Center for yourself?
Head on over and check out what they have to offer on their website. And while you're there call to reserve your VIP Animal Encounter!
Membership to the Discovery Center is only $75 a year for 2 adults and up to 5 children and would make a great gift for the holidays! You can purchase a membership online and print it out to give as a gift even at the last minute. Already a member? Pick up a few gifts from the gift shop for last minute stocking stuffers and gift ideas!
Keep up with the happenings at the Living Coast Discovery Center by checking them out on Facebook and follow them on twitter at @thelivingcoast for the latest in deals, news, and new animals!
Disclaimer: I received a VIP Animal Encounter and admission to the Living Coast Discovery Center for review purposes only. All opinions are my own.