Soccer can be a great activity for kids who are looking to burn off some energy and learn some new skills. These tips for new soccer moms can make the transition to this sport a bit easier!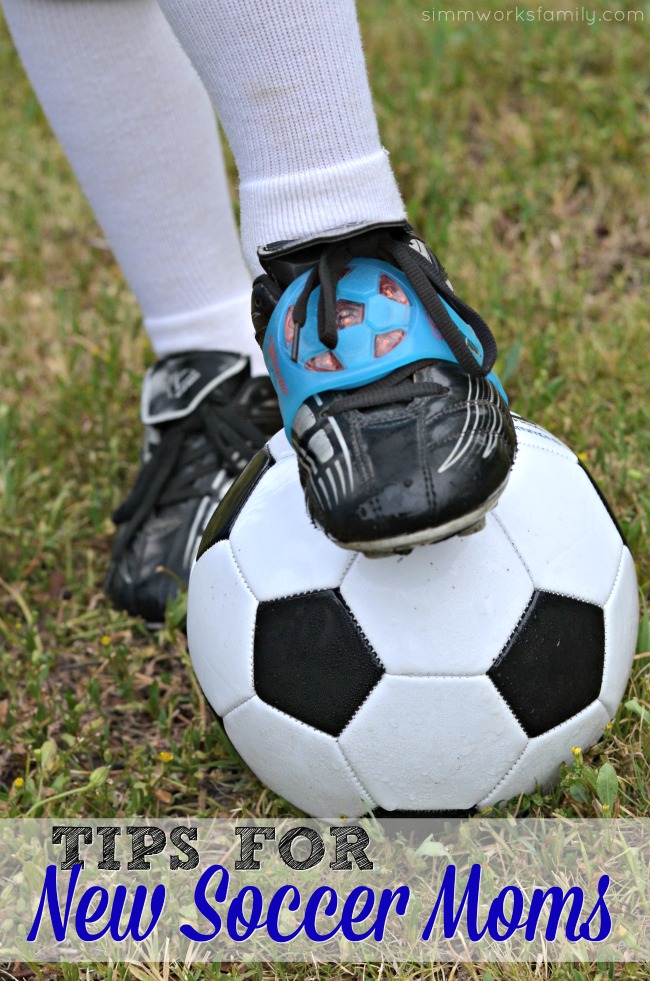 So you've signed up for soccer. Now what?
If you've never played the sport like me, you're probably scratching your head and wondering how to help your child succeed in this new sport. And if your child isn't as athletically inclined as his teammates you might want a few pointers on how to nudge him in the right direction. You never know! She may turn out to be a rockstar on the field after a bit of practice and learning the ropes!
Ever since I found out I was pregnant with my son I had visions of him on the field. I didn't know what sport he would play but I knew I wanted to share my love of sports with my kid. So when he finally turned 3, and then 4, and then 5 I would ask if he wanted to try this sport or sign up for that. And the answer was always a resounding no. That is until he started kindergarten and found out that all of his friends would be on the soccer team. Then we finally got the commitment we were waiting for. And he's played for the past two years.
Over these two seasons I've come to learn a few things. I'm sharing these tips for new soccer moms as a way to ease you into the game and give you some ideas on how you can help your child transition into a new sport.
Tips For New Soccer Moms
1. Get Organized
When you first get on the team: Use a site like Shutterfly to create a team page (or ask the team parent if they're going to set it up). Not only is it a great source for information about the players and the schedule, it'll also send you friendly reminders about practices, games, snack schedules, and just about anything else you add to it! I use this one each year.
At the first practice: Create a roster or ask for a roster of players and phone numbers so you have everyone's contact information. It's also helpful to have the schedule printed on the bottom of the roster along with any other important information – like the snack schedule – so you can keep it handy on the fridge.
Before a game: Make sure your phone is fully charged and you have already inputted the address of the game you're driving to in Google maps so you have an idea of when to leave your house. There's been more than one occasion when I didn't check an address before and assumed the field was only 15 minutes away when it was, in fact, over 30 minutes away!
2. Be Prepared For Everything
Make sure to pack the essentials: chairs, outdoor blanket, water, snacks, sunscreen, sunglasses, an umbrella (you never know!), etc. Keep it all in your soccer bag so that come game day all you have to do is grab the bag and the chairs and head out the door. Or just keep them all in your trunk like I do. You might also want to consider seeing if someone on the team has a pop up tent to set up on the sidelines for the kids who are sitting out that half. One game I even saw a team with this awesome bench of chairs for the kids to sit on!
Keep a box of Costco-sized snacks in the trunk: On one or two occasions, one of the parents assigned snack duty will forget. Come to the rescue with some goldfish or even some mandarin oranges and you'll be the team's new favorite mom.
Bring a first aid kit: I was surprised to find how few people carry first aid kits in their cars these days. Head over to the store and grab a basic first aid kit to keep on the sidelines just in case. It's also helpful to have a cooler with ice packs too.
Have toys on hand for siblings: If you're like me and have not one but three kids, distractions for the other kids is important. We can get away with distracting them with an extra soccer ball and some fun portable toys to play with the other siblings at the game.
3. Make Friends (and Carpool Buddies)
Chat with the other parents at the game: It helps to know a few parents on the team. Exchange numbers and find out if they live close to you. It might be fun to get together between games to work on skills and build fun friendships outside of school. It also will help if you get in a bind and need someone to help carpool your kid to a practice or game.
Plan a fun activity outside of practice and games:

build comraderie and coordinate a fun pizza outing or other activity after a game.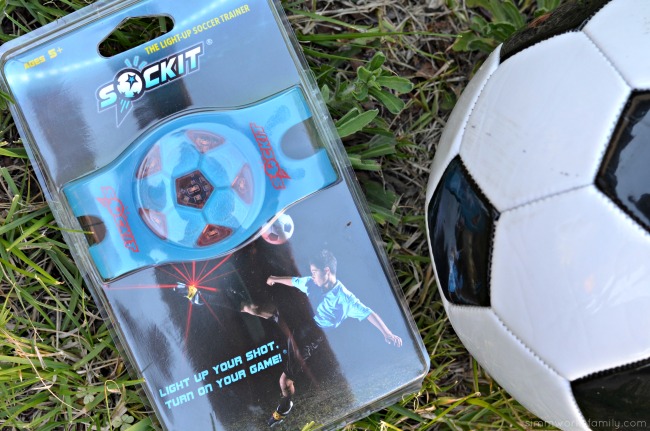 4. Utilize A Few (Inexpensive) Tools
Make sure you have the right size ball: Depending on your child's age and level, you need the right sized ball. Check with the coach to make sure you purchase the right one.
Get a pair of cleats and shin guards and a few pair of socks: Take your child in to get fitted for cleats to make sure they're the right size. The sales associate can make sure you don't buy the wrong pair and end up with football cleats. There are different kinds of shin guards on the market. There's one that you just put in your socks as well as one with elastic bands with velcro on them that your child can put around his/her calf. The first season we got the latter and my son HATED them. So this time around we got the one you put in your socks. So much easier for him. Multiple socks are a must if you have a child who loves to get dirty as muc has mine. That way you aren't sending your kid to practice or a game with stained and dirty socks (yes… I've done this before).
While not required, having a collapsable goal is nice: We like to practice in the front yard so we picked up a collapsable soccer net that we could put up and down as needed.
Grab a Sockit: If your child needs help with their soccer skills, consider grabbing a SOCKIT*. The SOCKIT is a light-up kicking device designed to improve your soccer game so you can level up on form, power, and technique. It's simple—kick the ball right and it lights up, giving you instant feedback. We've been using it for the past week and have loved how it's taught our son where to aim his foot when he takes a shot. The SOCKIT trainer goes over your child's cleat and, as I mentioned before, lights up when they kick the ball in the correct place. It's amazing how motivating the Sockit can be! It lights up with every correct kick so when your child is practicing they can focus on hitting the ball with your foot in the right place. It's a great tool and easily portable so we could bring it to practice with us.
*You can purchase the SOCKIT here and can get 15% off with code simmworksfamily15. This code expires on 4/30/16 and must be entered at check out.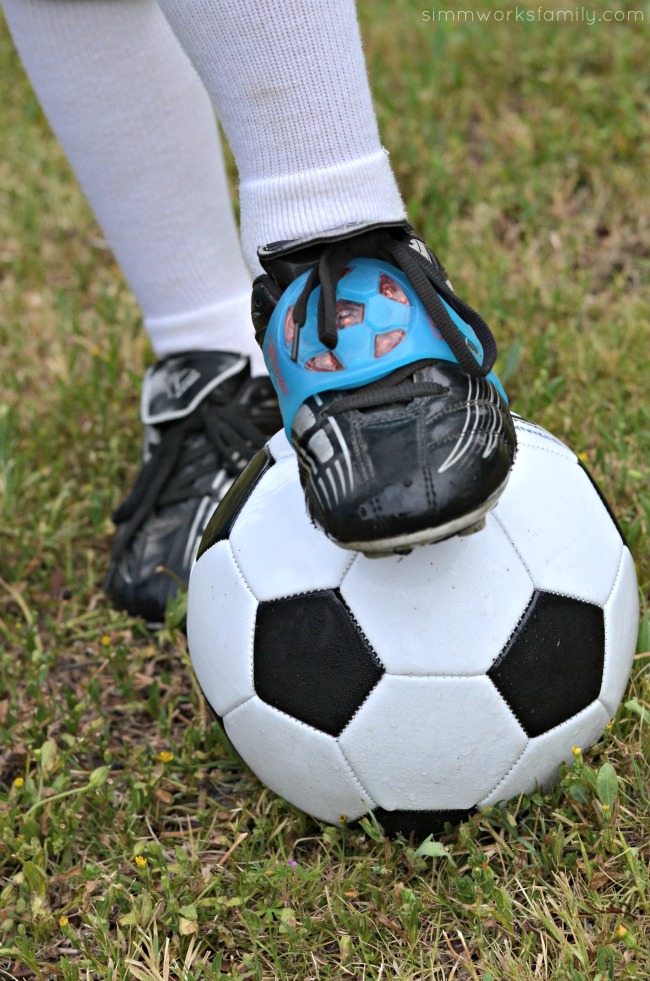 Feeling more confident about starting a new sport? You got this!
Have any tips to add? What sports do your kids play?