This is a sponsored post written by me on behalf of Cooper Tires. All opinions are 100% mine.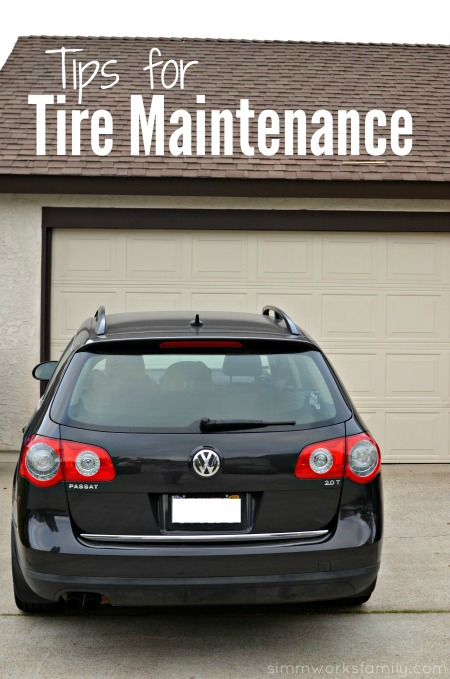 One thing we love to make sure we do come spring is make sure our cars are all in great working order. That means oil changes, fluid checks, and tire inspections. With the wear and tear we put on our cars, we need to make sure our family is safe when we're on the road. And our tires are something we keep up with regularly.
With our spring cleaning routines inside already in place, we've started to move outside to our three vehicles. Each has had their regular maintenance check but we noticed that our commuter car needs new tires. Regularly checking a car's tires each month only takes 5 minutes but can alleviate any concern about the tire.
Tips for Tire Maintenance
1. Tire Inflation Pressure – Always keep a tire gauge in each of your vehicles. This will ensure that you always have one on hand when you need it for your monthly check. Make sure that the tire pressure matches what it should be as given in your car's owner's manual. For more detailed instructions, check out these guidelines here.
2. Tire Tread – Along with your once a month check on tire pressure, checking the treads of the tire for wear is also important. Replace tires when worn to 2/32 inch (1.6 mm) tread depth anywhere on the tread face. To help you see when the tread is worn out, tires have a built in "tread wear indicators" at six locations around the tire. These are narrow bars of smooth rubber that run across the tread.
3. Tire Washing – Another great time to check the tread is when you are washing your vehicle. Cleaning your tires is an easy way to improve your vehicle's appearance and performance. Cleaning your tires makes your car look great and ensures better traction and braking for your vehicle. It's also a good time to make sure that you haven't run over a nail or other debris from the road. Sometimes it's not always easy to tell when something is stuck in your tire.
4. Tire Rotation – It's important to rotate your tires regularly to "even out" their wear. Since there are multiple points of different weights being put on your tires at different times, each tire will wear differently. This is something you can do every 5,000 to 8,000 miles or something you can have a professional do when you go in for an oil change.
5. Tire Alignment – Along with making sure your tires get rotated, you also want ot make sure that your alignment is correct. By going over that same pothole every morning, pulling up to the curb a little too close, or even regularly going over speed bumps, the alignment of your tires is affected. Have a tire service professional check the alignment periodically to ensure that your car is properly aligned.

The Spring Event
The Cooper Tire Spring Event is the perfect way to roll into spring. With great offers on Cooper Tires there numerous Cooper Tires for great prices!
Now, through April 15, consumers are eligible to receive a prepaid Visa card worth up to $70 when purchasing a new set of four qualifying Cooper Tires through participating dealers. Now that's a savings our family can use!
The Discoverer SRX Cooper Tire
The Discoverer SRX is a dedicated SUV and CUV tire that is available in 30 sizes. The Discoverer SRX tires fits a wide selection of SUVs and CUVs. The Discoverer SRX features Cooper's innovative Wear Square, the company's exclusive visual tread life indicator.
The Wear Square is located at six points of reference around the inside and outside of the tread. Throughout the tire's lifetime, the square changes shape beginning with a full square and ending with an exclamation mark when tire tread is low, allowing consumers to quickly and easily assess the approximate tread remaining on the tires. The Wear Square can also signal uneven tire wear and possible wheel alignment issues.
The Discoverer SRX offers a premium 65,000-mile Tread Wear Protection Warranty and a 45-Day Road Test guarantee ensure a confident choice and smooth ride for SUV and CUV drivers, if you aren't satisfied with your Discoverer SRX tire purchase you may return them to your original dealer within 45 days of purchase for a FREE OF CHARGE Cooper brand replacement only, including mounting and balancing.

Find your local Cooper Tire location by using the Dealer Locator and head over today!