This seaside wellness weekend getaway in Del Mar was sponsored by the Del Mar Tourism Business Improvement District.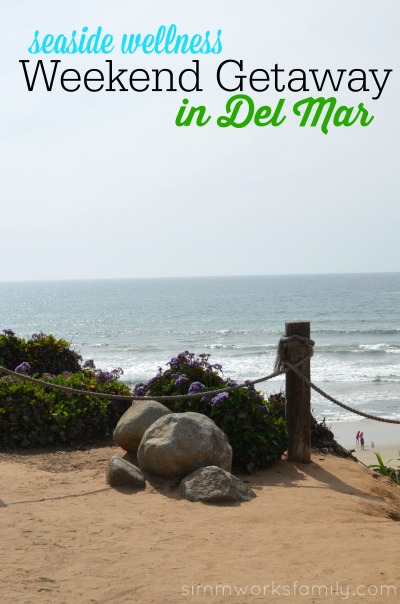 As a couple my husband and I try to reconnect with one another quite often through date nights. But sometimes a couple really needs to get out. So when we were asked to enjoy a couples weekend getaway in Del Mar, I knew it would be a great way for my husband and I to enjoy each other's company without the kids in tow.
A staycation so close to home is not only convenient, but is close enough that if we needed to we could have come home to the kids at any moment. However this staycation we were able to enjoy all of it alone. And it was awesome.
We were invited to stay at the quaint, unique Secret Garden Inn owned by Sulana Sae-onge and John Halper. John has hand-built the rooms and Sulana designed the interiors to match their names beautifully. The Secret Garden Inn's secluded Tuscany, Oriental and Balinese decorated rooms cater to any romantic setting. The Penthouse suite is a honeymooner's paradise with an expansive patio and outdoor fireplace.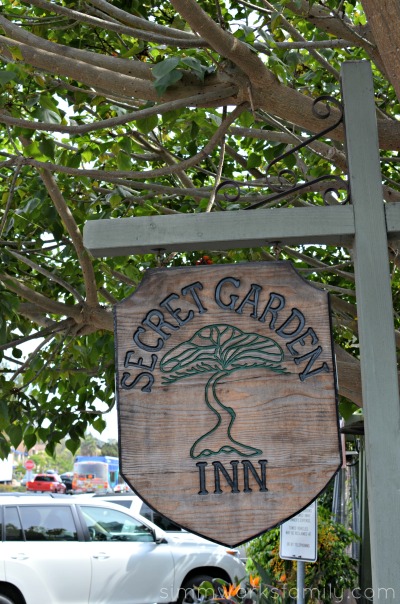 Secret Garden Inn
The Secret Garden Inn is truly hidden away. If it weren't for this sign on the main road, and some directions from John, I would have never known that this little hidden gem was there. If you don't enter from the alleyway in the back (where the parking is located), you can enter through the front but you have to go through the restaurant attached to the Inn.
As I mentioned before, each room is decorated to fit the name of the room. We stayed in the Lotus Room and the details in our room were amazing. Wood panels brought back from Indonesia, little trinkets, and ornate detailing found throughout.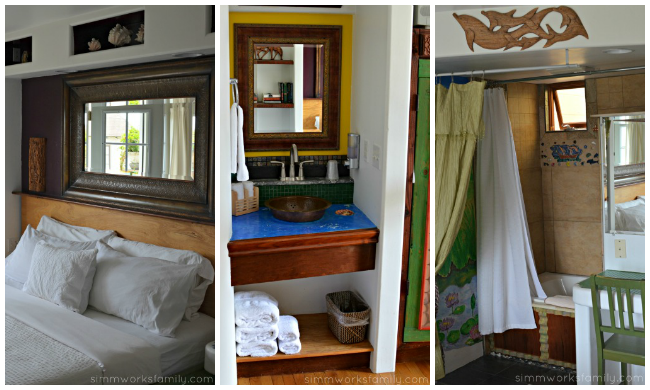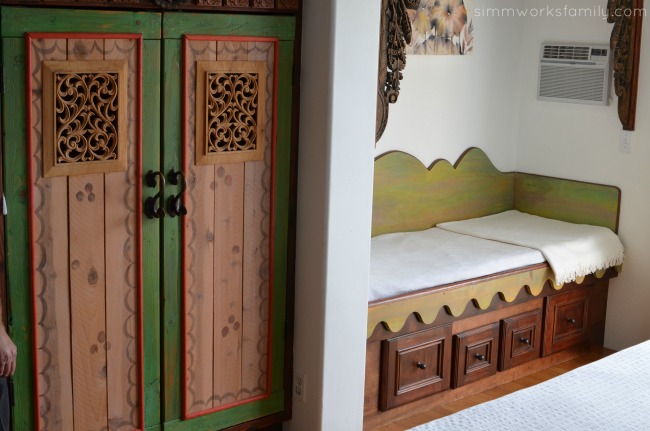 Café Secret – Delicious Peruvian Food
Attached to the hotel is Café Secret, an authentic Peruvian restaurant that offers tantalizing (and gluten free) dishes such as Pork Chicharron and Filet Mignon a lo Pobre with sweet plantains.
If breakfast in bed is more your style, call in for a Café Secret breakfast delivered to your door during your stay at the Secret Garden Inn. Simply place your order the night before at the restaurant and let them know when to bring it to you.
We'll definitely be coming back to enjoy their Tapas & Wine Nights from Tuesday to Thursday. Half off wine and $3 tapas! Can't beat that.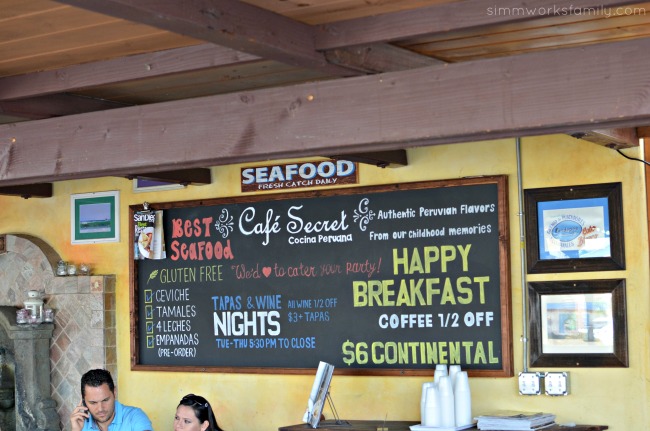 Enjoying a little Seaside Wellness
The wonderful thing about staying in Del Mar is the fact that we can enjoy a little seaside wellness steps away from where we were staying the night. After getting checked in we decided to take a stroll down to the beach (about a 5-10 minute walk).
We enjoyed a peaceful ocean-side stroll along the beach. Starting at Powerhouse Park in Del Mar, we walked along the waves to Dog Beach, where we soaked in the beautiful sunset.
Along our walk to the beach we were able to check out some of the places close to the Secret Garden Inn. Right next door was a yoga studio and a spa – perfect for relaxation. I was also told that there was an acupuncturist as well. And it was closer than having to walk to a spa in a large hotel!
You can also say 'Om' among the waves with your own personal yoga practice at one of Del Mar's stunning beaches or parks. Seagrove Park and the adjacent Powerhouse Park offer breathtaking views of the surf and the turf.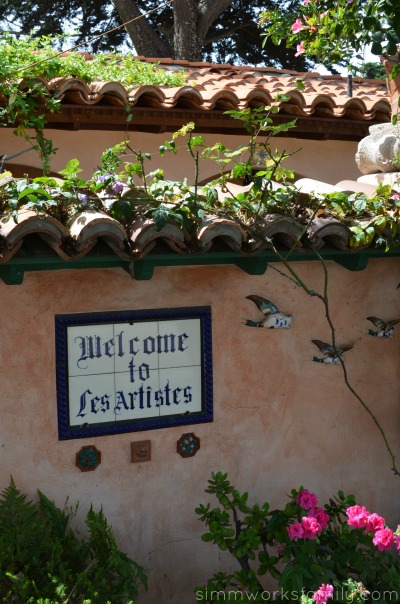 Les Artistes Inn
Designed and built by its owners, Sulana Sae-onge and John Halper, Les Artistes is the sister inn to the Secret Garden Inn and exudes detailed craftsmanship, construction and design. Inspired by famous artists such as Van Gogh and Monet, each room is hand-decorated and styled, and includes knick knacks from Sulana and John's own personal travels.
Satisfy your creative appetite and expand your travel palette at this artist's paradise while enjoying all the beauty Del Mar has to offer. Enjoy the early morning breeze on your room balcony. All you need is cup of coffee on this private terrace.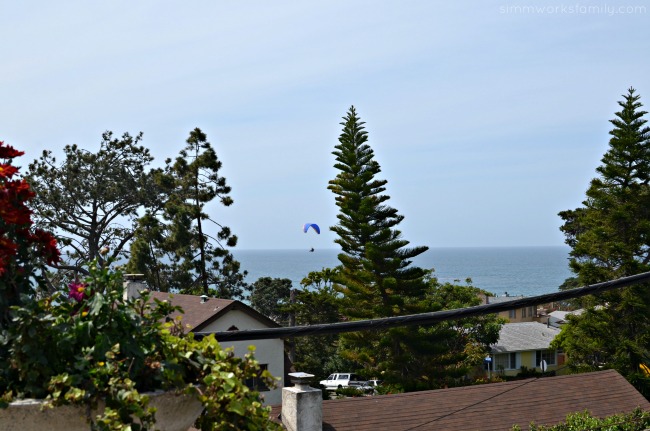 Whether you're looking to get away for a weekend, or planning a vacation for a week or two, Del Mar is the perfect destination for a relaxing, Southern California getaway. Enjoy a little seaside wellness and take a few days for yourself to enjoy all that Del Mar has to offer.
We were able to enjoy two days away from our home and really get a chance to unwind and relax. And we're already planning our return trip for our anniversary! I definitely think that a staycation option like this one is perfect for couples who want to feel like they're getting away without the plane tickets and distance between them and the kids.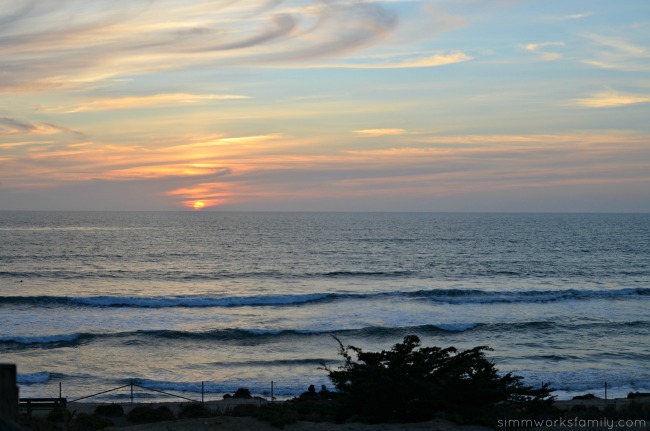 Want to book your stay now? Well Simmworks Family readers will receive 10% of their stay at the Les Artistes Inn or Secret Garden Inn with the code  DREAMDELMAR. Simply call the hotel directly at (858) 755-4646 to set up your reservation.
How would you take advantage of the seaside wellness in Del Mar?