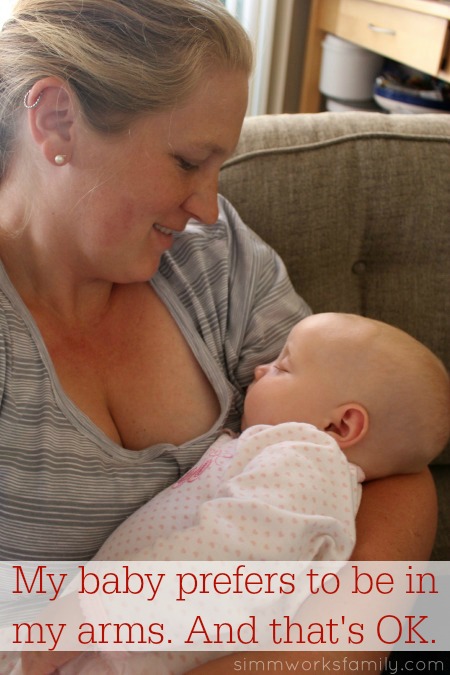 As my little one approaches 4 months I've started to get the questions. When will she sleep in her co-sleeper? Why are you allowing her to nap in your arms instead of her own? Aren't you spoiling her?
Nope.
She's not being spoiled. She's being loved. And she's happy.
And?
She sleeps!
And?
I sleep!
I am not sure why but I've always felt as if co-sleeping was the best for my family. From the first night I brought my oldest home from the hospital, my babies have slept in my arms or right next to me. And my third is no different.
Sure I had grand plans of the kids sleeping in a crib. We set up a hand-me-down crib from my brother-in-law in the baby's nursery with my first and my second. But this time around? I completely forgoed the crib. I didn't want to waste the money (or the space) for a prop.
I did buy a co-sleeper though. Even though it's mainly used as assurance that the baby won't fall off the bed. Side note: She's never fallen into the co-sleeper nor have my other two ever fallen off the bed as infants at night when I wasn't using a co-sleeper. The older two have, however, fallen off the bed during the day at one point or another.
Why co sleep? What started out purely as a selfish way for me to get more sleep at night while breastfeeding has turned into a way of life for our family. My youngest stays in bed with us all night while the 4 and 6 year old make their way into our bed by the time we wake up most nights. And really the main reason why is that it works for our family.
My kids are happy, everyone in our small immediate family is OK with our situation, and we all sleep.
My Baby Prefers To Be In My Arms And That's OK #cosleeping #sleep #parenting #Kids #parents http://t.co/MwpqEGks3g via @SimmworksFamily

— Danielle Simmons (@simmworksfamily) June 7, 2015
I'm also starting to read more articles pointing to the evolutionary reason behind co-sleeping and the benefits. Reading articles like these from people who have actually researched the subject make me feel a lot better about our choice. Knowing that I'm not alone in my belief that co-sleeping is natural gives me power in my response to those who try to scare me with stories of co-sleeping gone wrong.
I think the majority of people who have an issue with co-sleeping don't realize that there are ways to safely co-sleep. And things have changed a LOT since many of them have had infants in their home. I also believe in respecting other's opinions however I won't let it sway what I do with my children. I simply listen to them voice their concern, politely nod and smile, and if a response is needed, I'll let them know that we've researched the subject and feel that this is the best for our family.
Now if there came a time where my husband said he didn't want to co-sleep anymore then we'd have a serious discussion. At least about the older two kids. But for now, since they only come into our bed in the wee hours of the night, there have been no complaints.
Sometimes I think about what it'd be like if I didn't have to cuddle with a baby all night. Or get pushed to a small 6 inch space of bed for my more-than-6-inch body. And sometimes I dream of the day that I get my bed back and don't have to share it with 3 little people.
But then I realize how little time we really have with them at this age. They won't be in our bed forever. And then I'm ok with it again.
Do you co-sleep?