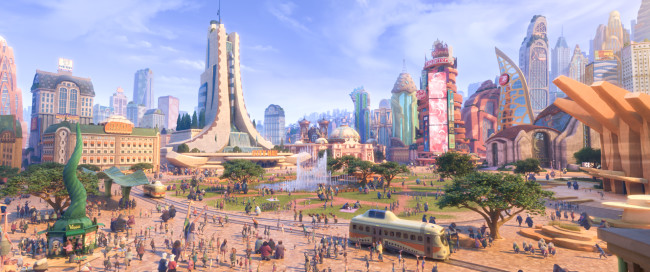 In its 92-year history, Walt Disney Animation Studios has created a long and storied legacy of talking-animal films—from Mickey Mouse's debut short Steamboat Willie to The Lion King and everything in between. And this year was no different as Disney returns to the wild with Zootopia.
"We all grew up watching the great Disney animal films—we were immersed in those worlds," says director Byron Howard. "My favorite childhood film was 'Robin Hood,' and we wanted to honor that legacy, but in a new and different way that dives even deeper. We started by asking, 'What would a mammal metropolis look like if it were designed by animals?' The idea was incredibly exciting to us."
Comprised of neighborhoods that celebrate different cultures, Zootopia is a city like no other. There's ritzy Sahara Square for desert animals, Tundratown for the polar bears and moose, the hot and humid Rain Forest District, Little Rodentia for the tiniest mammals, and Bunnyburrow for the millions and millions of bunnies. The downtown area, Savanna Central, is a melting pot where a wide array of mammals from every environment come together.
Zootopia is a place where no matter what you are—from the biggest elephant to the smallest shrew—you can be anything. But when rookie officer Judy Hopps arrives, she discovers that being the first bunny on a police force of big, tough animals isn't so easy. Determined to prove herself, she jumps at the opportunity to crack a case, even if it means partnering with Nick Wilde—a fast-talking, scam-artist fox—to solve a mystery. "At its core, 'Zootopia' is a buddy movie," says director Rich Moore.
"Judy and Nick—a rabbit and a fox—are natural enemies by definition. So these characters don't exactly get along at first. They come to the relationship with ideas about each other—beliefs that aren't informed or accurate." "In Zootopia, anyone can be anything."
According to Howard, the fact that the buddies don't get along fuels the film's comedy. "Judy is the eternal optimist who believes anyone can be anything—it's the city's motto, after all," he says. "Nick is the complete opposite. He's a cynic. He believes we are what we are. So we put this country bumpkin who's full of vim and vigor in the middle of the big city alongside Nick—the realist—and he gets to have a lot of fun messing with her. But she has a few tricks up her sleeve."
My kids absolutely loved how the animals interacted with each other and save for one small part where my 5 year old daughter got scared (the 'jungle' scene where a panther went back to it's roots) it was a relatable movie that hit home with the kids.
Zootopia features a remarkable roster of voice talent tapped to help bring the mammal metropolis to life, including Ginnifer Goodwin as rookie rabbit officer Judy Hopps. Jason Bateman voices the con-artist fox, Nick Wilde. "We feel fortunate to have this caliber of talent—they've really embraced all of this story's heart and humor in a way I don't think we've seen before," says Spencer. "We recorded Ginnifer and Jason together as much as their schedules would allow. I think we have something special happening, which is exciting."
Also included in the voice cast are Idris Elba as Judy's no-nonsense cape buffalo boss Chief Bogo, Jenny Slate as Assistant Mayor Bellwether, Nate Torrence as charming cheetah Clawhauser, and Bonnie Hunt and Don Lake as Judy's anxious, but supportive parents. The voice cast also features Tommy Chong as Yax the Yak, J.K. Simmons as Mayor Lionheart, Octavia Spenceras the distraught Mrs. Otterton, Alan Tudykas Duke Weaselton, and Shakira as Zootopia's biggest international pop star, Gazelle.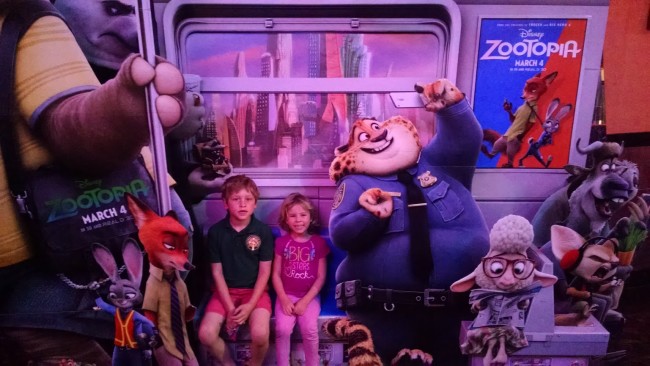 Rated PG, "Zootopia" hits store shelves on BluRay/DVD on June 7, 2016.
(you can pre-order on Amazon right now!)