This awesome 10 Minute Dinners recipe and post is sponsored by Success® Rice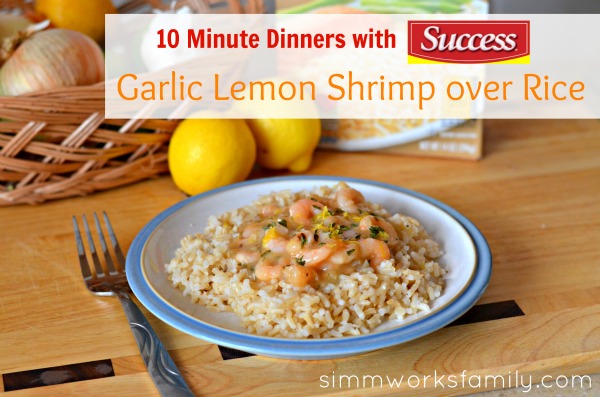 While I love to cook and get enjoyment out of feeding my family delicious meals there are some nights when I just don't want to spend a lot of time in the kitchen. So I've come up with a few 10 minute meals to turn to on those nights I'm just too tired to cook a lot.
Luckily I don't have to compromise flavor or nutrition when I make these 10 minute meals. I just use simple pantry staples like Success® Rice and whatever else I might have on hand to create different variations of similar dishes.
Last night we were in need of a 10 minute meal and I turned to my freezer and pantry. And that's where Garlic Lemon Shrimp over Rice was created.
I pulled out the Success® Rice I had purchased on my last trip to the grocery store, some onions, garlic, lemons, cooking sherry, cornstarch and frozen shrimp, and got to making dinner. 10 minutes later dinner was served!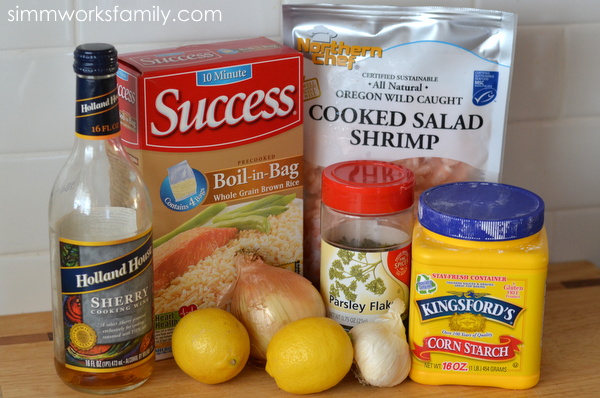 Garlic Lemon Shrimp over Rice
1-2 cups shrimp, depending on size
1 tablespoon olive oil
1 onion, chopped
2 garlic cloves, minced
1 tablespoon parsley flakes
2 tablespoons corn starch
1 1/2 cups cooking sherry or white wine (you can also use chicken broth)
1 lemon, juiced
2 teaspoons lemon zest
salt and pepper to taste
Success® Rice
In a large sauce pan bring water to a boil for Success® Rice. Add Success® Rice pouch and boil for 8-10 minutes.
While rice is cooking, heat up oil in a skillet and saute onions and garlic. Add corn starch and cook for 1 minute. Add sherry or wine, parsley, salt and pepper and allow to thicken, about 5 minutes.
Add juice of one lemon and the lemon zest to the sauce. Add shrimp to sauce and cook until heated through, about 3 minutes. Serve shrimp over rice and enjoy!
Our meal was that much faster with the help of Success® Rice. I love that there's no mess, no measuring, and no waiting around for it to be done!
Plus the white and brown rice can sit for up to 30 minutes before being served meaning if I don't know exactly when my meal will be done cooking I can prep it in advance and set it aside.
Lucky for me this recipe was timed perfectly with the cooking Success® Rice. And my family gobbled it up! I'll definitely continue to stock up on my favorite Success® Brown Rice for the perfect addition to my quick and easy 10 minute dinners.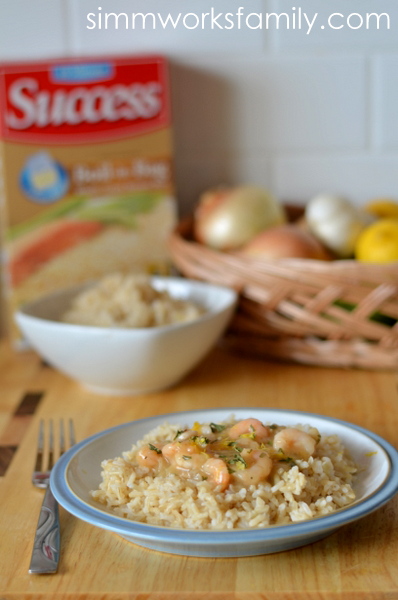 With 4 varieties available including: Success® Whole Grain Brown Rice and Success® White Rice, and globally-inspired aromatic varieties of Success® Rice, including fragrant Thai Jasmine or Basmati Rice, there's a variety everyone in your family will love. Try your own twist on one of your favorite recipes by swapping an aromatic variety into some of your go-to rice dishes. To accommodate various households, Success® Whole Grain Brown Rice and Success® White Rice comes in two different sizes – 14 oz. or 32 oz.

So what are you waiting for? Use this coupon for $.50 off your next box so you can add this staple to your kitchen pantry: http://bit.ly/YwIYtq
Visit www.successrice.com for quick and easy recipes you can make any day of the week. Like the Success® Rice Facebook page for more recipes and lifestyle tips to make mealtimes easier and more fun.
Disclaimer: This is a sponsored post written by me on behalf of Success® Rice. All opinions are my own.