Sometimes you just need to sit down with your girlfriends, mimosa in hand, and color! And that's just what I did last week at the adult coloring party I hosted with the help of our sponsor, Prismacolor Premier®. Read on to see how easy it is to host an adult coloring party with your friends!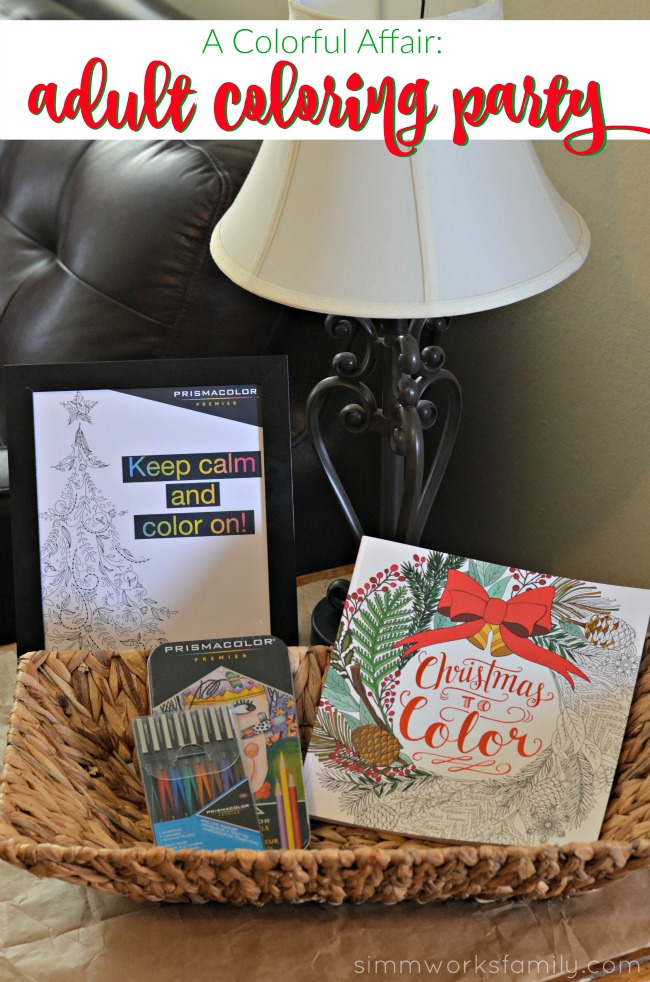 Over the past few months, the only thing I've heard a handful of my friends talk about is adult coloring. No, not adults coloring. But adult coloring books with beautiful intricate designs and themes for grown-ups to sit down and color with. With this craze comes a little bit of sanity for those who hop on board. It's been confirmed that those who sit down to enjoy a few minutes of coloring each day have actually found that they're less stressed!
Since so many of my girlfriends have expressed an interest in adult coloring books, I was pleased to host this adult coloring party for a few local blogger friends with the help of Prismacolor Premier® products last week. It was a wonderful morning filled with great conversation, good food, and relaxing coloring for all. I don't remember the last time I sat down to color but I'll be doing it a lot more frequently now that I'm hooked!
Tips for Hosting An Adult Coloring Party
1. Fun and Easy Food
Egg Bake + Cinnamon Pecan Pullapart Bread + Fruit and Cheese Tree
When I host get-togethers for the girls I always have one homemade item, and then the rest store bought. Not only does it make things easier on me as I get ready for things but it also allows me to focus more on the guests the day of because I'm not running around trying to finish up making this or that.
For this event, I chose to make a delicious egg bake with bacon, cheddar, and broccoli. I picked up a cinnamon pecan pull apart bread from the store and made a festive fruit and cheese tree with cubed cheese and grapes. The tree was very easy to make. I added two mandarin oranges to the top as a tree topper and the bottom as a tree stump and then added pretzel crisps to the last layer to use with the cheese for snacking.
The egg bake and pull apart bread were served on the main buffet spread and the fruit and cheese tree was set out on the dining room table so we could munch as we colored. Who doesn't love to munch along as they color and visit?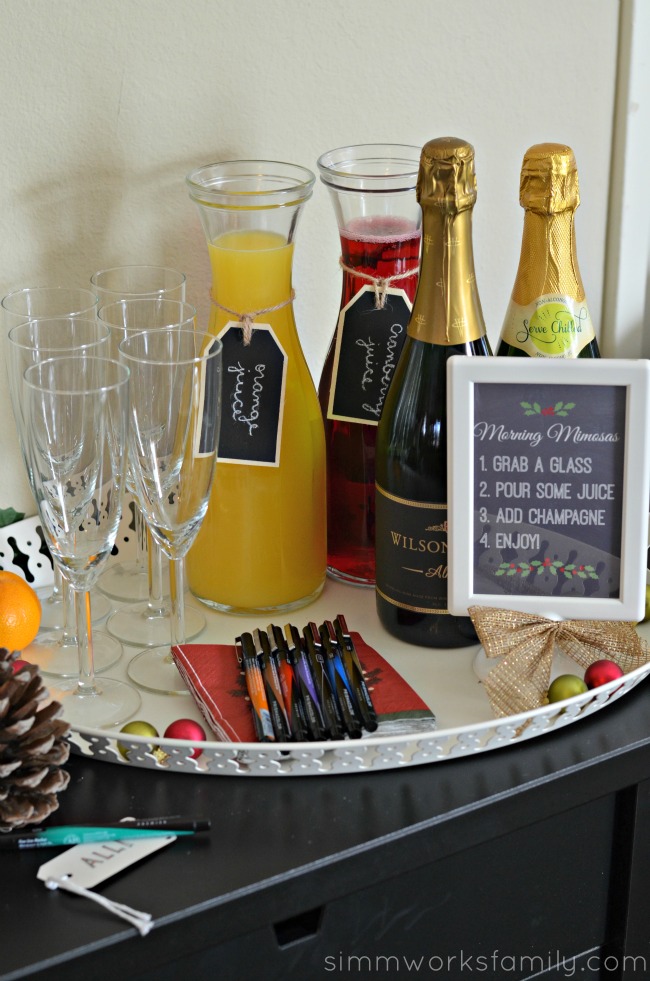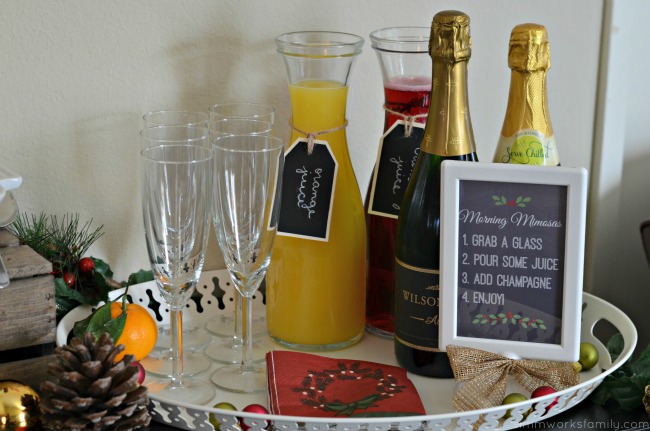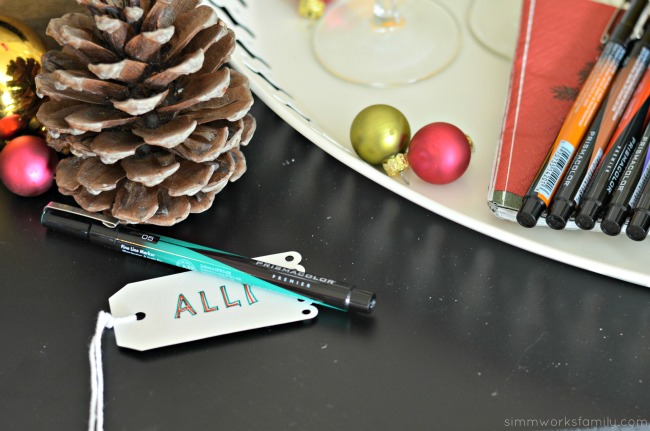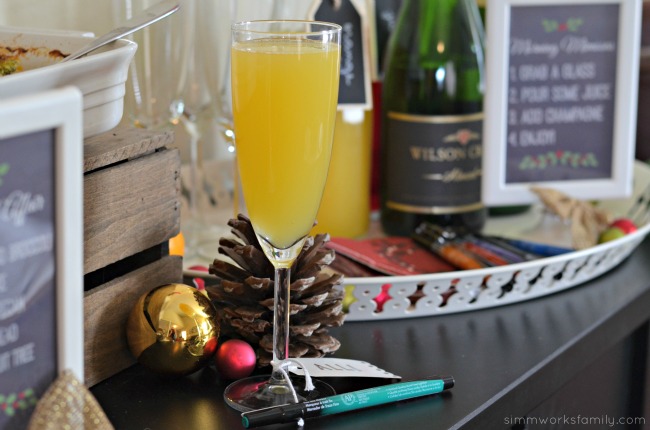 2. Drink Options
Mimosa Bar
Mimosa bars are perfect for morning get-togethers! They pair perfectly with the breakfast foods I was serving and guests can choose to either pour a mimosa or just drink the juice. For this simple mimosa bar, I grabbed a few glass juice carafes and some champagne glasses.
I paired together orange juice and cranberry juice to bring more color to the spread. As for the champagne, I grabbed my favorite local almond champagne. And some non-alcoholic sparkling grape juice for the non-drinkers.
Grab a few gift tags and Prismacolor Premier markers to make name tags for the drinks!
Hot Cocoa Bar
Another great addition to any brunch or evening event during the winter months is a hot cocoa bar. It adds a little sweetness and some warmth to the event. Plus there are so many fun additions and toppings one can add to their hot cocoa to make it personalized to their taste. Grab a pot of coffee to add to the mix so guests can make mochas too!
I chose to use my single serve coffee machine and some hot cocoa cups I had, however, I've also made a delicious batch of slow cooker hot chocolate in the past with this recipe for a little adult fun.  I've also passed out these cute hot cocoa snowmen as gifts and favors at parties before.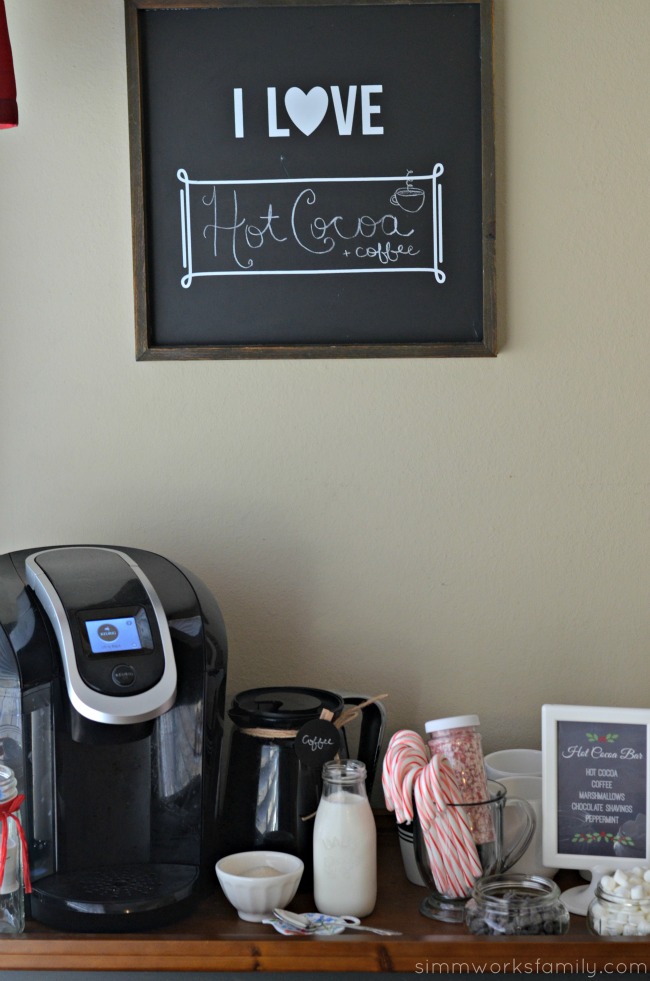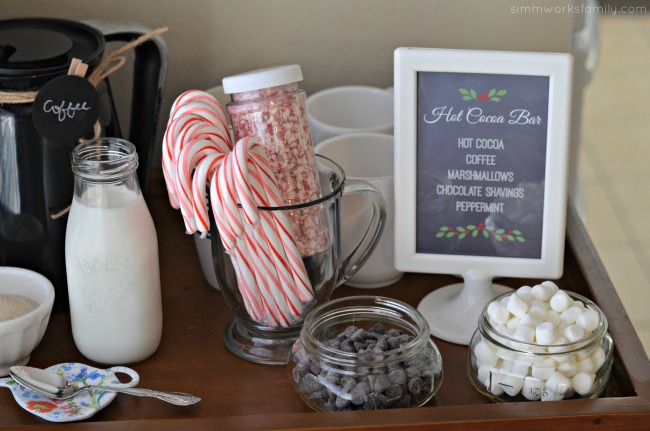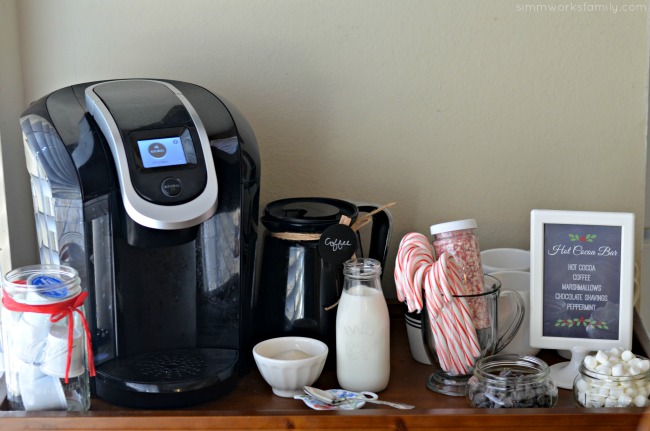 3. Adult Coloring Books + Colored Pencils
And, of course, for the star of the event, adult coloring books are a must! Each guest should have either a few adult coloring print-outs or a coloring book of their own to enjoy during the event. Pair with Prismacolor Premier coloring pencils and you have the perfect outlet for moms to relax, de-stress and re-energize during the often-stressful holiday season.
In the living room and the dining room table I put a few coloring books out with packs of Prismacolor Premier colored pencils. I also used a roll of butcher paper as table runners for both the coffee table and dining room table so guests could doodle and find out what colors they wanted to use.
Coloring together allows friends, families and co-workers an opportunity to take a moment together to reflect and reenergize, sparking creativity and inducing productivity. It's a relaxing way to reconnect with each other. We enjoyed chatting around the table about work, life, and everything else in between.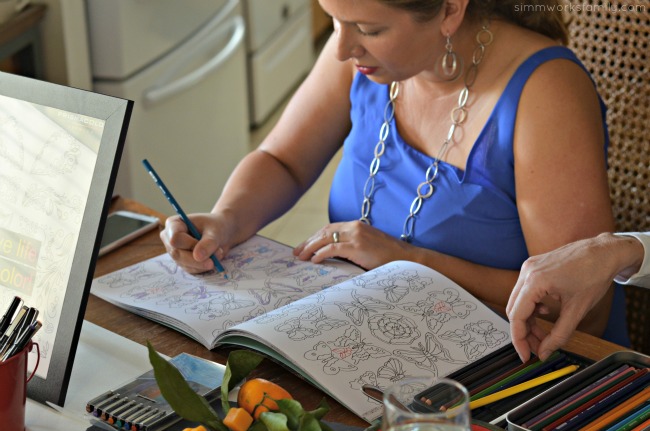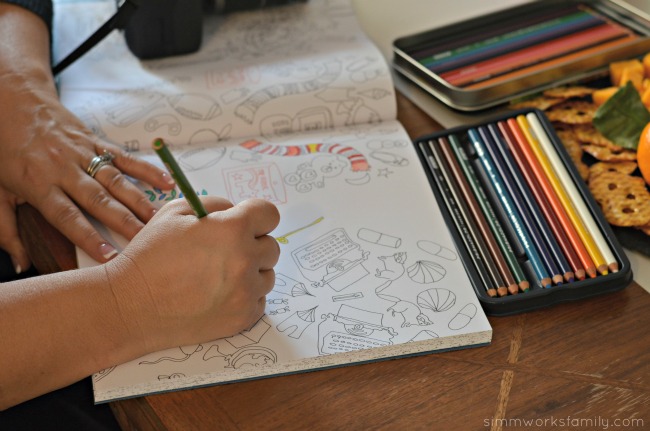 What do you love to do when you get together with your girlfriends?
Disclaimer: This is a sponsored post written by me on behalf of Prismacolor Premier®.