This shop featuring Marie Callender's Pot Pies and a Apple Feta Walnut Salad Recipe has been compensated by Collective Bias, Inc. and its advertiser. All opinions are mine alone. #EasyAsPotPie #CollectiveBias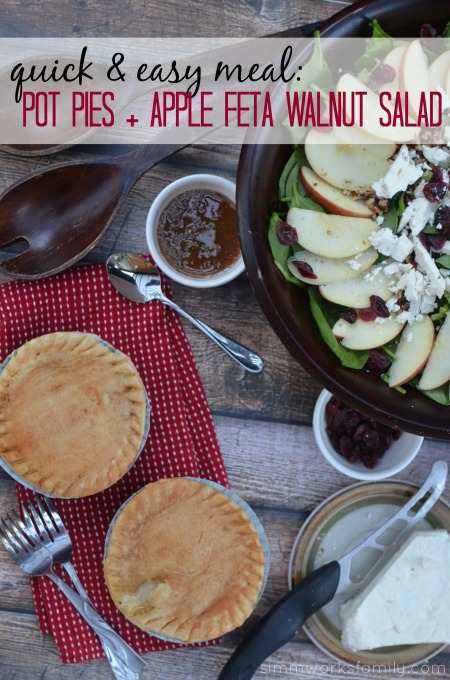 One thing I always keep in my arsenal of meal ideas is something that's quick and easy for the weekdays. Whether it's a 10 or a 30 minute meal, as long as the family approves I'm happy!
The whole family definitely approves of Marie Callender's pot pies. Not only do they taste like homemade but they're so quick to make. I can use the microwave or the oven depending on how much time I actually have or need.
And when paired with a deliciously fresh salad, this meal is the perfect way to end a winter day. Plus I end up having more time to connect with my family around the dinner table since it's so easy to throw together.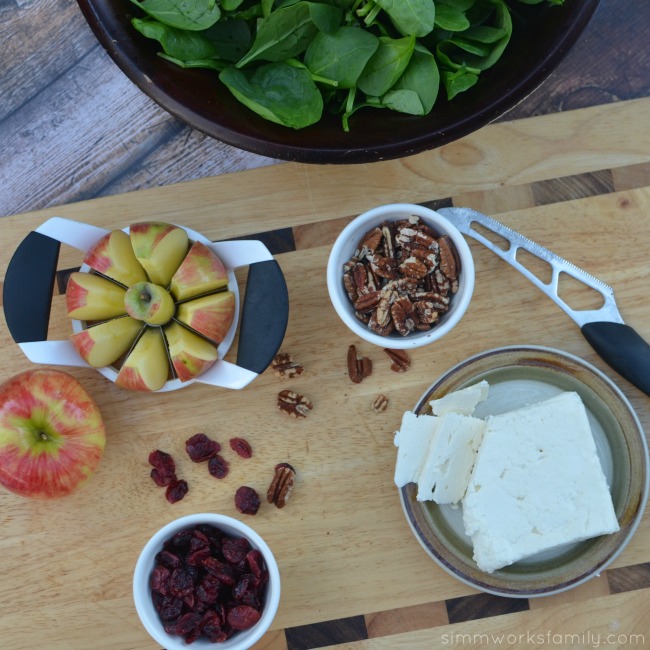 A simple salad like this Apple Feta Walnut Salad recipe is the perfect pairing with Marie Callender's Pot Pies. It's super easy to throw together and takes about as long to make as the pot pies take to cook in the microwave.
The fruit and nut combination of the salad is the perfect balance to the pot pie's homemade gravy mixed with vegetables and all white-meat chicken, in a golden, perfectly flaky crust that's made from scratch. Mmmm!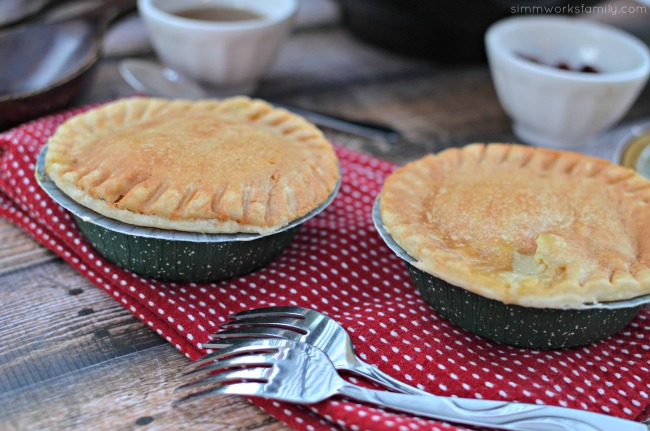 We've been purchasing these pot pies since before my husband and I were married. They're the ultimate comfort food for my family and something we love to enjoy together.
Plus, meals like these leave me plenty of time to talk and share with my family around the dinner table instead of being stuck in the kitchen for most of the night. Talk about a win-win! Delicious food and fabulous company.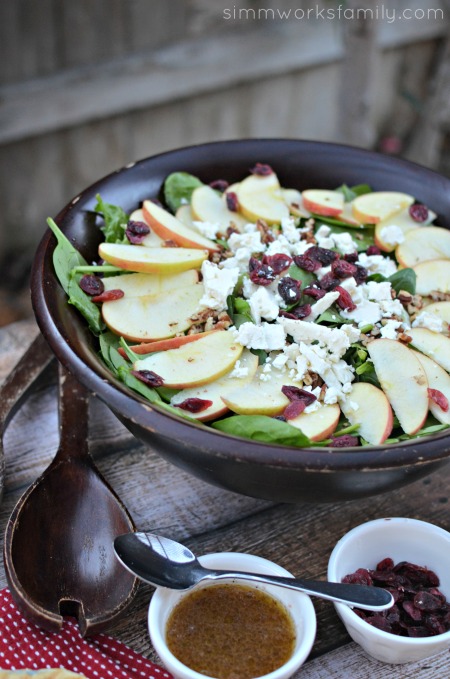 Apple Feta Walnut Salad Recipe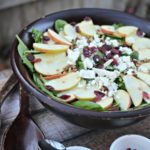 Apple Feta Walnut Salad
3 cups chopped romaine hearts (washed)
3 cups baby spinach (washed)
1 honeycrisp apple
1/4 cup feta (crumbled)
1/4 cup walnuts (chopped)
1/4 cup dried cranberries
Cranberry Balsamic Dressing
1 tablespoon finely chopped dried cranberries
2 tablespoons balsamic vinegar
1 tablespoon Dijon mustard
1 tablespoon sugar
1/2 teaspoon dried Herbs de Provence
1/2 teaspoon Kosher salt
1/4 teaspoon freshly cracked pepper
1/4 cup olive oil
For the Salad
Add romaine and spinach into a bowl.
Cut and core the apple then slice into thin pieces. Add apple onto salad.
Sprinkle the feta, walnuts, and dried cranberries over the apples and the salad.
For the Dressing
Whisk cranberries, vinegar, mustard, sugar, salt, and pepper together in a bowl until the sugar and salt are completely dissolved.
Stream oil into the mixture while whisking continually; continue whisking until the oil emulsifies into the vinegar.
Marie Callender's is supporting our troops with their Comforts from Home program and you can help!
Simply look for participating products (like Marie Callender's pot pies), find the 8-digit code on the back of the package, and enter it on the website and Marie Callender's will make a donation to USO2GO, a USO program that brings electronics, sports gear, books, games, and more to troops stationed in remote locations.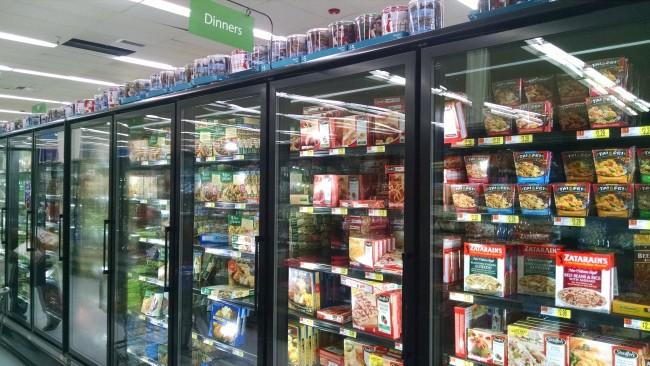 You can find Marie Callender's pot pies in the frozen foods section of Walmart in the dinner section. Visit here to learn more about pot pies and here if you're looking for more great recipes.
What's your go-to comfort meal in 30 minutes or less?