This post was sponsored by Culligan Water as part of an Integrated Program for Influence Central and all opinions expressed in my post are my own.

This baked caprese chicken is full of fresh flavor straight from the garden! And our 3-year-old helped prepare the dish from start to finish. Read on to find out how you can get your kids interested in dinner again!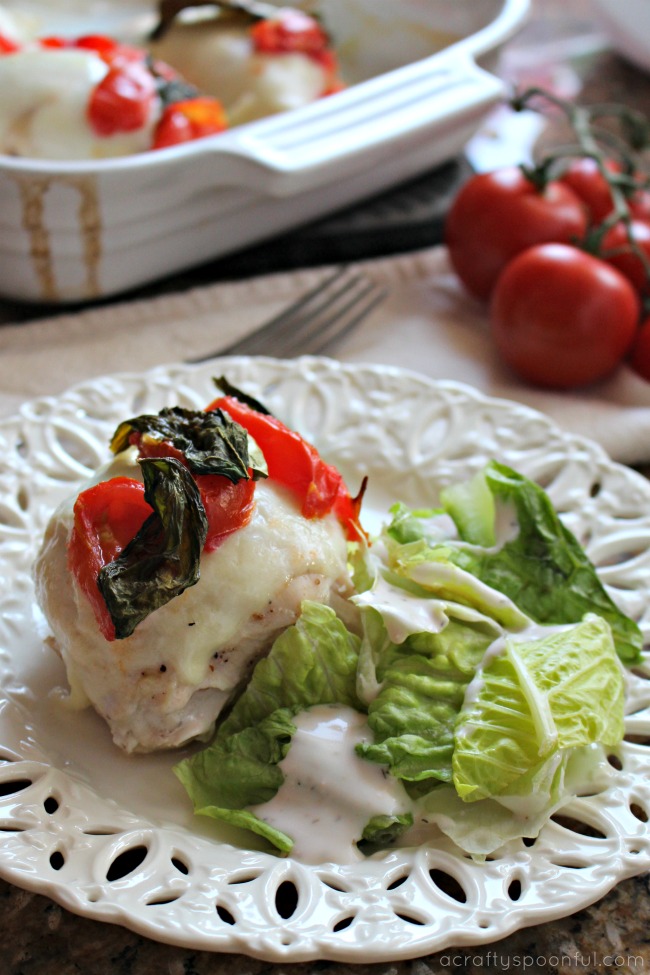 Remember a few weeks ago when we were talking all things herbs and I showed how we made an indoor hanging herb garden? Well, our herbs reacted so well to our new Culligan Water filtration system that we've been able to utilize fresh herbs in the recipes we've been making.
Since my youngest has become obsessed with all things gardening, I thought it'd be fun to have her help me make a meal from start to finish wiht a few of the fun things we're growing in both our hanging herb garden and outside raised beds. And this baked caprese chicken dish includes so many wonderful elements from what we've grown so far. 
Speaking of elements, we couldn't be happier with our experience with the Culligan Water system. It's gone above and beyond our expectations so far.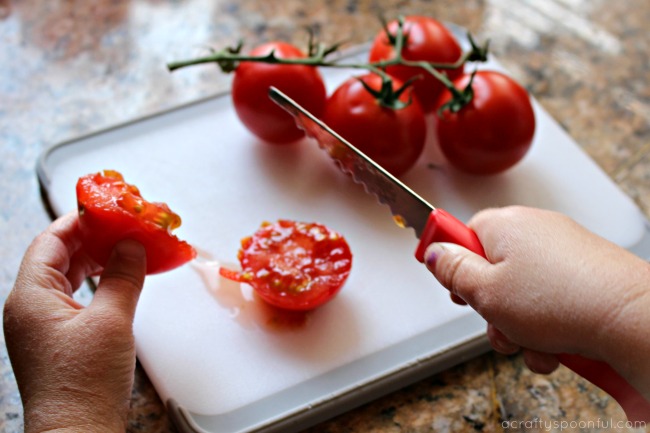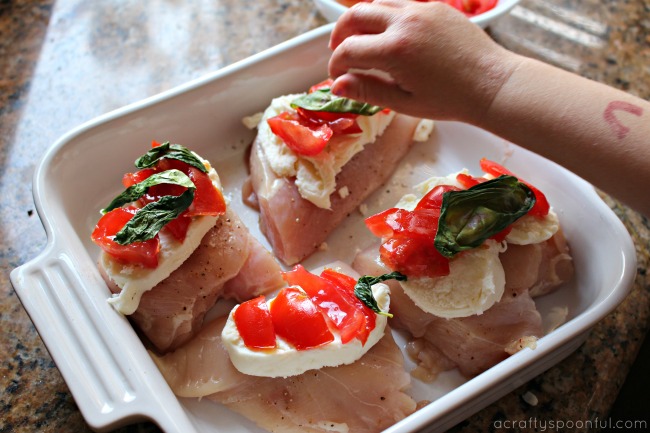 One of the best parts about our new Culligan Water filtration system is the fact that it's so easy to utilize. Not only can the kids go to the sink to get filtered water to drink, they can fill up the watering cans and water the garden so that our plants are getting the full benefits of Culligan Water as well.
And the plants aren't the only ones perking up with the new reverse osmosis water filtration system! The kids are actually going over and filling up their reusable water bottles and cups throughout the day without hesitation. No more asking for juice or complaining that there's only water in the house to drink. When I asked them about it, they said that the water tastes better now. I'll take that as a win in my book!
I haven't even gotten to the details of the water softening system and its effects on our soap usage! Did you know that by using a water softening system, you don't have to use as much soap in your washer (dish or laundry)? Even in the shower? And without the harsh effects of the hard water we have here in San Diego, the girls' skin seems to be seeing a benefit to having the new system in place.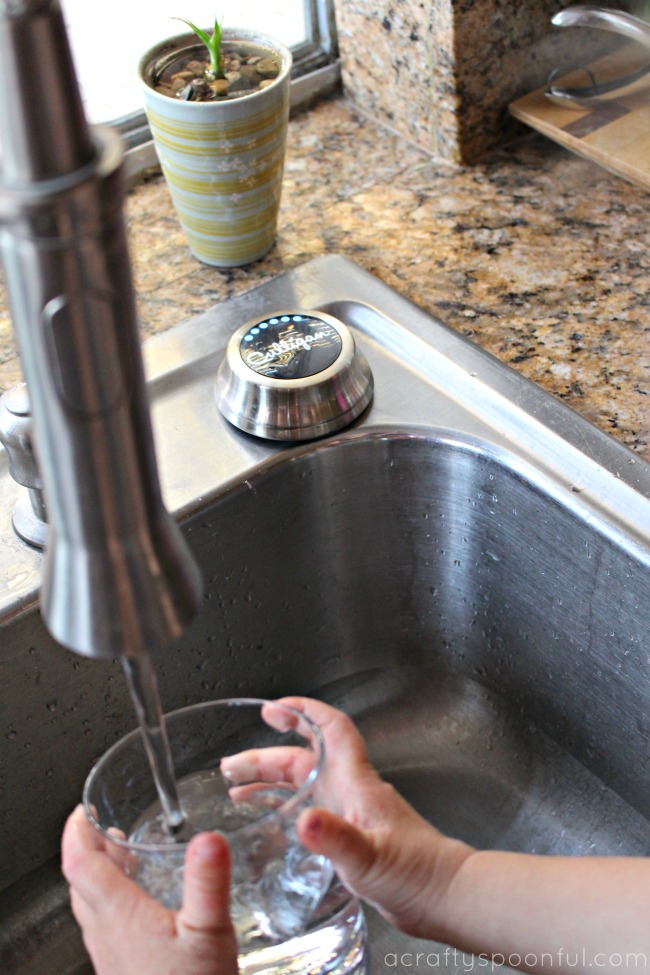 Did you know that Culligan Water is a world leader in innovative water filtration systems not only in homes but in offices as well? We've found that Culligan Water is able to provide water solutions for our whole home by identifying the water issues we have. Those include everything from hard water to the taste of our water.
We're lucky that Culligan Water's goal is to provide the best possible customer service experience and have experienced this first hand! In addition to leaving users with water we can trust, they also ensure customers can provide the best in our homes for ourselves and loved ones.
With Culligan Water products every day is a "good water day." Now let's get to that delicious baked caprese chicken recipe!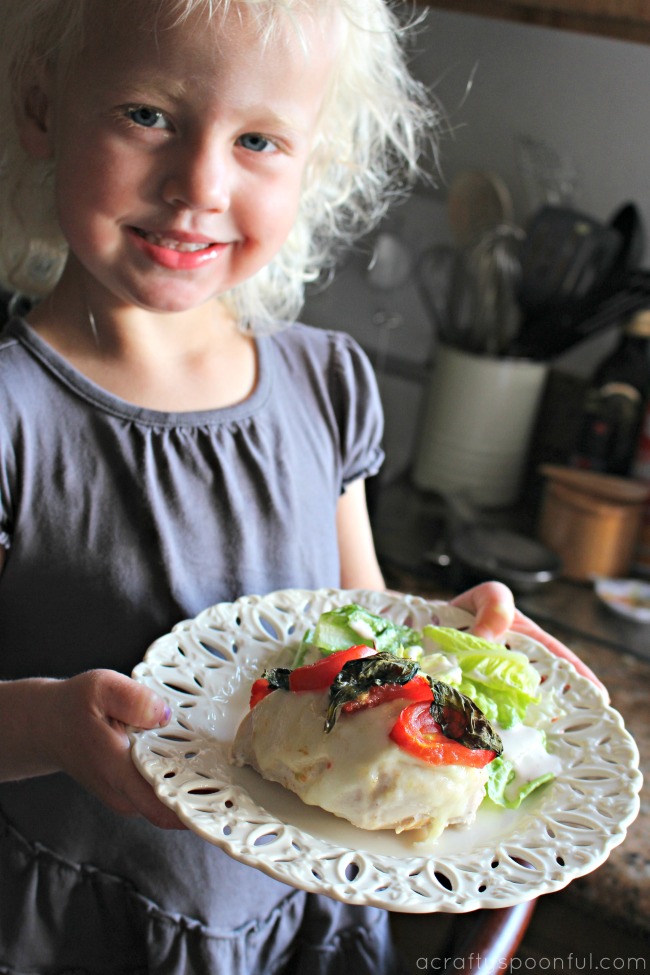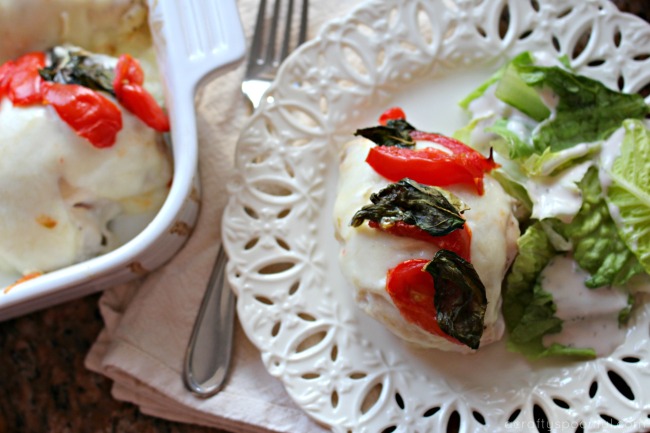 Kid Friendly Baked Caprese Chicken Printable Recipe
Baked Caprese Chicken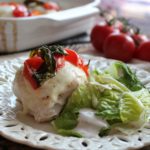 2 chicken breasts, cut in half
1/2 cup fresh mozzarella
6 hothouse tomatoes, sliced
9-12 leaves fresh basil
1 tsp salt
1/2 tsp pepper
1-2 tbsp olive oil
Lay chicken breast pieces in an oven safe dish and preheat oven to 400 degrees.
Let your kids layer the salt and pepper, cheese, tomatoes, and basil over chicken.
Bake chicken for 25 minutes or until bubbly and slightly golden on the top and chicken fully cooked.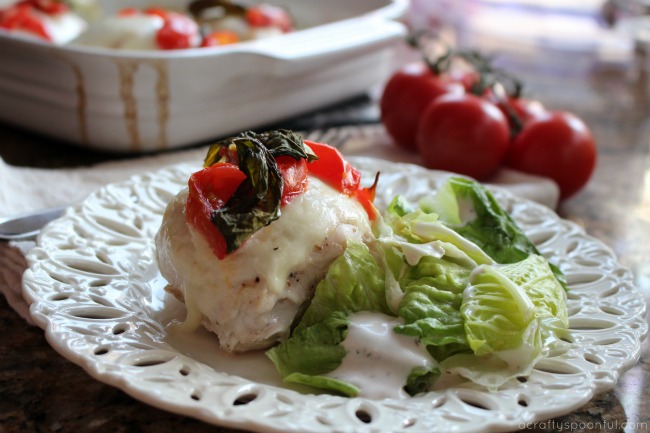 Want to learn more about how you can be a bit more water wise?
Here are some more water-wise resources!
Water Conservation Tips: What Can You Do? 
Adding Desert Plants to Your Garden
Pin this article for later! 
Click the Pin button on the image below to save for later.