This shop featuring a delicious recipe for chocolate peanut butter ball monsters has been compensated by Collective Bias, Inc. and its advertiser. All opinions are mine alone. #SpreadTheMagic #CollectiveBias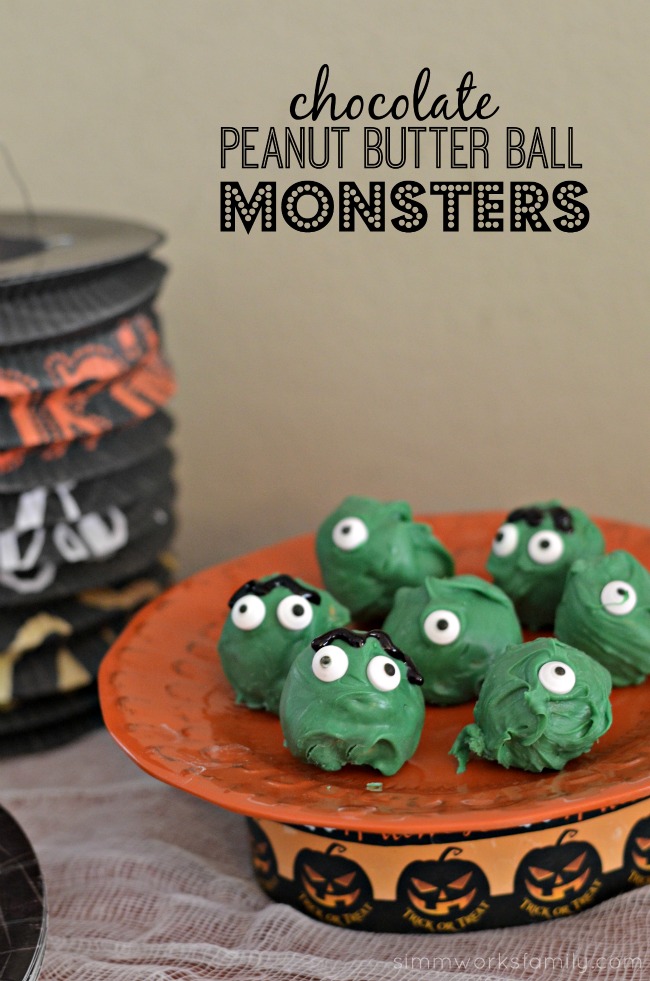 Sometimes I just get the urge to bake and create. Nevermind that I'm completely busy and have a very clingy 8 month old (how did that happen??) at my feet or on my hip all day, I can still find time for simple treats. Especially when that involves gifting them to friends. I don't know why but after having a baby I feel as if my social life goes down the drain.
Oh, wait! Yes, I do know why. It's because I can't go anywhere past 7pm because the littlest needs her mama cuddles. And I'm totally cool with that. These moments won't last for long and I'm enjoying them every single night. But that doesn't mean that I can shake things up and invite the girls over to my place for a girls night in! And a girls night in means treats.
These Chocolate Peanut Butter Ball Monsters are an awesome sweet treat to serve at a Halloween themed party. Not only are they super easy to make (you're looking at the ingredients below), they taste amazing! Like Heaven in ball form. And? This Peter Pan's NEW Simply Ground peanut butter gives it the perfect amount of crunch with every bite! Why? Because you have the smoothness of a creamy peanut butter with a hint of crunch. I also needed a container to send leftovers home with the girls so I upcycled the peanut butter container into a cute gift box. Easy peasy!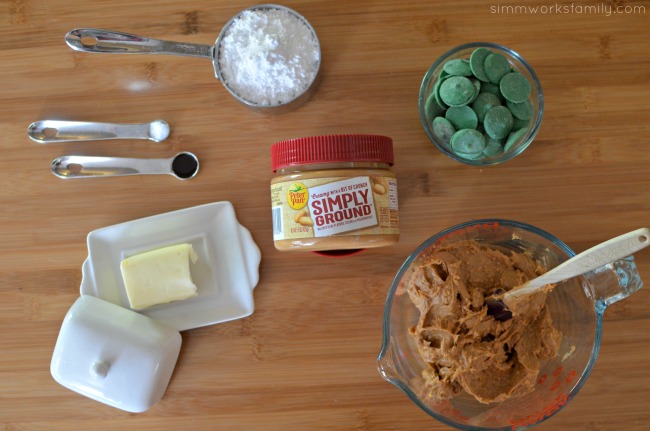 Chocolate Peanut Butter Ball Monsters
1 jar Peter Pan Simply Ground peanut butter
1/3 cup unsalted butter, room temperature

1/4 teaspoon salt

1/2 teaspoon pure vanilla extract
2 cups powdered sugar
green candy melts
Line two baking sheets with parchment paper.
Place the peanut butter, butter, and salt in a microwaveable bowl, and heat in the microwave for about one minute or until just soft (check and stir the ingredients every 20-30 seconds). Stir in the vanilla extract and confectioners sugar and mix until it has the consistency of a stiff dough (add more sugar if necessary).
Roll the dough into 1 inch round balls. Place on the cookie sheets and refrigerate until firm (several hours or even overnight). You can also place the peanut butter balls in the freezer and freeze until firm (this makes them a LOT easier to dip in the melted chocolate).
Melt the candy melts in the microwave in a microwave safe bowl for 30 seconds. Stir and melt again another 30 seconds. Repeat until melts are completely melted. Dip the balls, one at a time, in the melted chocolate, making sure the entire ball is coated with chocolate. Then, with two spoons or a dipping fork, remove the peanut butter ball from the melted chocolate, allowing any excess chocolate to drip back into the bowl. Place the chocolate covered balls back on the baking sheet. Add a monster eye or two to the balls.
When all the balls have been dipped in the chocolate, place in the fridge until the chocolate has set. Once set, add more decorations to the balls if you'd like. I choose to add hair to a few of mine using black icing. Once done, serve and enjoy. Store leftovers in an airtight container for up to two weeks. They can also be frozen but probably won't last that long.
You can taste a little crunch in each bite!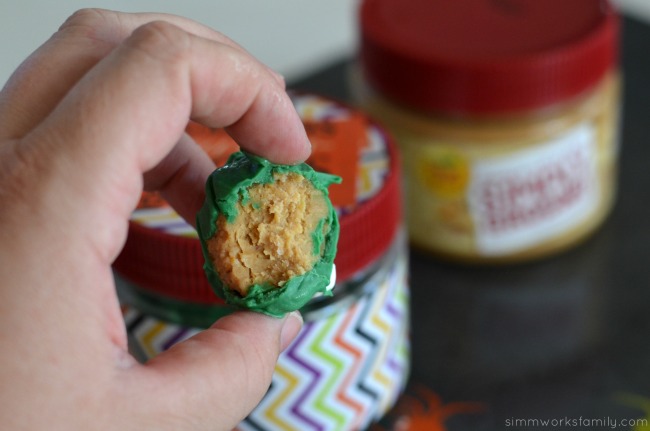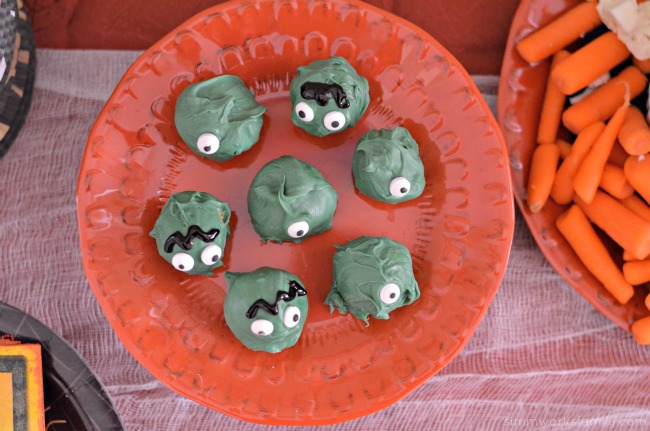 Upcycled Peanut Butter Container Treat Boxes
Once you've made your monsters, let them chill out in the fridge until your guests arrive. In the meantime you can make some treat boxes for the guests to bring some chocolate peanut butter ball monsters home. 
1. Grab that empty container (or two) of Peter Pan Simply Ground peanut butter and wash it well with hot water and soap. Using a scraper (or a sponge) take the label off completely and throw it away. You should have a perfectly cleaned, clear jar to work with. LOVE the wide mouth of this container for easy cleaning (and scooping out the PB).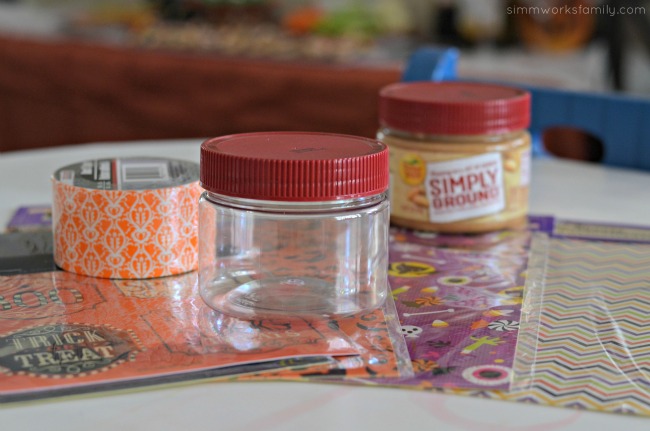 2. Now you just grab some sticker paper OR duct tape in whatever pattern compliments your themed treat. we had some fun sticker paper we picked up at the dollar store a few weeks ago as well as some Halloween themed stickers so we used those.
3. Measure out how wide the strip of sticker paper or duct tape needs to be to wrap around the jar. If you're using an 8.5×11 sheet of sticker paper, it won't completely wrap around the jar but that's ok, it's nice to get a little peek at what's inside. Cut the strip after measuring and adhere to the jar.
4. Then grab some twine, stickers, labels, or other decoration and decorate the top of the jar. I simply used the lid as a stencil to cut out a round piece of sticker paper to adhere to the top. Then I cut down one of the stickers to fit and whala!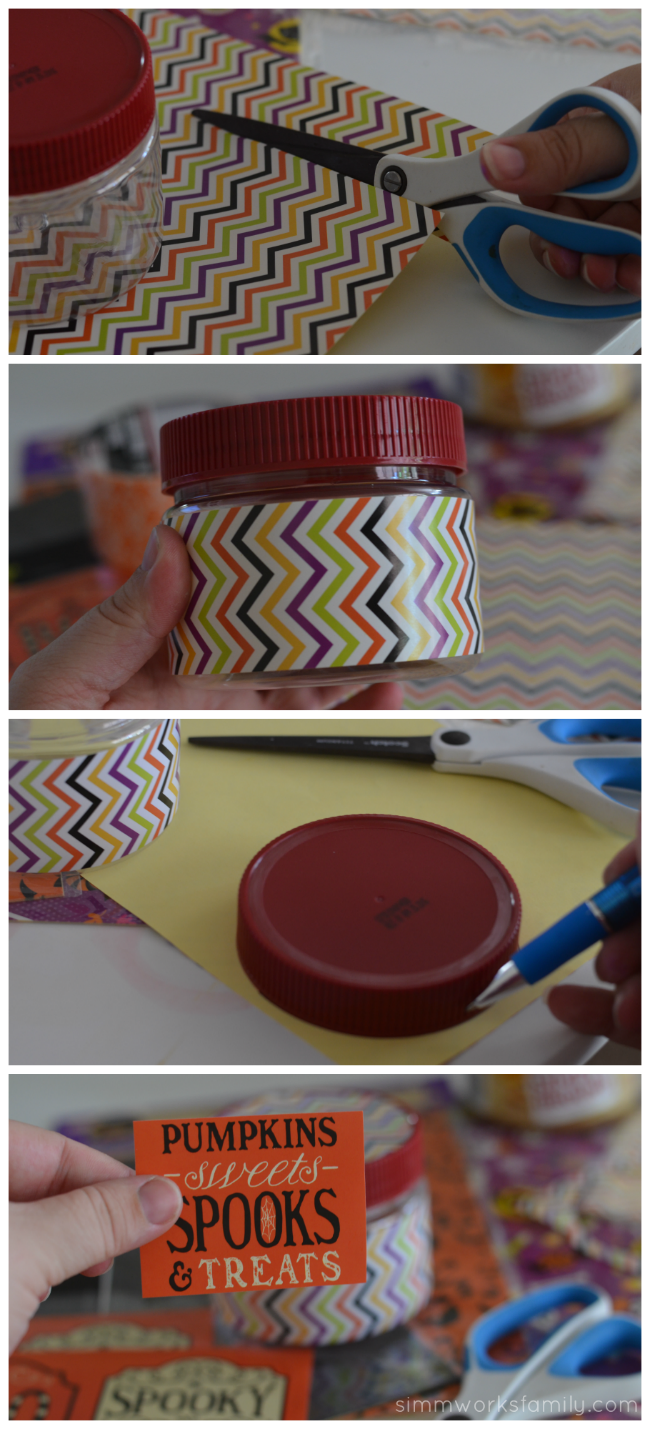 My little peanut butter monsters have the perfect home to travel with my friends. And I don't have to stare at peanut butter balls all week every time I open up the fridge. I don't know about you but my willpower this time of year is pretty low so I like to send home as many treats with my friends as possible. Makes it easier on all of us!
Except I still have a few jars of Peter Pan's NEW Simply Ground peanut butter in my cupboard. Did you know that it contains no artificial colors, flavors, or preservatives. And? No need to stir! Plus it comes in a wide mouth jar that makes snacking so much easier. Just open and dip right in! I want to grab a spoon right now.
Check out this coupon for a little savings when you pick a few jars up yourself from Walmart. You can find them in the bread aisle with the other peanut butter.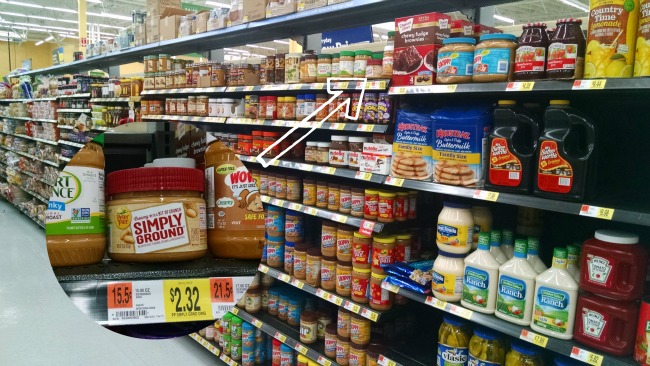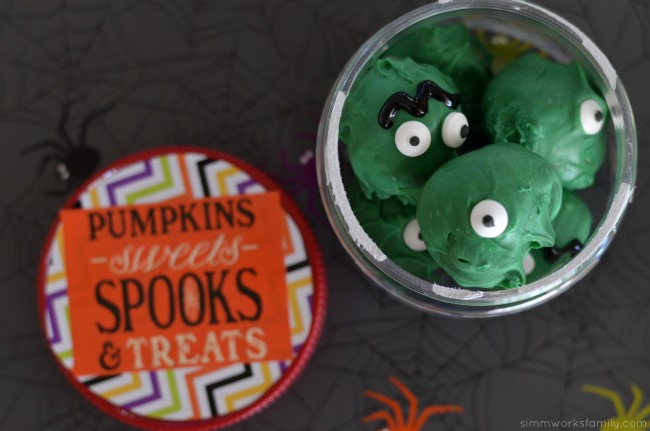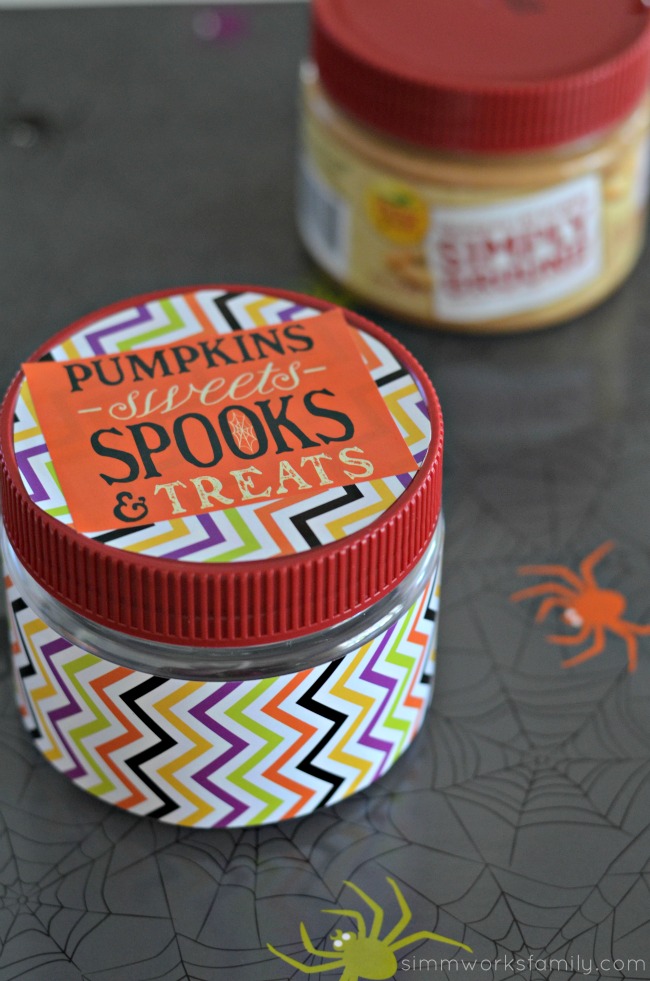 Do you send leftovers home with your guests after a get together?