If you're looking for the perfect holiday cookie this season then look no further than these Chocolate Peanut Butter Crinkle Cookies! Your guests will love their small perfection. Plus they pair perfectly with milk, cocoa, and coffee!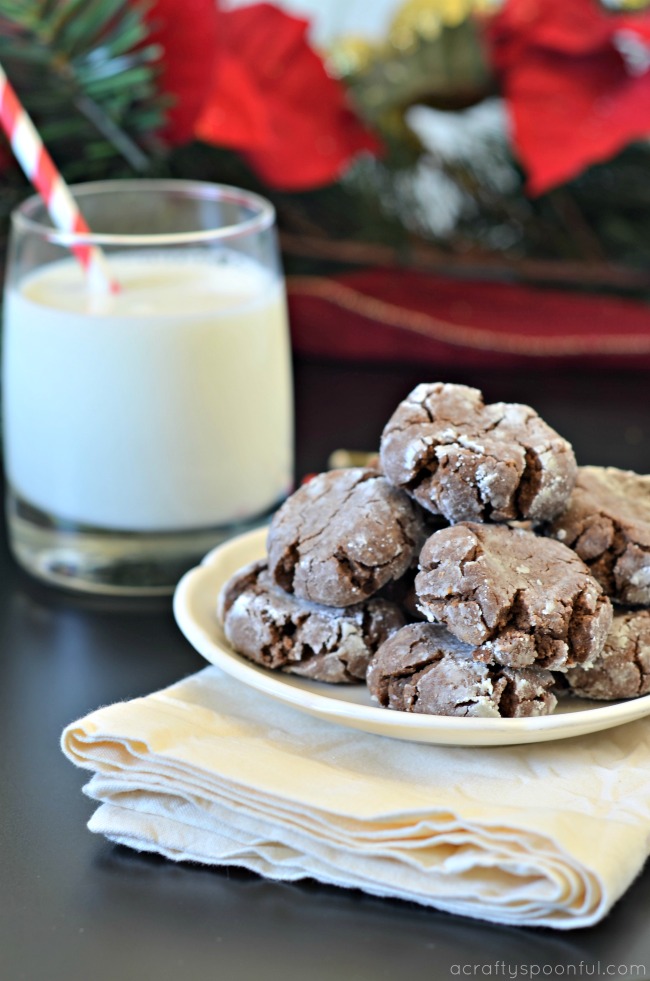 How was your Thanksgiving? We spent the day baking in the morning with the kids and then enjoying a wonderful meal with our extended family. It was perfect. One of the things we decided to bake up that morning to bring to dinner were these deliciously perfect chocolate peanut butter crinkle cookies. They're small, bite-size cookies that aren't too sweet so they were perfect to pair with the pies and enjoy with a cup of coffee or cocoa to drink.
Normally we make chocolate crinkle cookies but this time my older daughter wanted to add something a bit different to them to change things up. The addition of peanut butter was the perfect touch and added a great flavor combo to these classic cookies. I may try adding a pinch of cinnamon next time too!
This recipe is one of many we're sharing on the Houseful of Cookies tour this year. Last year we made another fun cookie recipe: Pfeffernüsse Cookies. You have to try them if you haven't made them yet! The rest of the cookies on this tour are linked at the bottom of this post.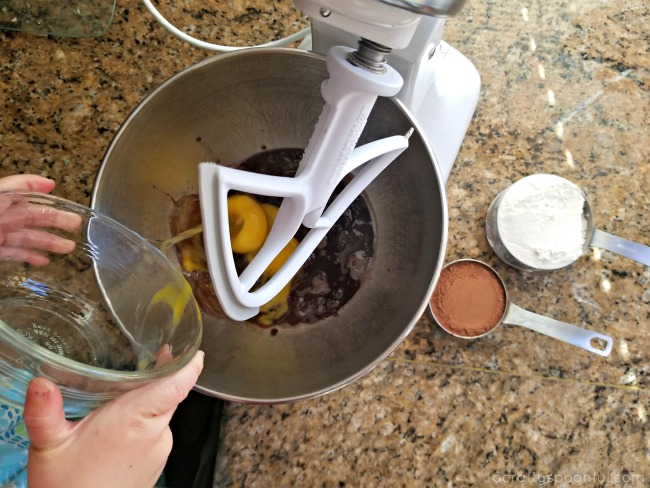 When making cookies with the kids I always try to measure everything out before we start mixing so they don't just dump everything out without knowing what they're putting in. It helps them to understand the quantities needed for each recipe.
But one thing we are working on is adding one egg at a time while mixing so each can be incorporated before the other is added. The 2 year old prefers to dump them all in at once!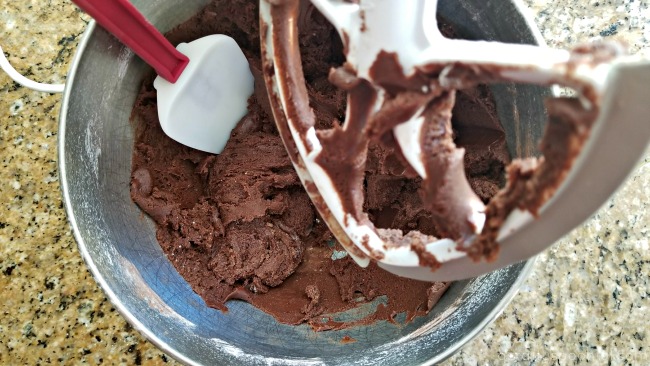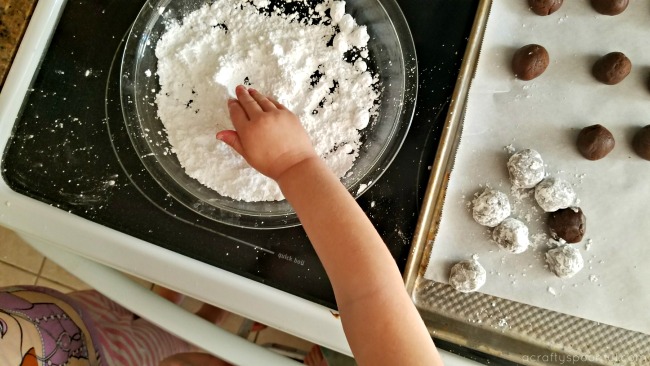 This dough is a thicker dough that, once all of the ingredients are combined, form a ball in the mixer. This makes it easier to get out to refrigerate once mixed up.
And I'll let you in on a little secret. Even though the recipe does say to chill for 1 hour… I don't always let it chill. I'll divide the dough up into two halves and place one in the fridge but will start rolling out the other right away.
This is a great cookie to make before guests come over if you're looking for something little to nibble on. Or to give as gifts during the holidays because they're small and do well in an airtight container.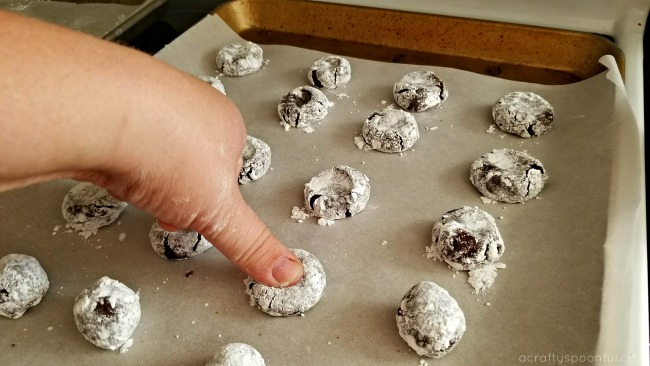 Chocolate Peanut Butter Crinkle Cookies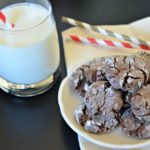 10 tablespoons butter (cut into 10 pieces (1/2 cup plus 2 tablespoons))
1 1/4 cups light brown sugar (packed)
10 ounces bittersweet chocolate (coarsely chopped)
2 1/2 cups all-purpose flour
1/2 cup unsweetened cocoa
1 teaspoon baking soda
1/2 teaspoon teaspoon salt
2 eggs
1/2 cup peanut butter
1/2 cup powdered sugar
Put the butter, sugar, and chocolate in that order into a 2-quart saucepan. Put the pan over low heat and warm the ingredients, stirring occasionally, until they are melted and smooth. Scrape everything into the bowl of a mixer.

Sift together the flour, cocoa, baking soda, and salt.

Working with a mixer with a paddle attachment, add the eggs, one at a time, beating until the eggs are well blended into the chocolate. With the mixer still on low, add the dry ingredients, mixing just until the dough is smooth and shiny; it will clean the sides of the bowl and form a ball. Then add the peanut butter and stir in until just combined. Turn the dough out onto a work surface, divide it in half, wrap each piece in plastic wrap and chill for at least 1 hour.

Preheat the oven to 350°F and line two baking sheets with parchment paper.

Working with 1 tablespoon of dough at a time, roll the dough between your palms to form firm, shiny balls. (If the dough breaks as you work, squeeze and knead it a bit, then reroll it between your palms.) Add to a small shallow dish filled with powdered sugar and roll in sugar until lightly coated. Place the balls about 1 inch apart on the baking sheets and lightly press each one down a bit with your thumb.

Bake the cookies for 9 to 10 minutes, rotating the baking sheets from top to bottom and front to back at the midway point. The cookies should be delicately firm and crackled across the top. (It's better to under- than over bake.) Remove the sheets from the oven, let the cookies rest on the sheets for 2 minutes, then, using a wide spatula, gently transfer the cookies to a rack; cool to room temperature.

Repeat with the remaining dough, cooling the baking sheets between batches.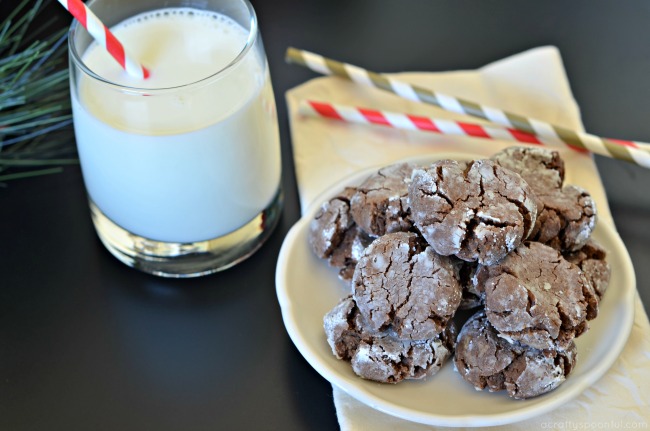 Looking for more deliciousness to enjoy this holiday season? Don't forget to check out the rest of the stops on the Houseful of Cookies tour!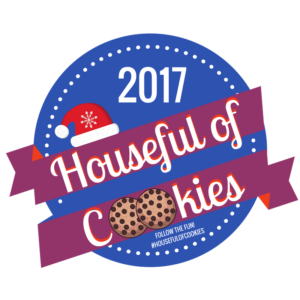 Houseful of Cookies 2017 Blog List
Houseful Of Nicholes – Slow As Molasses Cookies
A Crafty Spoonful – Chocolate Peanut Butter Crinkle Cookies
A Real Urban Mom – Chocolate Chip Cookies
Dash Of Evans – Cranberry Hootycreeks
Divas With A Purpose – Houseful Of Cookies 2017
Everyday Party Magazine – Simple Caramel Cream Sugar Cookies Swirls
Fab Haute Mama – Belgian Waffle Cookies
Good Girl Gone Redneck – Perfect Holiday Saltine Toffee Treat
Happily Homegrown – Old Fashioned Hermit Bar Cookies
Her Life On Purpose – Red Velvet Cake Mix Cookies
Honest & Truly! – Triple Chocolate Dipped Cookie
How Was Your Day – Houseful Of Cookies 2017
Hysterical Mom – Lemon Sugar Cookies
I am the Maven® – Moldy Mice Cookies
Keep Calm & Teach Fifth Grade – Winter Wonderland Sugar Cookies
Kenya Rae – Pecan White Chocolate Chip Cookies
Kiss My Tulle – Chunky Christmas Cookies
Mom On The Side – Hopscotch Crunchies Holiday Cookies
More Than Thursdays – Mint Surprise Sugar Cookies
Mother Of The World – Houseful Of Cookies 2017
Our Crafty Mom – Houseful Of Cookies 2017
Peyton's Momma – Houseful Of Cookies 2017
Simplify Live Love – Double Chocolate Pomegranate Cookies
Teachable Mommy – 3 Ingredient Peanut Butter Cookies
The Analytical Mommy – Favorite Lactation Cookie Recipe
The Biswolds – White Chocolate Chip Toffee Cookies
The Olive Blogger – Gingerbread Biscotti
We're Parents – Cranberry Cheesecake Cookies