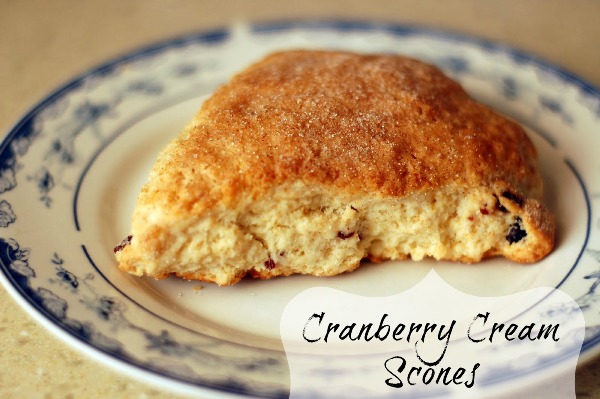 Whenever I need something quick and tasty for either breakfast or dessert I almost always go to scones. How can you not?
They're super filling, very versatile and quick to throw together. You can put just about anything in a scone. Have some raisins? Throw them in! Down to a handful blueberries? Why not use those. And while your at it get some fun ingredients together for toppings. Cinnamon sugar, cream, powdered sugar icing, chocolate, strawberry jam… lots of options!
I also love that I can form the scone into any shape I want. I can make them into biscuits. I can cut them into small triangles or big triangles. I could even use cookie cutters to cut out shapes. And the best part about this recipe is that they not only taste super good on the day they're made but they taste great the day after as well. The perfect companion to a cup of coffee or tea.
Cranberry Cream Scones
Ingredients
2 cups all-purpose flour
1/4 cup sugar
1 tablespoon baking powder
1/2 teaspoon table salt
6 tablespoons unsalted butter
1/4 cup dried cranberries
1/2 cup 1% milk
1/4 cup fat free vanilla creamer
1 tablespoon sugar
1 teaspoon ground cinnamon
Preheat the oven to 425 degrees. Line a baking sheet with parchment paper.
In a food processor, combine the flour, sugar, baking powder, and salt and pulse 2-3 times to mix. Add the butter and pulse 7-8 times just until the mixture forms large, coarse crumbs the size of peas. Scatter the cranberries into the dough and pulse until just moist.
Turn dough onto a lightly floured counter top or work space and press it together gently until the dough forms a ball. Pat in a round about 1/2 an inch thick and 6-7 inches wide. Cut the round into 6 wedges*, or use a 3-inch biscuit cutter to cut out rounds. Place the wedges 1 inch apart on the prepared pan.
To make the sugar topping, stir together the sugar and cinnamon in a small bowl. Mix the milk and creamer in another small bowl or measuring cup. Brush the wedges with the milk mixture and sprinkle with the cinnamon sugar.
Bake until golden brown, 13-17 minutes. Transfer to a wire rack to cool slightly and serve warm.
Serves 6