I'm sharing this delicious Grilled Pulled Pork and Mac and Cheese Sandwich recipe and other creative ways to use leftovers with Campbell's® Sauces as part of a sponsored post for Socialstars. #CampbellsSauces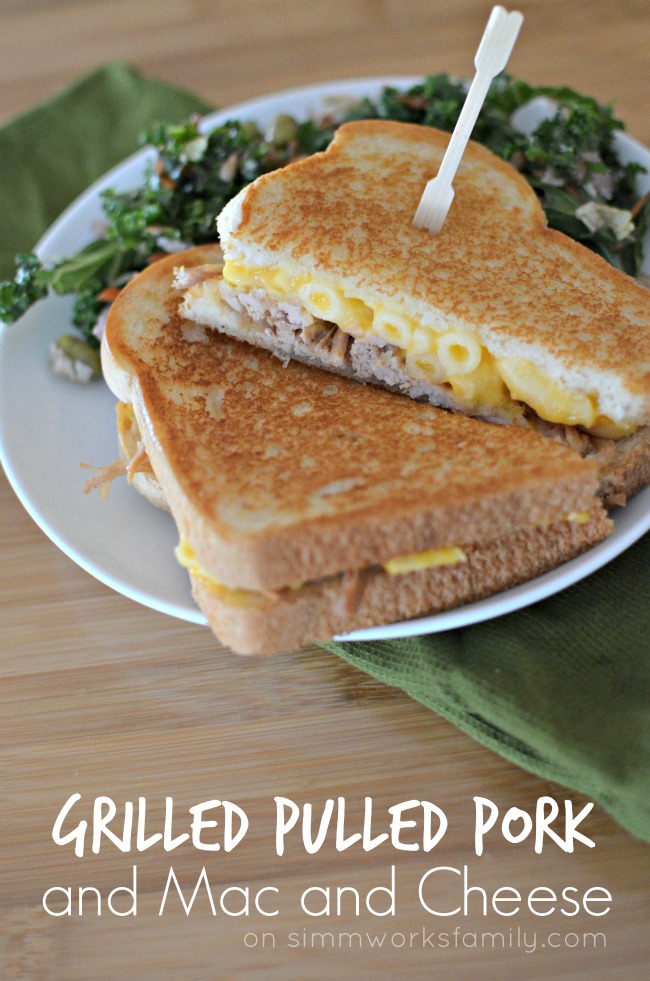 As I mentioned previously, pre-planning meals with a newborn in the house is quite important when I have a house full of hungry people. Luckily I'm fairly creative and have not only planned out great slow cooker freezer meals but have also figured out ways to use those meals along with others I've prepared to make delicious leftover dishes like this grilled pulled pork and mac and cheese sandwich.
Getting creative with leftovers doesn't have to be hard. Many dishes can be recreated simply by pairing them with another dish or adding a few other ingredients to change things up.
One of my favorite things to do is make a protein in the crock pot like chicken, beef, or pork, and have that meat slated for a few different recipes to make throughout the week. Cooking it up on a Monday means that I could easily have dinner prepped for Monday night, Wednesday and Friday! And we're not eating the same boring leftovers.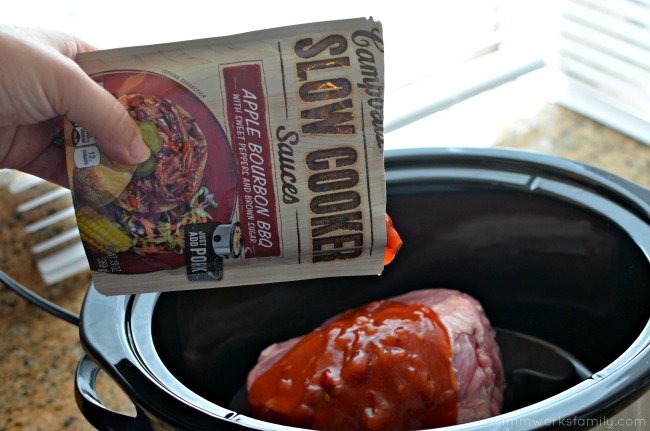 Creative Ways to Use Leftovers
1. Prep More Than You Need
One of the most important things to do when planning ahead and using leftovers in a new dish is to prep more than you need. That means cooking up a larger roast than is needed for your family or throwing in a few more breasts of chicken into the pan or slow cooker so that you have enough to use and feed your family a second time.
2. Combine Two Different Dishes
When planning out your weeknight meals, think about the components of each dish and how you can use them with the other dishes you have planned during the week. I love turning the ground beef from taco night and the mashed potatoes and veggies from when we enjoyed baked chicken into shepherd's pie at the end of the week. Or taking the baked chicken and leftover tortillas and making an enchilada casserole.
3. Change The Prep
If you're making the first dish on the stove or in the crock pot, consider making the recreated leftover dish in the oven to change up how the dish is presented to your family. I have a self proclaimed leftover hater in the family but by changing up how I prepare the meal can usually trick him into thinking I slaved again over all new ingredients.
One of the keys to making all of these creative dishes is having a great stocked pantry full of Campbell's® Sauces that I can use to add flavor to each and every dish we make.
For this delicious grilled pulled pork and mac and cheese sandwich, I used bbq pulled pork leftover from a pork roast and Campbell's® Sauces Apple Bourbon BBQ Pork that I threw in the slow cooker two nights before. The mac and cheese was leftover from a kind friend who dropped off some mac and cheese and chicken for us to enjoy for dinner the night before.
If you're interested in increasing the flavor in your favorite slow cooker meals, check out the great selection of flavors Campbell's® includes in their slow cooker sauces.
Grilled Pulled Pork and Mac and Cheese Sandwich
Ingredients
leftover Apple Bourbon BBQ Pulled Pork
leftover mac and cheese
2 pieces of large white bread
butter
Directions
Preheat skillet on medium. Microwave or heat up the leftover pulled pork and mac and cheese until warmed up.

Butter one side of each bread slice.

Add one slice of bread into the skillet buttered side down.

Add a layer of mac and cheese to the bread. Then add a layer of pulled pork. 

Place the other piece of bread butter side up onto the pulled pork. 

Cook until bread is golden then turn over and cook until other side is golden. 

Remove from pan and cut in half to serve.
How do you reuse your leftovers?
Visit Campbell's on Facebook, Pinterest, and Twitter for more delicious meal ideas!